My Leather Sectional from Article (aka, the keeper)
Disclaimer – I received 50% off my purchase from Article in exchange for writing a review. And I'm sure you get tired of hearing this, but all opinions are really, genuinely 100% my own.
Alright, so in the last post I left you hanging when I decided to return the Mello leather sectional from Article. The Mello was comfortable and well made, but the shape and style didn't feel right in my house. Even though I was dreading the return process, I just couldn't spend that much on a sectional and have it not be exactly what I wanted.
So I contacted Article and told them I wanted to exchange the Mello sectional for the Timber sectional. They replied and said that was no problem, and to go ahead and box the old one up. They would order the new one, issue me a refund for the price difference, and the delivery guy would pick up the sectional I was returning when they delivered the new one. That was it…no explaining myself or going back and forth endlessly with customer service. Awesome.
So Adam and I box up the Mello and take it to the garage, and drag all the pieces of our big brown corduroy couch sectional into the living room. About two weeks later the new couch arrives. The delivery man is the same as first time, a super friendly local guy in his personal vehicle and a covered trailer. He always texts the day before delivery to set a time and make sure I'm available, and then again the next day with a 30-minute warning.
So when the new couch arrives they pull the box out of the trailer and into my living room, and I'm a little nervous for them to open it, because I HAVE to love it. I refuse to be the woman who returns two couches. So they move my giant sectional out to the garage, again, and then pull out the Timber….which pretty much consists of a boatload of cushions. My boys immediately dive in to jump on them and I begin to wonder if I made the wrong choice, trading the solid one-piece sectional for this pile of pillows. But as they sectional starts to go together I feel so much better. It looks like it belongs. I love it.
So the delivery men leave, and now it's just me and my expensive new leather sectional…and my four young sons. Aka, destroyers of all things clean and nice.
So I sat the three older boys down at the kitchen island for my mom lecture.
"Okay boys, here are the rules for the new couch – no jumping on it, no taking the cushions off, no sitting on the tops of the cushion backs, and no food or drinks in the living room or anywhere near the couch. Got it? If I catch y'all breaking the rules you're going to be running laps, okay?"
Then I said the thing that will forever be known as one of my biggest mom wins. I leaned over the island and looked at them right in their big blue eyes and said "Listen, this couch cost more than our cars, so I need y'all to take care of it. Can you do that for me?"
I knew the second it came out of my mouth that I had them. I saw their big blue eyes get even bigger, and slowly all three turned to look at the couch with newfound appreciation…like it was made of gold, and somehow also glass. As they walked away I saw them slide their fingers gently over the leather, like they were touching the freaking Mona Lisa.
We've had the sectional for about a month now, and I've never seen my boys treat something so well. I let them abuse our previous couches because they were old and ragged and I just didn't care, so the transition had me a little worried. I haven't had to make them run a single lap though. Once I saw boy number #2 about to climb onto the couch with a banana, and boy #1 said "Levi, don't eat on the couch….it cost more than our car, remember?"
GO ME.
And just for the record, I wasn't lying to them. The couch is nice, yes, but what the boys don't realize is that we drive crappy cars. My minivan is 15 years old with 180,000 miles, but it's a Honda and refuses to quit. I'd upgrade, but it's only worth about $2,500 and works perfectly. Also, I look cool driving it, so there's always that to consider.
ANYWAY, let's get on with the review, shall we? Because saying the sectional is pretty and I love it is actually a pretty terrible review. So here we go.
Timber Leather Sectional Review
Comfort
My family and I think this sectional is extremely comfortable. The cushions are firm but soft and I wouldn't change them at all. The proportions are just right, it's deep without being too deep and everything is the perfect height. The seat is 19 inches from the ground (the Mello was 16 and felt a little low to me) and the back is 32 inches (Mello was 26) and both are right where they should be. Both the Timber and the Mello are super comfortable, my husband says the Mello was slightly more comfortable than this one, and I think the opposite. Both are great though and you can't go wrong. This is our first piece leather furniture and I definitely prefer it over fabric, though sometimes it feels a bit cold and I sit on a blanket instead of directly on the leather.
Quality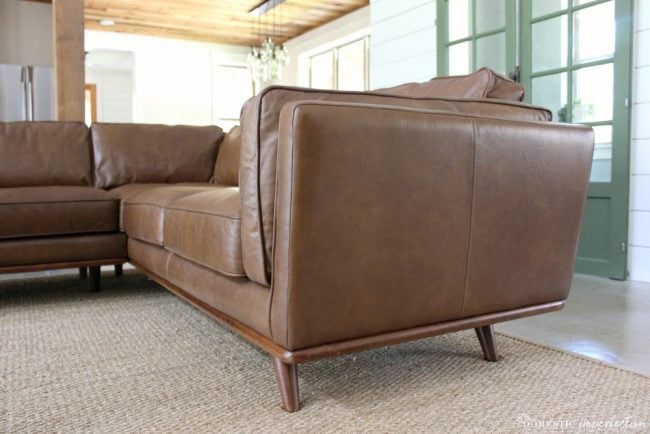 This is by far the nicest piece of furniture I have ever owned, and the quality seems great. The leather full grain aniline and feels thick and wonderful, the whole thing seems very well made. The place where the two pieces connect has great, easy to attach fasteners that hold everything in place. Our old sectional was constantly coming apart and almost impossible to attach, but we won't ever have that problem with this one. That being said there are some things you should know beforehand or you might be surprised when your sofa arrives.
Here is the sectional with all the cushions removed…
It has fabric underneath, and where cushions meet the is a triangle of extra leather (so you don't see fabric where the cushions meet).
Also, the cushions are not solid leather either. Here is the sectional with all the cushions on backwards –
From my limited knowledge of things, there are probably three reasons for this. The first is that it cuts costs… good leather is expensive. Second, it lets the cushions breathe, which keeps it from having that balloon effect when you sit on it. And three, leather against leather would be slick, adding fabric helps the cushions to stay in place (and they stay in place very well).
When you flip them all over you would never know it's not 100% leather.
It would be nice to be able to flip the cushions over if something happens to one or rotate them so they don't go flat, but that would raise the price significantly. You can order replacement cushions though, so at least there is that option.
Also, it is very sturdy despite its legginess, and that wooden mid-century modern legs are some of my favorite details.
Value
Oh, price. This part is a little tricky because everyone has a different idea of what expensive is. For me, a $3,800 sectional is crazy expensive. Keep in mind that I drive a $2,500.00 car though, so my price meter is probably a little off. I shopped for leather sectionals for a long time before snagging this sponsored review, and I can't tell you how many times I would see one I liked and then find out it was $6,000 – $8,000. So $3,800 is solidly in the mid-range level for price, but the quality feels top notch. Also, you can't beat the customer service provided by Article, which I can vouch for after making a return.
The Timber comes in three colors, and I surprised myself and ordered the middle color. (BTW, the Timber also comes in a regular sofa, if a sectional isn't your thing.)

I thought that the lightest color was what I wanted, but after looking around my house and realizing how much orange we have going in (orangy wood beams, ceiling, doors, future wood floors) I thought that the middle color would stand out a bit more and give it more of a layered look. Maybe I'm wrong and the lighter one was right on the money, but we will never know.
If I had one complaint about the couch, it's that it is a little small for our living room. I wish there was the option to buy an additional seat to add into the middle, because I would do that ASAP. With the extra space Adam is getting himself all excited about a recliner though, so I'm thinking a recliner, a fun colored loveseat, and some end tables might be in our future. We will see.
Overall, I'm very happy and would 100% recommend buying from Article. In fact, I already bought a runner for the mudroom from them (which is great quality) and am seriously eyeing their Sven velvet loveseat. Buying anything online without being able to see it first is scary (especially furniture that you will have for a decade or more), but customer service and their whole return process was so great that the reward definitely outweighs the risk.
So what do you think, do you prefer the Mello or the Timber? Would you ever buy furniture online, sight unseen?