Our NBI Drainboard Sink – Two Years Later
It was exactly two years ago now that we started using our NBI Drainboard sink, which means its received enough use and abuse to give it a fair review. A lot of you will have no interest in this, but ever since my initial post about the sink I've received a slow but steady flow of emails asking how it is holding up, so I know there is some interest out there.
When we chose this sink I was skeptical about its durability and functionality. All I knew is that it fit with my vision for the kitchen, and that was good enough for me. The sink is an exact replica of a 1920's highback double drainboard sink, and it is made if a plastic-like material called Bio-Lok (not cast iron or porcelain, like the real thing). In our previous house we ripped out a plastic kitchen sink, which was total garbage. So naturally this one made me a little nervous, despite the fact that it had great reviews.
The other thing that I was unsure of the depth of the basin. When Adam and I remodeled our previous kitchen we installed an extremely deep single basin abyss of a sink. I loved it. You could hide all the dirty dishes in that thing, including the huge highchair tray. So when I received this NBI drainboard sink I almost returned it, because its tiny six-inch basin gave me visions of dirty dishes littering the entire kitchen.
I kept in though, and I'm glad I did. Turns out that having a shallow sink that doesn't hide anything has actually been a good thing. Not that the dishes don't ever pile up, but for the most part they get washed or put in the dishwasher after every meal, and the kitchen stays fairly clean. I'm naturally messy, so this is a big step forward in the Domestic Imperfection household.
The drainboards and built-in backsplash make cleanup a breeze, there are no cracks or seams for grime to hide in. Also, that tiny, impossible to properly clean area between kitchen faucet and the wall doesn't exist anymore. Praise be.
Speaking of faucets, there are like two in existence that will fit a sink like this, here is a link to the one I have. It's solid and well made, plus the soap dish might be my favorite thing in this whole set up.
Alright, so now for the real question…how is it holding up?!
Well, here is a picture of it, two years later…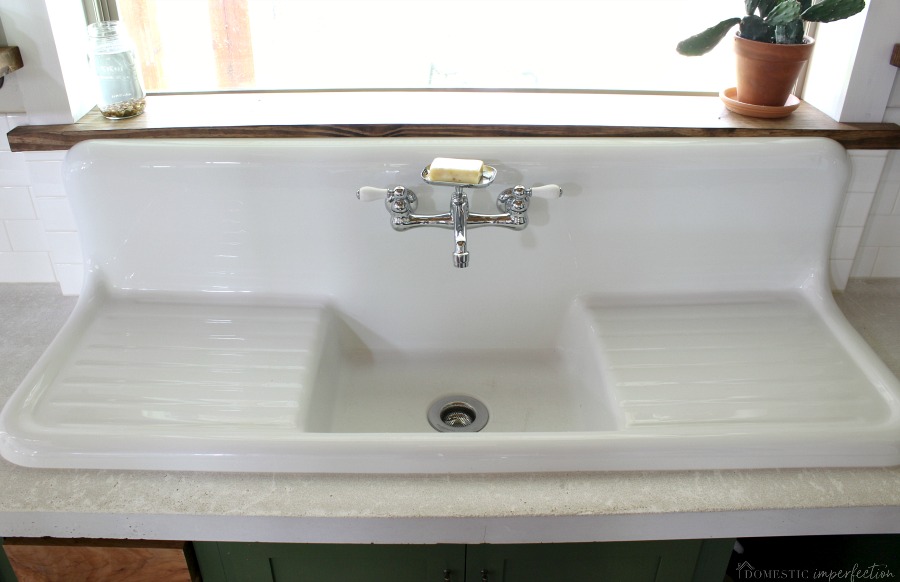 The Good
No stains
No chips
No cracks
No melting
It is actually holding up surprisingly well. The backsplash and drainboard look brand new…shiney, clean, white, and wonderful. There are no stains on the sink, despite the fact that I frequently let things like spaghetti sauce and blueberry juice sit in it for way too long. Even if something has left a stain after doing dishes and cleaning the sink, a few hours soaking in bleach water has taken them right out. Also, putting hot pots on it has no effect, even my heavy cast iron ones.
It's not all good though, here is a close-up of the sink basin…
The Bad
Bottom of sink basin has minor scratching
Bottom of sink basin has lost some shine
The sink basin is the only part of the sink that doesn't look brand new. It's covered in light scratches and isn't as shiny as the rest of the sink. With our last sink I had a raised metal grid to protect the bottom, and I loved that thing. I wish I had the foresight to do the same thing for this sink, but I didn't even consider it because of the whole depth issue. Either way, the scratches aren't that noticeable or terrible, but if you are looking to buy from this company you should know that the sinks aren't invincible. Really, what is though?
You may also like –
Installing the Highback Drainboard Sink
Our Butcher Block Countertops – Two Years Later
My Painted Kitchen Cabinets – Five Years Later