Our Rustic Master Bedroom Retreat – The Reveal!
Thank you to Modsy for sponsoring this post. Want to try Modsy for yourself? Use code ASHLEY20 to get 20% off a design package!
It's here! Master bedroom reveal day!
Adam and I have been chipping away at the bedroom for the last couple of years, and slowly but surely it went from a mostly empty mishmash of random items to a relaxing retreat where we can escape at the end of the day. It's amazing.
So just to tide you over before we get to the guts of the blog post, here are a few pictures of the finished room.
So let's take a trip down memory lane and see where we started. I would love to post a great before and after picture, but when you build a custom home, what is the before picture? Really, it should be a bunch of trees on our lot, because that's true before picture. Do you use one when it was just framed? Drywall? From the day we moved in? I don't know the answer, so I say let's just start at the beginning.
The room in question…
Framed –
Siding –
Drywall –
The next two are what it looked like when we moved in, which I guess makes them the official before pictures.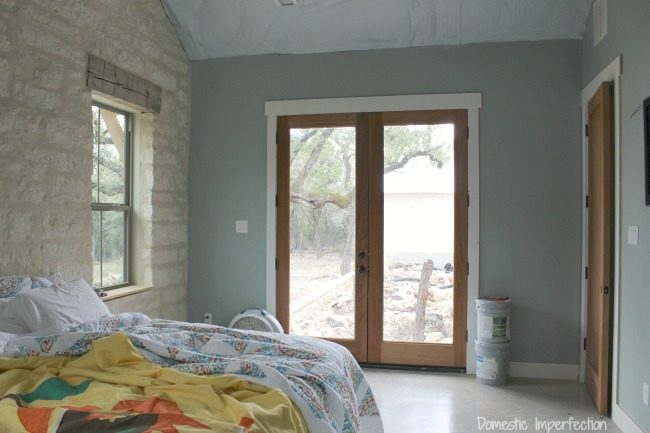 Our bedroom had great bones, it was just lacking in furniture and decor (and a ceiling). Adam and I knew what we wanted though, which was a rustic bedroom with lots of organic elements, texture, neutrals, and a very obvious absence of kids, clutter, and noise.
Here is my first design plan for the bedroom. Looking at it now it seems laughable, but at the time I was pretty darn proud of it.
Then earlier this year I got a chance to work with Modsy, which is a personalized home design solution that utilizes 3D visualization technology to let you try on furniture before you buy it. You can see the space, try out products from hundreds of online retailers, and make an informed and confident decision about everything in it. Here is the design plan we came up with together.
Is that not AMAZING? It's so lifelike, you can really get a feeling of how the room will look when it is finished, how everything goes together, and how it all fits in the space.
So that is what we have been working towards for the last couple of months. My final product turned out a bit different than the first Modsy plan, mostly because the fireplace is a future project and not something we are taking on at the moment.
So we changed the Modsy designs around, which is incredibly easy. You can either have on of their designers do it, or you can swap out furniture yourself with the click of a button.
And here is the room in real life!
We still have the fireplace and wood flooring to do (update – we finished the fireplace!), but even without those things it feels like a finished room. We never finished the master bedroom in our last house (it was a dumping ground for 7 years) and the rest of our current house is unfinished, so this bedroom retreat feels extra special. If you have an unfinished dumping ground of a bedroom like I always have, take some time and make it into something that makes you smile. It's worth it, I promise.
For more information about the bedroom projects and items in it, see the lists below!
Master Bedroom Source List
Master Bedroom Projects and Blog Posts