Alright, it's time to dive into the RV remodel! I've had so many RV remodel ideas swirling around in my head, but I managed to narrow them down and come up with a real, tangible design plan. My husband and I didn't buy the RV with any intentions of remodeling it, we just planned on using it to camp with our four boys…that is now out the window. Way, way out the window, blown down the street, and probably out of the state by now.
Remodeling this gloomy beauty just sounds like too much fun.
RV Before Pictures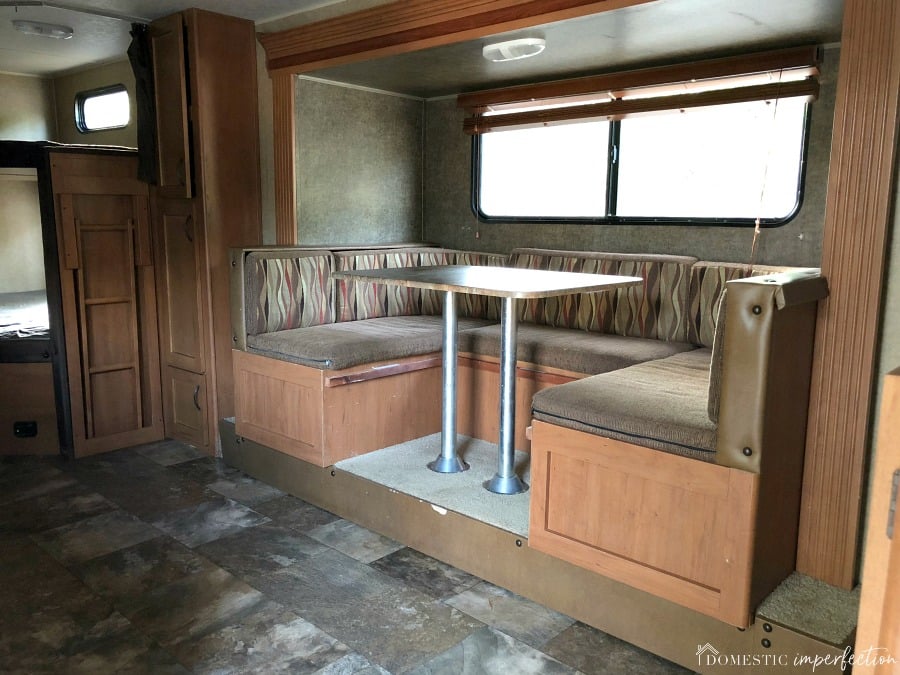 Did y'all notice all the brown? I mean, you have to look carefully or you'll miss it, but it's there.. being all brown on greige on camel on tan, with little burnt sienna and brick red thrown in for good measure.
Even though I fully appreciate that the designer was able to cram so many shades of the same color into such a small space, I plan on breaking up this brown party.
RV Remodel To-Do List
Repair and paint the cabinets
Replace blinds with curtains (most are broken anyway)
Paint the walls
Replace the main mattress (already did this as well, I bought this one and it is 100% better)
Replace/reupholster dinette cushions (by far the most intimidating part)
Accent walls in the dining nook, TV wall, and headboard area
Kitchen backsplash
Build drawers underneath the banquette
Paint laminate countertops and table
Decor and storage
I went back and forth for a long time, trying to decide if I should take the RV in a completely different direction than my normal design aesthetic (which sounds really fun), or I should do the usual because it's what I love.
Ultimately I decided to stick with what I love, for two reasons –
I want to do this remodel for as cheap as possible, which means using lots of stuff we have leftover from the house.
I want it to feel like our home away from home, which means it should look like, well…home.
RV Remodel Ideas and Design Plan
So here is a mood board I put together with all the elements I've picked out…
It's going to look SO different. I can't wait.
The Inspiration
So let's talk about the details, starting with the fabric for the curtains. 
I LOVE the fabric. Yes, all caps…that's how you know I'm serious.
I first found this fabric a few years ago, and I his it away in the back of my brain, waiting for the perfect place to use it. The colors are the exact palette for my house, I could literally put a throw pillow of this in any room and it would coordinate perfectly. Home away from home…nailed it.
I like that it's a playful fabric (perfect for a fun RV filled with little boys), but adult enough that Adam and I don't feel like a coordinated Disney bedding set exploded all over our RV.
Also, those geckos are cute as hell.
I'll pull all my colors from the fabric, which will be blue/gray, orange, black and white.
The walls
Here is the wall color, Silvermist by Sherwin Williams.
We used this exact color in five rooms of our house, it's a great muted blue. We have about three gallons leftover from painting the house, so it was an obvious choice. I can't wait to see how different this little space looks without the sponge-painted yellow-ish brown walls.
The floor
The floor is the only part of the camper that we plan to leave the same. It isn't something that I would have picked on my own, but it's already there, is in great shape, and hides dirt like a boss.
The cabinets
The cabinets are going from (a very fake looking) wood to white. Our RV doesn't really have that many windows and is really dark inside, so this will go a long way in making less cave-like. Adam and I are actually 90% finished with this and it was a giant pain in the butt, but looks so much better. I'll write a post with all the details once it is 100% complete, but here is a sneak peek!
The countertops
Next up are the countertops, which are currently a stone look laminate. Don't let the picture below fool you, the countertop and floor don't match…they are actually very different colors and patterns. One of them needs to be a solid color, and since the floor is staying the countertops are the lucky winner.
My first idea was to cover them with a thin layer of concrete, which I think would look great. You can buy a kit (which is rated really well) and Google is full of tutorials. After doing more research I think the constant movement of an RV would cause them to crack though, so instead I'm just going to paint them black.
I've been looking at countertop paint kits and this one has really great reviews, but I'm also not sure something that expensive is necessary for such a small amount of counter space. If anyone has experience painting laminate countertops (with a kit or without) I'd love to hear about it in the comments!
Accent walls
In a few areas, I plan to skip the blue paint and instead make them accent walls. The dinette alcove, behind the TV, and the headboard are going to become wood-planked walls. I have no doubt that these small areas will be the shining stars of the entire renovation.
I'm using a product called Stikwood, which they have agreed to donate to the remodel in exchange for being featured on the blog. I've had my eye on this product for years, and am really excited to finally have a place to use it. Stikwood is real reclaimed wood, cut super thin and applied by simply sticking it to the wall. There are no tools required, plus its feather light and doesn't really add depth to the walls…perfect for an RV. There are a ton of finish options, and after ordering some samples I ended up choosing Reclaimed Sierra Silver (thank you to everyone who voted on Instastories!).
Dinette cushions
The current dinette cushions aren't great…they are thin and flat, plus the fabric is ugly.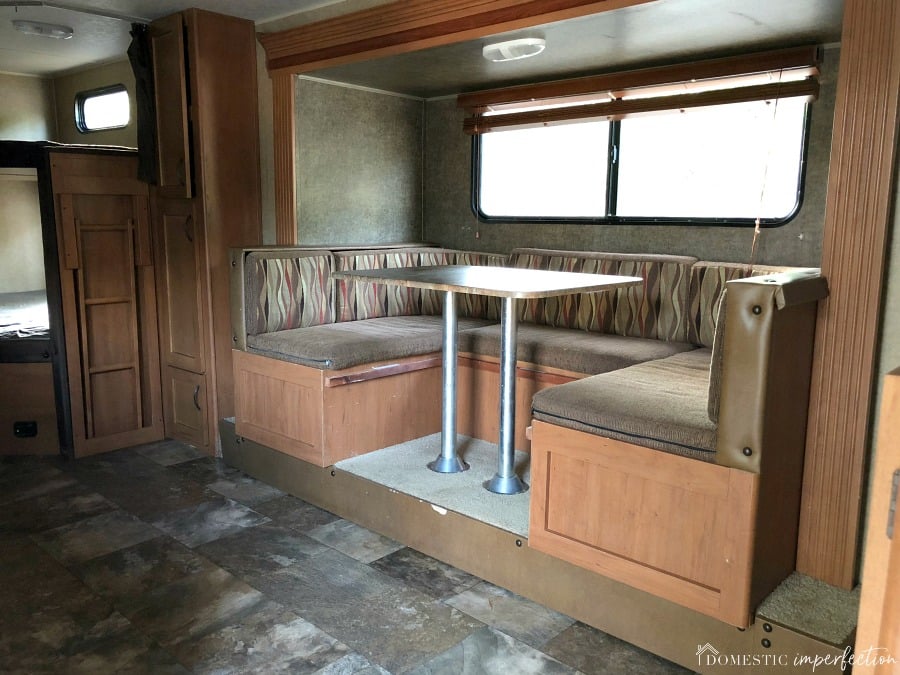 I plan to add new foam and reupholster them, probably using dropcloths from the hardware store (like I did on my barstools years ago).
Fabric dropcloths are cheap, thick, clean up well, and are a nice neutral. I'm not great at sewing and don't enjoy it though, so this part of the remodel should be… interesting. Replacing all the fake leather trim, painting the table black, ripping out the carpet, and building drawers for usable storage under the seats are also on the to-do list for this area.
RV Remodel Timeline
As far as the timeline, I'm going to be a hopeful realist and say we should be finished before the new year. I don't want to drag it out, but this is an "in our spare time" remodel, and we all know how that goes. The to-do list for the camper is pretty extensive, but it is such a small space that it hopefully goes pretty quickly (now that I'm nearly finished with those dang cabinets!). Fingers crossed!
Update…it's finished! Get all the information about the RV remodel by clicking the links below.
RV Remodel Posts