The mudroom is so incredibly close to being finished, and I can't wait to get the reveal post up on the blog (thinking it will be next week). It's been way too long since we've had a reveal post around here. In the meantime though, let's take a detour and talk about window trim.
So all of the window and door frames were finished with drywall returns during the building process. Adam and I knew we wanted trim eventually, but figured we would do that later (plus they weren't going to make the price cheaper by leaving the window trim unfinished, I asked). But when we started the shiplap in the laundry and mudroom it was time to make a decision about trim.
We could either just add trim on top of the existing drywall returns, or rip them out and then add trim. I didn't want to cover more of the window frame, so out came the drywall.
It actually came out really easily, so if you have the same kind of plain windows and dream of trim then grab a crowbar or a flathead screwdriver or a freaking steak knife and rip that stuff out. You don't even have to be careful because the trim will cover your rouge steak knife stabs. It's like a mini therapeutic demo day…I never knew it could feel so good to rip apart your new home.
Here is what it looks like after getting torn apart –
The doors in our house were trimmed out when we installed two years ago, and I had decided to go with a super simple trim design…just a 1 x 6 on top of the 1 x 4 verticals.
Simple is what I wanted and simple it was…but it was just too simple, and a little flat. So Adam and I talked about how we could give it a little more oomph without having to rip out anything we had already finished, and decided that adding a horizontal 1×2 piece on top was the perfect solution.
The bottom is just as simple. The sill is a 1×6 peice of pine (this is actually the first piece to go in) capped off with another 1×6 on the bottom.
Here are the dining room windows before trim-
and after –
Much better, right? Plus the wood ceiling and light fixture didn't hurt either.
Kitchen window, before –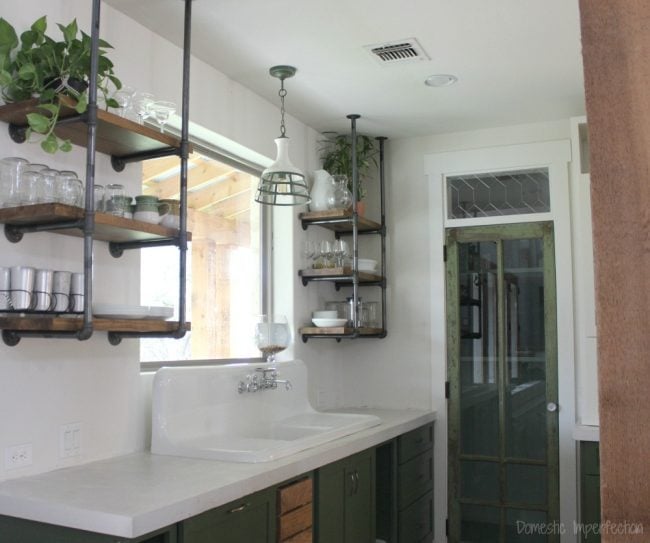 and after –
(Also, we are definitely going to talk about that newly built-in that kitchen sink right after the mudroom reveal.)  
So that is one of the side projects we have been working on….six windows down, nine to go…plus fourteen doorways. Should be finished in no time, haha.
You may also like –
10 Home Improvement projects I regret
10 Home Improvement project that were a dang good idea