So I know we said the bedroom was finished, but that was a lie. We still needed to add wood flooring and a fireplace, but neither one was going to happen for a few years (since my four sons are now eating our house projects budget. Literally eating it…they never stop eating. I'm screwed when they're teenagers.)
Adam and I found a way to add a fireplace and not break the bank though, and now this exists in our bedroom…
I'm so glad we didn't wait, because having a fireplace in your bedroom is the best thing ever. It's so cozy and pretty that I feel like I'm falling asleep in a bed & breakfast every night. Except that no one makes us breakfast, kids sneak in and ask us for water constantly, and the alarm clocks goes off way too early. Other than that though…bed & breakfast.
We always planned on putting a gas fireplace in the bedroom, we even stubbed out a gas line there when we built the house. A gas fireplace is pretty expensive though, and we planned to wait a few more years before biting the bullet. Then we finished the bedroom makeover last month, it just felt so freaking amazing and comfortable that Adam and I didn't want to wait a few more years for the fireplace. We wanted it now, this winter.
So I started making some calls and getting quotes…and was quickly reminded why we had decided to wait. That crap is expensive. It looked like we were going to have to hold out on making this plan a reality.
Later that week I was watching Instagram stories, and Erin at Kismet House was talking about the electric fireplace they had just bought and were going to build into their living room. She had just taken it out of the box and was showing us the features, and I was like "THIS IS IT…THIS IS THE ANSWER!"
Adam and I had never considered an electric fireplace because it's not real fire. Electric fireplaces are simply a lightbulb made to simulate fire, and that never sounded all that great to me. But this…well it looked pretty legit. Even better was the price … $330 for the biggest insert. After hearing the quotes for a gas one, $330 sounded like chump change. Buying and electric fireplace would allow us to have one about a week instead of two years from now, and all we had to do was plug it in. Another huge benefit that never crossed my mind is that is that you can use an electric fireplace without the heat. Here in Texas it's hot pretty much all the time, and with an electric fireplace we can enjoy the cozy flames all year and not turn our bedroom into a sweatbox.
I was sold and so was Adam, and we bought it that day. We never move that fast, but we did this time.
We also scrapped our plans for a brick fireplace surround in favor of shiplap. We have leftover shiplap sitting in the garage, this seems like a perfect and easy place to use it. Also, free. Nothing beats free!
Here is the first sketch for the new fireplace…
We needed the fireplace to be up off the ground so you can actually see it from bed, so it needed a pretty tall hearth. Adam added a bookshelf underneath to break it u a bit, but we ended up taking that out in favor of two smaller hidden shelves on the side. I wanted it to have a wooden mantel and a limestone hearth, to go with the stone bedroom wall and the fireplace in the living room.
Adam built the fireplace in sections and it is completely freestanding, so it can be moved at any time. He assembled the frame out of 2 x 4's, wrapped it in OSB and shiplap, and then added a few screws into some studs so it doesn't fall on anybody.
Here are a few pictures of it coming together (or more accurately, pictures of my husband working. He gets 100% of the credit for this project.) This first one is the bottom hearth section, and the two hidden bookshelves turned into a full on tunnel.
The top section…
After Adam finished the surround, we moved it inside and attempted to find the perfect mantel in our scrap wood pile. We had this beam leftover from building the house, but it was too thick and too shallow.
So we tried a leftover piece of pecan, which was way too thin.
So we asked a friend if we could dig through his scrap wood pile (which is the ultimate scrapwood pile) and found the perfect mantel.
Next we had to find a hearth. I really wanted limestone to match the wall, but we had to go hunt it down, pick it up, and pay for it. Luckily we a local place that sold limestone slabs for about $80, and we dug out a broken one that they agreed to give it to us for $20. We were going to have to cut the slab down whether we bought a full one or a broken one, so broken one it was.
Limestone is actually pretty soft, so you can cut it with a simple circular saw. Adam cut extra length out of the center so that we would have a clean, straight seam instead of a jagged one running through the hearth.
I filed the seam with sanded caulk (which looks like grout but is way easier) and called it a day.
I wanted something round for above the mantle, and I originally bought this new mirror from Pier 1. As soon as I put it there now I thought it looked weird… it was too many mirrors and windows right next to each other.
Also, Adam pointed out that it looked like a face (the windows as eyes, mirror as the nose, mantle mustache…) and then that was all I could see. I ended up returning it and stealing a big decorative metal disc from another part of the house.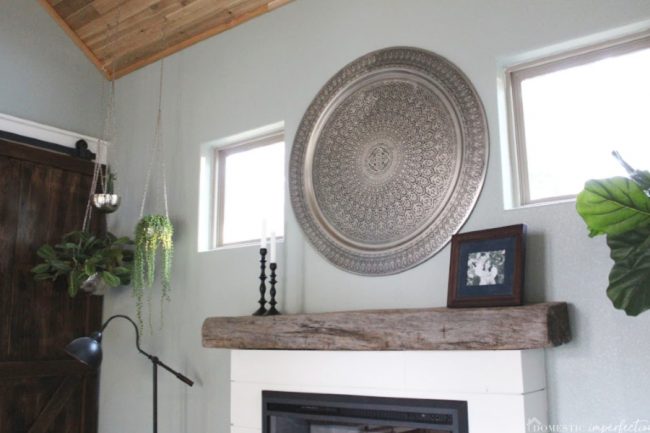 Adding a fireplace to the bedroom makes it so incredibly cozy it is crazy. I don't think we've turned it off since we installed it, it's just like a giant sexy adult night light.
The fireplace puts off a decent amount of heat too, since it's really just a glorified space heater. It will warm up our room and take the chill out, but I wouldn't rely on it as your sole source of heat or anything. We mostly use it without the heat on at all, which makes me so incredibly glad we didn't spend thousands of dollars on a gas one.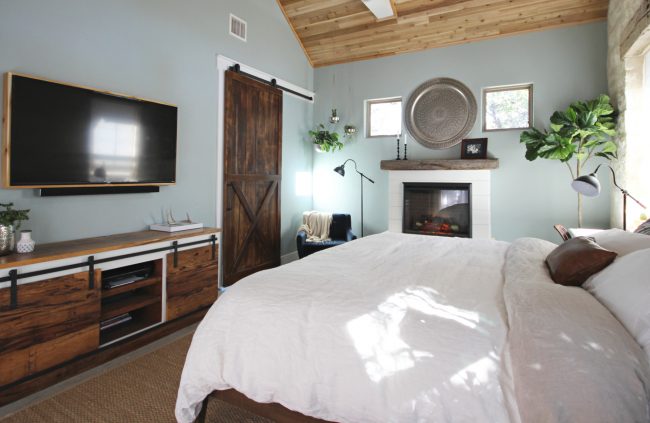 So that's the bedroom….it is really finished for now. Adam and I love it in here, after we put the kids to bed at night we rush back to the bedroom window watch TV, usually snacking or enjoying a drink, with the fake fire roaring beside us. It's heaven. So here's my advice. Get a fireplace for your bedroom. Don't question it, don't overthink it, just buy this one and you can thank me later.
Fireplace cost breakdown
2 x 4 for framing – $25
Limestone slab – $20
Shiplap & mantel – free
Supplies to add an electrical outlet – $10
Paint (SW Alabaster) and caulk – already owned
Candlesticks – $18
Decorative metal disc – already owned
Total – $403
Bedroom Source List