My New Article Leather Sectional (and why I returned it)
I've always owned ugly couches. My first couch as a married woman was a floral beauty handed down from my parents, then shortly after I went out and bought a sweet, tan, bulky microfiber set. Adam and I were on a tight budget, and there were only a few options in our little military town in Upstate New York. Shopping online wasn't an option….it was 2005 and we didn't even own a computer (can you imagine?!).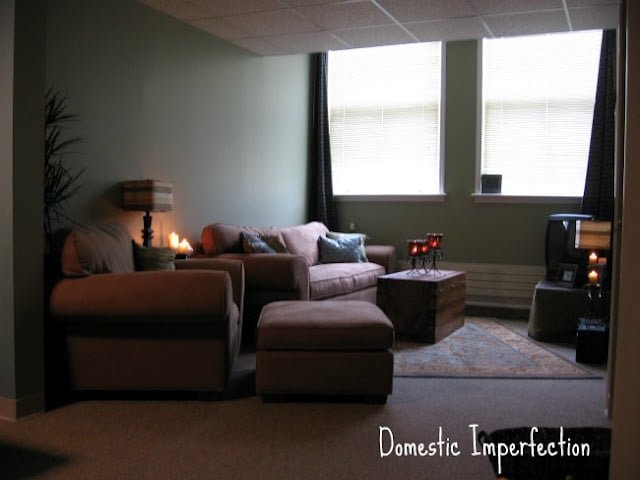 I feel like nearly everyone has owned a sofa set like this, it's like a rite of passage. A budget set that you don't love, but it's good enough and sticks around for way too long.
Then last year enough was enough, and I sold our now 12-year-old set for $50 on Craigslist. I was dreaming of replacing it with a sleek leather sectional, but decided that our money was better spent elsewhere and accepted a giant hand-me-down sofa instead. I did feel like I was moving up in the world with this swap, at least this one was comfortable and roomy enough for the whole family.
While this new to us couch certainly worked, I still envisioned a leather one in our living room. So I kept casually shopping, waiting for the day that a new couch became a priority. There are a few places I stalked the most, one of them being a furniture retailer called Article. They have a huge selection of beautifully designed, reasonably priced furniture…the catch is that they only sell online. This means that you can't sit on or touch the furniture before you spend thousands of dollars on it, which is slightly terrifying. The quality is supposed to be great though and the prices are why they the company is so successful, so they stayed high on my stalking list.
So one day last month I'm sifting through my very full inbox, per usual, when I see an email from Article. I immediately open it, excited that a furniture company I've been stalking for way too long knows I exist. Not only did they recognize my existence, but they wanted me to review a piece of their furniture on the blog. I responded casually, like this kind of thing happens to me every day, all the while texting my husband things that had an ungodly amount of exclamation points attached to them.
Cue me shopping on Article again, for real this time. I knew I wanted a large leather sectional, and I knew from all my previous Article stalking that they didn't have a ton of options for leather sectionals (fabric sectionals, yes, leather sectionals, not really). These are the five that are available…
The Sven ($2,999)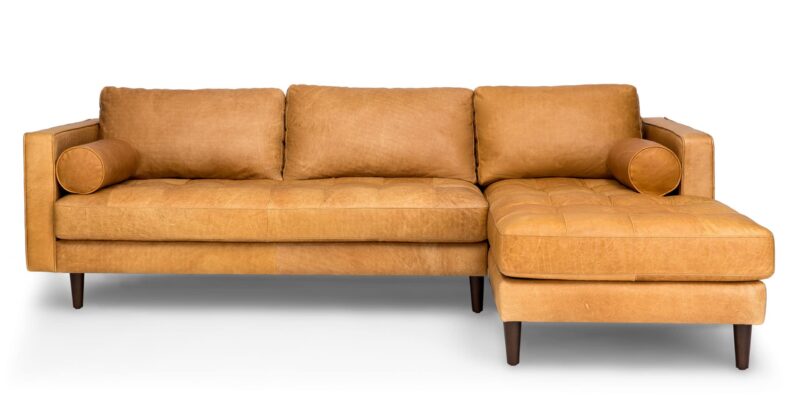 The Mello ($1599 – $1999 per piece)
The Nirvana ($3799)
The Timber ($3799)
The Burrard ($2999)
Even though I knew I wanted leather, I continually got distracted with all the velvet options…
How fun are those?!? Adam was very quick to refocus me though…leather, only leather (I will have to find somewhere else to use fun furniture like this). Anyway, after looking at all my options I immediately eliminated the Sven and the Burrard, since they were too small. They are really just a sofa and chaise, and not a true sectional like I wanted. The Nirvana was the right size, but that one was out because, how do I put this nicely… because I'm not attracted to it. And attraction…well, it's very important.
That left me with the Timber and the Mello.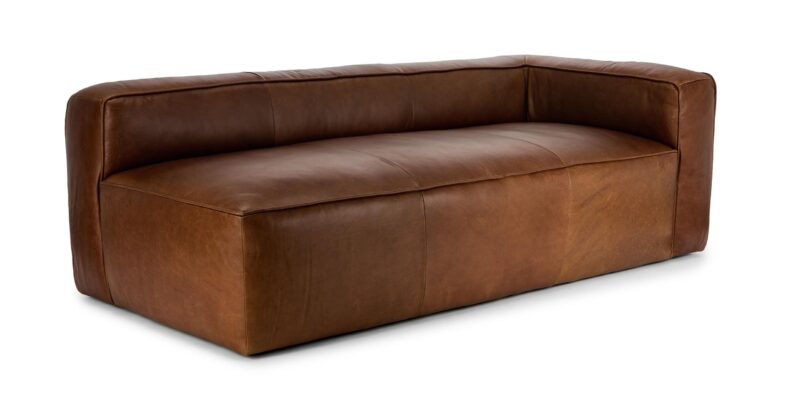 I loved both and went back and forth for a few days, but in the end I chose the Mello. Here is why…
Reasons I chose the Mello
It looks solid and sturdy. The Mello is one big piece of furniture, there isn't much that can move around or break.
There are no cushions. I have four young sons, which means that cushions on the couch = cushions on the floor. I liked that the there were no frills, what you see it what you get, and it will always look like that. Also, no cushions means no lost remotes, no hiding crumbs or snacks, etc.
It didn't have legs. I've always liked the leggy look, but so much stuff gets trapped under out current couch it is ridiculous. Nothing could get trapped under here and I really liked that.
It's leather, obviously. Leather is attractive, timeless, and (most importantly) easy to wipe down.

The leather from Article is full grain aniline and has lots of natural variation, which will help to camouflage all the "variation" my family is sure to add.

The Mello is sold in individual pieces, which means you can get it in the size and configuration that works best for you.
It's unique.
It had a ton of positive reviews online. I couldn't really find any reviews of the Timber, but the Mello had quite a few and they were all glowing.
Reasons I was a little unsure about the Mello
The back on it looks crazy low. How comfortable could that really be? I can't sit on it before I order, so it feels like a big gamble.
I went ahead and ordered two of the left arm Mellos, which I could put together to make one large sectional in the perfect configuration. And just FYI, I didn't get the sectional for free. Article said they would send me one Mello to review (a $2,000 value) and the other I paid full price for. So even though I got a crazy amazing deal, I still have a significant amount of skin in the game.
About two weeks after ordering my couches were delivered. It wasn't a huge delivery service that brought them, it was a local guy in his SUV pulling a covered trailer. He and his helper were incredibly nice, and they unloaded, unboxed, and set up the couches, plus carried all the parts from my giant old sectional to the garage.
So they start to crack the first Article box open and I peek inside, because I'm excited and can't wait 30 seconds for them to pull it out. It looks like great quality and smells amazing. Then they pull the first couch out and all I can think is "Oh my gosh, its TINY!"
Here is the same shot with our previous couch. That back was absurdly tall on that one (at the top of my head when I sat) and the height difference between the two felt a little shocking.
As soon as the delivery guy saw me staring at it quizzically he said he will leave the boxes so that I can return it if we decide not to keep it. So they left, and I stared at it some more. I sat in it, I laid on it, I decorated it with throw pillows, I looked up the Article return policy, and I called my sister-in-law (who lives down the street) to come look at it and tell me what she thought. Then a few hours later my mom randomly stopped by and I was all "I'm so glad you're here…please come look at my new couch."
We all agreed, the couch was amazing but it looked weird in my house. When Adam saw it he said the same thing, but we lived on it for a few days just to make sure. I really didn't want to return it, because returning a huge sectional sounds miserable, plus I was excited to be working with Article and didn't want to be a pain in the you-know-what.
Anyway, after two days we had kinda fallen in love with it, because it was really, really comfortable. It's the perfect lounging couch. In fact, the two nights Adam and I Netflixed on it after putting the kids to bed we both fell asleep on it, both nights.
But in the end, I just couldn't keep a sectional that didn't make me want to jump up and down with excitement whenever I laid eyes on it. I did love it, I just didn't love it in my house.
Reasons I liked the Mello
It was solid, sturdy, and great quality.
The leather was really pretty, good quality, rich color, smelled amazing, and was generally just sleek and wonderful.
It was comfortable. The more Adam and I sat on it and got used to it the more we loved it. The low back that I was so worried about was great (comfort wise), almost like a huge armrest all the way around.
The footprint was the perfect size for our living room.
Keeping it meant I didn't have to go through the hassle of returning it.
Reasons I didn't like the Mello
Visually, the low back was just too low (It is 26 inches from the floor to the top. Literally my 17-month-old son who wears 12-month clothes was taller than it.)
The style didn't fit with our house…it just looked out of place.
Article's return policy says that you have 30 days to decide if you love your furniture, and if you don't you can return it no questions asked (as long as it is in new condition). Also, return shipping is only $49, and if you do an exchange it is completely free. And so I contacted Article and asked to exchange my two Mello sofas for a Timber sectional.
P.S – Article rarely has sales, but they are currently having a big Memorial Day sale. See all the deals HERE…one of the Mello pieces is even on sale, plus others are up to 50% off!