DIY Faux Stone Wall (aka the best thing ever)
I'm not even going to mess around with a proper intro paragraph in this post, let's just get to the good stuff. Behold…
Before –
After –
I love it SO MUCH.
Now that pictures are out of the way, let's get to the story.
Since deciding to re-do the guest room I knew I wanted something interesting on the wall behind the bed. I didn't want it to be colorful or bold, but rather very neutral. What I was after was TEXTURE. Big, beautiful, neutral texture. So my brain started going through all the things that I fit into that category….
Wood plank wall?
We've planked things before (here and here) before and it pretty easy, and would be cheap and fairly quick.
Grasscloth?
Burlap walls? (aka the poor mans grasscloth)
Then I remembered something I pinned a while ago….a brick wall.
A brick wall would look awesome, and evidently you can buy thin bricks meant just for this sort of project. So I got to googling to see where I could buy some. I wasn't having much luck, but somewhere in my internet wanderings I came across a product called AirStone. It was similar to the brick idea and basically the same shape, but it was meant to look like stone.
It was perfect, and before I knew it this was sitting in my driveway.
Now for some reason I had it in my head that AirStone was made of a dense foam. I don't know where I got that from, but as soon as an 18 wheeler pulled up to my house and a sweaty, struggling delivery man tried to pull it up my driveway with a dolly I knew it couldn't be foam. They are more like concrete…really light concrete. Here is what it looks like up close…
I was super excited to get started on this project, so I ripped open the boxes and got right to work.
I started by ripping off the baseboard…I thought about leaving it, but ultimately decided that the wall would look more authentic without it. The first row took forever since I had to use the level and cardboard shims to make it even, but after that it was pretty straightforward. You just use a smear on a bit of the AirStone adhesive, and press it into place.
AirStone has a few different color blends (which you can see HERE), this one is the Vineyard Blend. I really like it, and since it doesn't have the color variation of the other blends I could just slap stones without worrying that the colors were dispensed evenly.
When I got to the window I wasn't sure what to do, since all I had were the flat edge stones and they stuck out further than the window trim. Airstone makes live edge and corner pieces for stuff like this, but since we didn't have any Adam and I decided to rip out and replace the trim with something that would be easier to work around.
The hardest part of the project was cutting the stones lengthwise when I got to the top of the wall and around the window. To add insult to injury the ceiling is kinda slightly wavy (just like most builder-grade homes), so each and every cut was different. At this point my 7-month pregnant body was over this project.
Overall this was a very easy process and anyone can do it. That being said, it was a bit tedious. At one point I started having flashbacks to stenciling my master bathroom. If you follow me on Instagram you probably noticed my excitement level tapering off as the project progressed….
The end is totally worth the means though, the rock wall makes the room.
Helpful hints:
According to AirStone the only tools you'll need are a hacksaw for cutting and a putty knife for smearing the adhesive. While that's 100% true, I found that these additional tools were really, really helpful.
1. Chop saw
(I know, I know, barefoot and pregnant….)
You can cut the stones with a hacksaw, but it's not fun or quick. A chop saw makes it SO much faster.
2. A chisel – sometimes I found that the stones weren't 100% the same height. When this happens you can just keep on adding stones, but it will result in either a gap when you add the next layer, or wavy lines of stone. So when it was bad enough I would chisel off some of the extra height. Tedious, yes, but didn't happen all that often.
3. A level – gotta keep those suckers straight. (Also, I finally found a use for all my extra business cards.)
Overall I used ten boxes and three tubs of adhesive to complete the wall, which is 11.5 ft wide and 8 feet tall. Also, AirStone is only sold at Lowes (not Home Depot).
Let's take a look at a couple more pictures, shall we?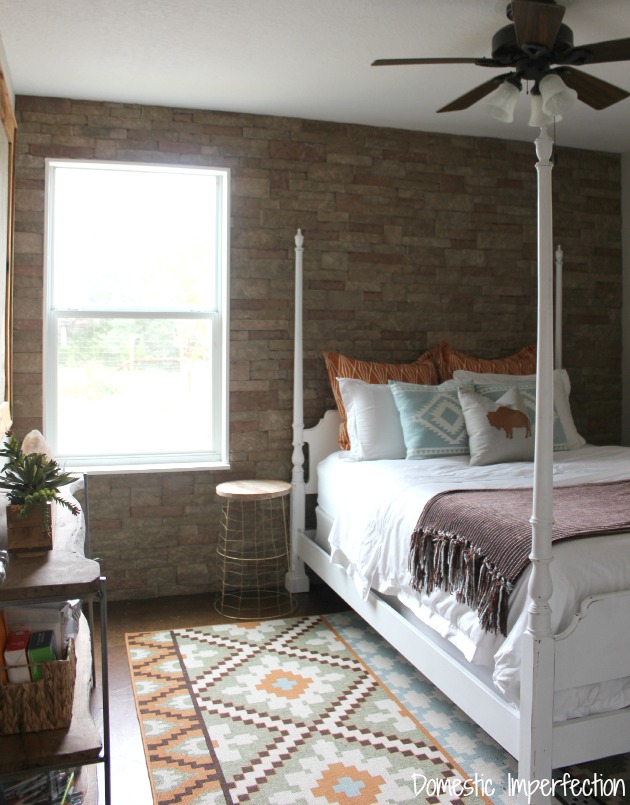 Southwestern Bedroom Sources + Links
Paint Colors
Walls – Sculptors Clay Behr PPU5-8
Trim – Pure White SW7005
Shop the Look

*I didn't receive monetary compensation for this post, but AirStone did send me the stone free of charge. All opinions are 100% my own, always.