Sewing a Euro Sham Pillow with Flanges
Today I have a simple tutorial to share…
A couple of weeks ago I showed you the new bedding for my southwestern guest room, and today I'm going to show you how to make the euro sham pillows. (Those are the big orange ones in the back BTW, I know different people call them different things.)
Euro shams are generally large square pillows, usually 26 x 26 or 28 x 28. They are really simple to make, and if you're a beginner you can totally do this. I know that because I'm a beginner…I've been sewing for years but can only sew things that are squares, like pillows and curtains. (Proof.)
How to Make a Euro Sham Pillow with Flanges
Supplies –
Fabric of your choice, you will need 1 and 3/4 yards per pillow. (I prefer home decor fabric for projects like these, because it's thicker.)
Sewing machine
The first step is, of course, picking your fabric. I prefer home decor fabric for stuff like this because it's thicker, but anything will work. The amount you will need to buy varies depending on how wide the fabric is that you choose. The fabric I bought is called Handcut Shapes buy Robert Allen and is 55 inches wide (paid $10.50 a yard) and I used nearly 3.5 yards for two pillows.
Once you have your fabric, lay it out and cut your pieces. I like to make my pillows with envelope closures (rather than zippers) because it is simple and requires less time and materials. To do this, you will need one 29 x 29-inch square and two 29 X 24-inch rectangles (per pillow).
After all the pieces are cut, you will want to sew the edges of the envelope closure.
Take the two 29 x 24 pieces, fold over the long edge about half an inch to an inch, iron flat, repeat, and sew.
Next assemble all three pieces, placing the printed sides on the inside and the sewn edges of the envelope toward the center, like a fabric sandwich.
Then pin it in place and run a stitch around all four edges.
If you want a 28 x 28-inch euro sham without flanges, then turn the cover inside out and you are finished!
I'm going to share a secret with you though….you always need to use pillow inserts that are BIGGER than the pillow cover. After I added the flanges to my pillow cover it made a 26 x 26-inch cover, but I bought 28 x 28 inch down pillow inserts to stuff in my 26 x 26-inch pillows covers. Let me show you why…
If you put the coordinating size insert in your pillow cover it doesn't fill the space, and the pillow is sloppy and sad.
Putting a larger insert in a smaller cover fills and the empty space and gives you a nice perky pillow.
And if you buy a down insert instead of a polyester one they are still soft and squishy. Down inserts are more expensive, but for good reason….they are soft, and you can always fluff them up, whereas a polyfill insert turns into a pillow pancake and needs to be replaced every so often. I bought these down inserts, and they are great.
So, if you are making a 28 x 28-inch cover, you need to buy a 30 X 3o insert. A 16 x 16 pillow needs an 18 x 18 insert….and so on and so forth.
To make the 26-inch pillow with flanges, take the pillow cover and mark off two inches around the edges.
As I was doing this I was thinking of all the sad, floppy flanges I see on pillows and wondering how I could avoid that. I was running through solutions in my head when suddenly it hit me…collar stays!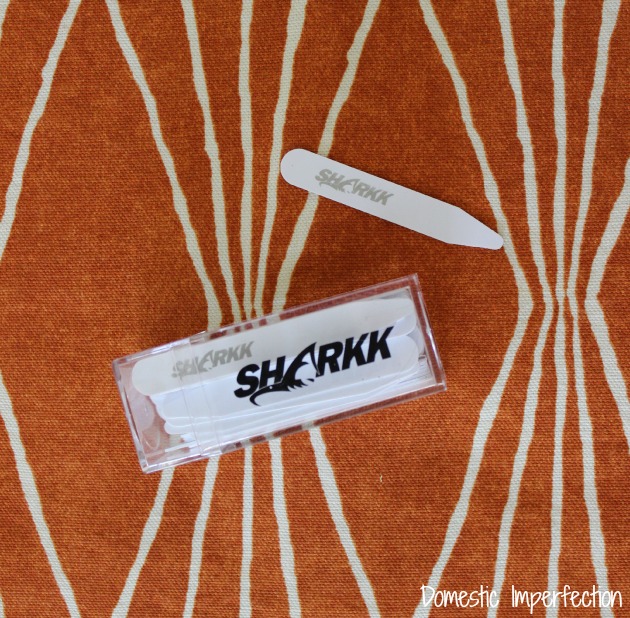 Adam has to wear them in his uniforms these days, and I had bought him a whole container of flexible plastic ones. They would be perfect for keeping my pillow flanges from looking wilted and depressed. I put fabric glue on both sides, situated it on the inside of the cover, and let them dry.
Then I sewed around the pillow right on the two-inch marks I have previously made.
I thought about sewing the collar stays right into the seam to make sure they stay (the machine would go right through them), but decided to sew right up to the base instead to keep them from potentially snapping if laid on just the right way. They should be good with just the fabric glue though, that stuff works really well.
Then stuff in your oversized down pillow insert and enjoy! Easier than you thought, right?
Southwestern Guest Room Project Links –