So Adam and I have been working on our laundry room for a while now, but as we are not HGTV it actually takes us real-life amounts of time to finish a room remodel. Two years so far, I think… that's normal, right? Don't answer that. It has been a process but I swear we are almost done, and it gets more usable every time we work on it. It's actually starting to look pretty dang amazing.
As a refresher, here are the posts I have already written about the laundry room –
Related – Mudroom Reveal
Here is a before picture (this is what it looked like when the builder turned the house over to us to finish).
Here is what it looked like a few weeks ago –
And here it is with the new counter and shelves –
We're so close to wrapping this room up! Can't wait.
One of the last projects in here was to add a countertop over the washer and dryer, for folding and ironing (haha, yeah right) and general junk collection and display (that's more like it).
I wanted a wood countertop, and installing a piece of butcher block seemed like the obvious choice. It wouldn't even of been that expensive, the cheapest one I could find was around $17o. However, we have made a few countertops out of wood flooring instead, with great results. Making a countertop was slightly more work, but the total cost was only $11. $11! That was the price of the flooring and we had the rest of the materials on hand, but if we didn't the total cost would have still only been about $60. Also, we didn't have to spend a day borrowing a truck and driving into San Antonio to pick up a piece of butcher block…so this might have even been the quicker and easier choice for us.
So if you are interested in doing something similar here is the tutorial!
Materials Needed
HOW TO MAKE A COUNTERTOP OUT OF WOOD FLOORING
The first step is to cut a piece of plywood (3/4 inch thick or more) to fit the space.
If you are replacing an existing countertop just cut it to the same dimensions. Ours was a little unique in that we had to leave a gap in the back for all the utility connections, and also pull it bac from the front of the washer about two inches (so that they can be pulled out when needed without the countertop getting in the way, and so it's easy to add the detergent).
After making sure everything fit, we removed ours and took it outside to put it together. You could leave it in place if you prefer, but sanding and staining will be messy.
The next step is to add your wood flooring, we used utility oak we got from Lumber Liquidators. They sell their not-so-great pieces at .99 a sq ft, and a few years ago we bought enough to do a few countertops in our home. They are cracked, have holes, and are mostly short pieces…not something you would want to use for a floor. But they are great for countertops!
Making the actual countertop is simple, you just install the wood the same way you would on the floor. Start by making the first plank flush with the edge of the plywood, that way you can add the front piece later and make the countertop look like a solid hunk of wood.
To install the planks, simply add some wood glue –
use a rubber mallet or hammer (gently) to tap into place –
and brad nail to secure.
at the end of each row use a pencil and chop saw to cut the ends to the correct length.
Now you need to address the problem of the holes and cracks.
If you buy better wood this step won't be necessary, but we definitely needed it. If you leave them they will just fill full of crud and snag your cleaning rags, so what I do is fill them with fiberglass resin. We have used this on quite a few projects now (here) and it works really, really well.
It's simple to do , I use a ziplock bag to mix the resin with a hardener in small batches, cut a TINY hole in the corner, and squeeze into the cracks.
You only have a few minutes to do this before it hardens in the bag, so you have to move quickly. It's not going to be pretty, but thats okay.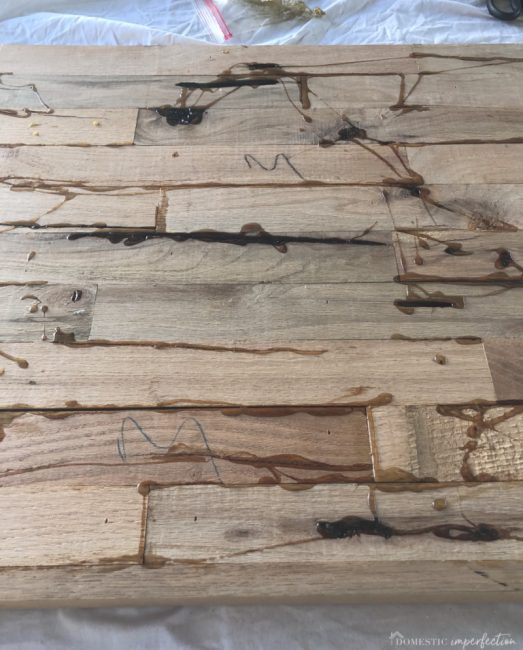 You may have to repeat this process a few times, but after everything is filled in and dry you just sand it smooth with a palm sander.
Last comes the staining and sealing.
I used pre-stain, which seems like something that is totally unneccessay but makes a world of difference. Then thee coats of stain, followed by two coats of Varathane water based sealer in a matte finish.
And there you have it, our $11 countertop!
We also added a large DIY industrail pipe shelf above it, which I'm excited to decorate. If you are looking for a shelf tutorial I wrote one a few years ago, you can read it here.
You may also like –