Shopping for Southwestern
First, a confession.
I have exactly zero projects to blog about. Lots of things are in the works, but nothing is at that glorious, complete, bloggable stage yet. And while I'm obviously pretty good at just not updating the blog for weeks on end, I thought that during this dry spell I'll take you shopping with me. Online shopping that is, since shopping in actual stores with two energetic little boys is about as fun as a trip to the DMV.
So I've started in on the guest room. I know what you're thinking, because I'm thinking it too. "ASHLEY, what the heck…just finish your kids room already!" I know – I will – but we're at that furniture-building stage and all of Adam's time and energy go to his police academy. So I've got to work on projects where I don't need him. Plus, let's be honest… I'm pretty excited about redoing the extra room. New projects are always exciting.
In the last post I showed y'all how we moved all the beds in our house around and tore out the carpet in the guest room. Once that happened I decided that was the green light I needed to start on redecorating. I mean, if you're going to put in new flooring you might as well paint the walls, and add new trim, and (of course) replace everything in it that you don't love. Which is basically everything. Completely logical, right? Right. I'm glad we're on the same page.
I have my sights set on a southwestern room. I know when I say that some of you are having visions of rooms like this…
But fear not, because none of those are the look I'm going for. I want something less heavy and a little more modern. I know that type of southwestern decor is SUPER trendy right now, which makes me want to hate it…but I can't, because I love it too much. I just can't help myself.
So I've been shopping for a southwestern/Navajo/Aztec/tribal piece to serve as an anchor for the room. I've been looking for bedding or a rug, and there are a ton of options. Here are a few of the things I've been considering….
First and foremost, anything from Pendelton.
They have the best southwestern stuff, especially blankets. There are a ton to choose from and most of them are reversible. Here are some of my favorites…
They run about $200-$300 a pop, so they're not cheap. There is a Pendelton outlet not too far from me though, so finding one for a reasonable price might just be feasible.
They also have this rug that I think is amazing…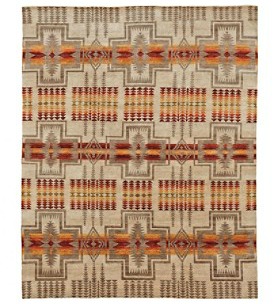 Though a 6 x9 is $2,900 and an 8 x 10 is a whopping $4,200. Not even the craziest outlet sale could make this rug a reasonable price. It is pretty though.
I like this bedding from BlissLiving as well, it still has a southwestern vibe but is more contemporary than the Pendelton blankets.
Y'all like it too, because when I pinned the gray version a few months ago it received a ton of repins.
This Safavieh rug from Overstock is also modern and colorful, and at $197 for a 5×8 it is a much better bargain than the Pendelton one. Not that being cheaper than the Pendelton rug is a challenge or anything.
Speaking of rugs, Rugs USA has quite a few rugs that would do quite nicely…
I also stumbled upon this colorful wall tapestry at Urban Outfitters and love it. Look at those colors! It's currently out of stock though, and I'm not sure if it will ever be back in stock. Bummer.
These next two are just pillows, but I love the fabric. They're from an ETSY store called City Girls Decor and I have seriously considered e-mailing her and asking for her fabric source so I could make my own duvet cover.
Then there is the obvious option…
I live in San Antonio, so at any time I could just take a trip downtown to El Mercado and choose from thousands of colorful Mexican blankets. Though I'm not sure that's the direction I want to head, plus every single time Adam and I brave downtown we end up in a fight. Something about one-way streets, traffic, expensive parking, and crowds make us turn on each other.
So, you want to know which one I picked?
Let's be honest…this rug looks like me. It's sage green, smokey blue, and brown. Plus there's the addition of orange, which is one of the colors I wanted to play around with in this room. I like that this rug matches my entire house and it's still fun, southwestern, and kinda loud. But not too loud. It's perfect.
It's actually an outdoor rug (which is a plus in my book) that I initially spotted it on Joss & Main, but since their sales only last a few days it was gone before I could decide if I loved it or not. I've since found it at Amazon, Rugs USA, Overstock, and Target though, so it's definitely around. I ended up buying it from Overstock and paid $141.00 for a 6×9 (plus 2.5% cash back on Ebates!). Anyway, I can't wait to get it all laid out…I think it's going to be a great start to the new guest room.
Alright, time to go finish a project already. Hope everyone had a great long weekend!
Southwestern Guest Room Project Links –