Have you ever caught yourself wondering what roughly $35,000 worth of gravel, concrete, and manual labor would look like? Yes? I knew it. Well it looks a lot like this…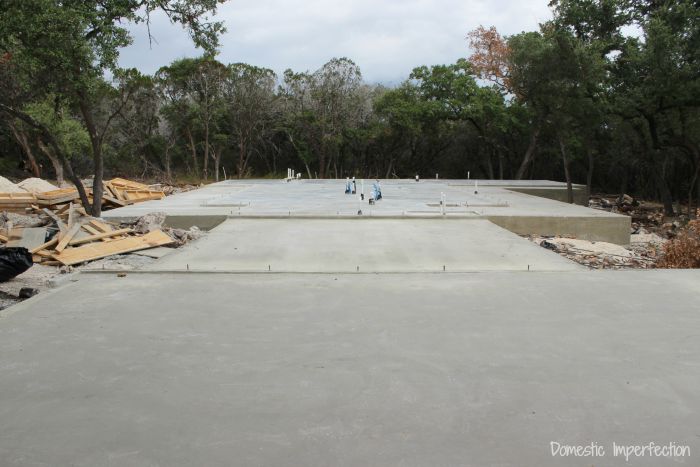 It's the most beautiful hunk of concrete I've ever seen.
Alright, let's dig into the process.
So first the form boards went up. It started with the foundation crew saying "tell us where you want it" and Adam and I were like "HERE"…. and they got to work. (Actually that's not entirely true… first we fought a little, measured a lot, and then were like "whatever, just put it here.")
The form boards went up somewhat slowly, thanks to our perilous driveway. Out of the first group of work trucks to enter our property two blew out tires and one punctured a gas tank. I'm beginning to wonder how my minivan has made it out unscathed so far (not pulling a monster trailer probably helps). Here they are all up…so fun to watch it take shape!
(We decided last-minute to make our porch larger, which is why there is a tree in the way.)
Next the plumber came out and added all the drains.
After all the form boards were up and the plumbing was in, Adam went out to measure and make sure it was all correct. It was perfect apart from the one, obvious, tiny little baby little hiccup (name that movie!). It was over the easement. Our house has to be 25 feet off the property line, and it was four inches over. It seems like a tiny insignificant detail, but it can cause problems when we go to close on the mortgage. So it had to be moved, all of it. We ended up just moving the house and compressing the breezeway 6 inches to make it easy (well, easier…says the girl who didn't actually do anything).
From there it was smooth sailing! After all the form boards were in place, gravel was brought in and bagged into squares (I'm sure there are technical terms for all of this, but I have no idea what they are so I'm just going to call 'em like I see 'em).
Then the gravel was covered and cables were added in a grid pattern.
This is a post tension slab, which means there is no rebar involved, just cables that you pull tight to reenforce the concrete.
Here's a closer look at the cables, they run over the top of the gravel and in all the trenches.
They are attached to the form boards like so…
And here is what they look like after the concrete is poured.
At some point in the near future they will be tightened, cut off, and patched so that you would never even know they're there.
And here is the finished product! Well, half of it and then the other half, since it's so wide I can't get it all in one photo.
Adam and I were taking the other day, and this slab cost more than every vehicle we have ever owned, combined. Isn't math fun? Haha.
Here is the floor plan again so you can get an idea of what you're looking at.
Here's the corner (front and back) where we decided to add the porch wrap last-minute.
Here is the house from standing in the barn (garage/workshop/future tiny guest house)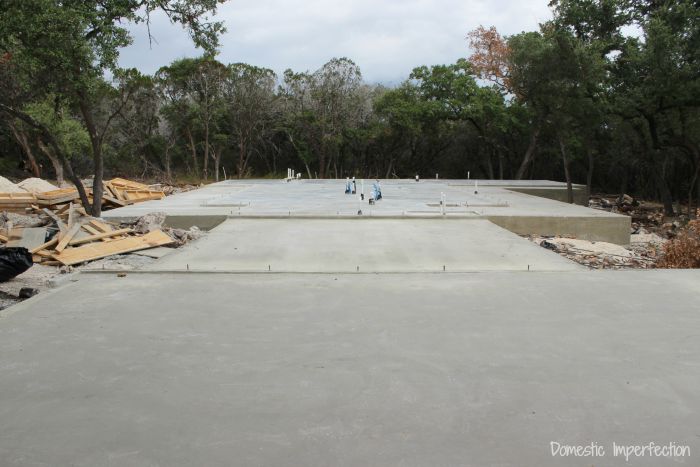 The breezeway, which I'm super stoked about. I have always loved breezeways.
The master bedroom, bathroom, and closet area.
The courtyard portion of the backyard, from the master bedroom. This little section will get grass (and a tiny section in the front of the house) and the rest will be left wild.
Here's the view from the backyard.
And that's the tour! I'm so excited…I can't believe we are actually building a house. It's always been this far off future dream, and now it's really happening. Crazy.