A few times a month I get e-mails from readers wanting to know which paint colors I've used in my home. I can't help but cringe when I get those e-mails because I have the worst, least helpful answer EVER…. that I mixed them myself. The green in my living room, bathroom, and laundry room was the result of too many green paint samples getting mixed together in a bucket, and the blue in my hallway was an actual color that I altered with craft paint. As is the green on my bathroom vanity. Pretty much as soon as I get my hands on a new can of paint, this happens…

This time though, I have learned my lesson…no more mixing my own paint colors. From here on out I'm using real colors so that I can give y'all a name and I can actually buy more paint to do touch-ups when needed. At least on walls…I make no such promises for future furniture makeovers. Baby steps.
So for the guest room I decided I wanted the walls to be a  neutral color. This is new territory for me, I don't think I've ever painted something neutral in my life. My kitchen is white, but beyond that it's all about color. I wanted to steer clear of anything that might look like builders grade beige, and gray – even though it's super popular these days – just isn't my thing. So, I brought home a few paint chips…
and ended up picking a color called "sculptor clay" by Behr.
And y'all…it's perfect.
For pretty much the first time ever, I decided I loved this paint on the first swipe. It's a great neutral…not quite beige, not quite gray, just neutral.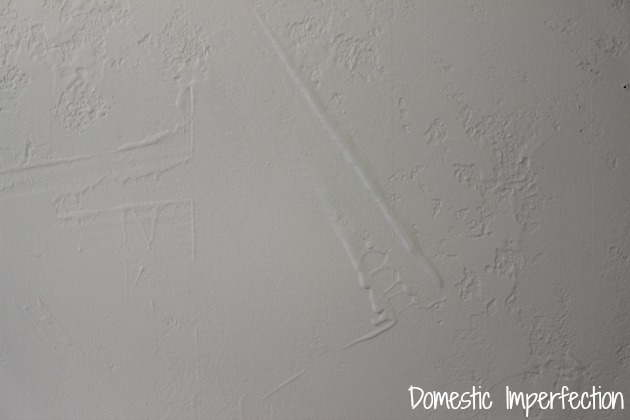 I never thought I could like a neutral color so much.
Along the way I also found something else I love. I pretty much only use Behr Paint from Home Depot, but I always get the regular stuff, not the paint and primer in one. I sprung for it this time though (since I was painting over stripes) and I have to say, it's awesome. It has amazing coverage and is completely worth the extra $5 or so over the regular paint. I may never go back. Most of the time I'm tell y'all to save your pennies, but in this instance you should spend your pennies and save your time.
With all this neutral talk I feel like I need to spice it up around here. Really take a stand on something and show my true colors, no matter how how many people it may anger. So here it is, something I feel strongly about that some of you may not like…..
.
.
.
GO SPURS GO!