The Ultimate Guide to Painting Cabinets
A few months ago I asked which DIY topics y'all would like me to cover, and the most popular answer was a post on how to paint cabinets. That surprised me a bit, because I've actually written quite a few posts on the subject. The information is scattered and not easy to find though, so the obvious answer was to write one big post containing everything I've learned so far. So here it is, my ultimate guide to painting cabinets!
The first thing you need to know about painting cabinets is that it isn't a hard job (you can totally do it!), but it isn't exactly a fun project either. In fact, on day two you will wonder why in the heck you ever started this horrible project. Were the original cabinets even that bad? What so wrong with shiny golden oak cabinets anyway!? Should you paint the backs of the doors? WHERE are you going to put all these wet cabinet doors where kids and dirt/dust doesn't run them? WHY DOES IT TAKE SO MANY FREAKING COATS? By day three or four you will be convinced I'm a horrible person who wrote this post just to ruin marriages.
And then…. you will finish. You will step back, look at your beautiful new kitchen and you will forget all the pain.
Here is the kitchen in our previous house, which was remodeled almost completely with paint.
Before –
After –
And here is our current kitchen. My husband built (is building) the cabinets himself, and the paint job is of course a DIY. We learned a lot from kitchen #1 (and all the other furniture/cabinets we've painted) and these cabinets have a much smoother, more professional, and more durable finish. We still made mistakes though, and I'll address then so that you don't do the same thing.
So here we go…
HOW TO PAINT CABINETS
Step 1 – Get Organized
You will want to remove all the doors and drawers obviously, but you are also going to want to label each and every one of them so they make it back to the exact same spot. It may seem like this doesn't matter, but the holes where the hinges are may be drilled slightly differently, and when you try to put them back and nothing is square you are going to be pretty pissed. So instead of being pissed, we are just going to label them. So take off a door, grab some painters tape, and put one number inside the cabinets and one on the door. Then take off the hardware, put it in a ziplock, and put the same number on the bag. Better safe than sorry.
Step 2 – Preparation is key
I get it, prep work sucks. You are ready to jump in and sanding off all the shiny finish on you honey oak cabinets is a drag. Ain't nobody got time for that. You are my people. But if you are going to take on this project, you might as well do it right. You could skip the prep and just prime over whatever is already on the cabinets and it could be fine….or not. I've experienced "or not". Sanding is easier.
It's best to start with raw wood on your cabinets. If they are solid wood cabinets with a clear coat, sand it off, or use a stripper and then give it a good finish sanding. If you have MDF or laminate or whatever else, you are still going to want to sand. If your cabinets are already painted and in bad condition, strip/sand until you are down to raw wood. If your cabinets are painted and are in great condition, then you may have some options (as in a light sanding, but not down to the wood).
Here are the tools you can use to take your cabinets down to their birthday suit –
How you get your cabinets naked is really up to you. I know lots of people that use a stripper (this is sounding so much dirtier than I intended), but personally, I hate stripper and would rather sand till my hand goes numb than mess with that stuff. It's your call (unless you have beadboard cabinets or something, then stripper it is). I would start with a palm sander and a coarse paper (like 100 – 200) and then follow it up with something smoother, like 400 grit.
Also important – make sure you sand with the grain if the wood. Whether you are sading it down to raw wood or just lightly sanding between coats, don't sand randomly or in circles… just go with the grain.
Step three – Choose your Primer wisely
Alright, so hear me out. The first thing you are going to want to do is forget everything you have been told about mixing oil and water. Those rules don't really apply anymore, at least when it comes to oil-based primer and latex paint.
I hate oil-based paint almost as much as I hate stripper. However, an oil-based primer is absolutely the only way to go in this situation. It works SO MUCH BETTER. It works on anything too….real wood, fake wood, laminate, etc. Personally, I use Zinnser Cover Stain for all my priming needs (Kilz is also a good choice). I used in on all the cabinets in the new house, and after royally screwing up my crappy fake wood cabinets in the RV by using a water-based primer, Zinsser Cover Stain saved my butt.
Alright, now listen up. This is important. I skipped this step when painting my green kitchen cabinets, and I regret it. Here it is….
TINT YOUR PRIMER
Primer is white when you buy it. If you are painting your cabinets white, then you are good to go. If you are not painting your cabinets white, then you are going to want your primer to be as close to your final cabinet color as possible.
Why?
Your cabinets are going to take a beating. They are going to get dings and scratches, that's just life. If you have, say, dark green cabinets and white primer underneath, then you are going to see the white primer when a bit of the colored paint gets chipped. Go ahead, ask me how I know.
If you had a matching primer underneath, you would probably never even notice. TINT YOUR PRIMER! (They will do this for you at the store, just like they do any other paint.)
Step four – Prime
Before you start priming and painting, you will have to decide how you are going to apply it. There are are a few options,
I'm going to go out on a limb here and say that most people are going to go with a brush/roller combo, just because it's less intimidating and less expensive. If you go that route, I would buy this paintbrush and a smaller roller made for cabinets/trim. You will want to start by using the paintbrush in all the parts that a roller can't get to…corners, angles, anything that isn't flat. After that, follow up with the roller. If you are using an oil based primer you can either clean your stuff with mineral spirits, or just trash it. Personally, I trash it. It's wasteful and I don't like doing it, but cleaning up oil-based paint is even less appealing. Also, if you are painting by hand you should buy a few sets of these, they make it much easier).
Alright, the second option is to use a paint sprayer. I have owned three, and even though they have all worked, the one I recommend is this one, the Graco X5. We bought this a few years ago and have painted the entire house with it, and it is awesome. If you do a lot of painting it is totally worth the investment.
After you apply the primer, give it a very gentle hand sanding with high grit sandpaper to make sure it is perfectly smooth before you move onto painting.
Step Five – Paint
Finally, its time to paint! You are going to want to choose a high-quality latex paint for this step. Which one is best? I have no idea. I've used Sherwin Williams Pro Classic (Solo) for my cabinets, but I also like Behr (Home Depot), especially the Marquee line. I've never used Benjamin Moore paint, but I hear great things about it as well.
Apply the paint the same way you did the primer. If you are using a brush/roller you will want to also use Floetrol, which is a paint additive that reduces/eliminates brush strokes. Also, try and keep a wet edge on your paint so that everything dries smooth. You will likely have to do two to three coats….this isn't a quick process. Between each coat do another gentle sanding. Gentle…so gentle.
Step Six – Seal
For me, this is the most complicated step. Not complicated as in hard to do, but complicated because I still haven't figured out the best way to do it. Here is what I do know…don't skip this step. I initially skipped this step when we painted the cabinets in our last house, and it did not turn out well (I wrote a post about it here). Basically, I was told that if I bought great paint sealer wasn't necessary, which was bad advice. Five years later they looked like this….
So Adam and I sanded them down and repainted and sealed them before we sold the house. We didn't sand them down to raw wood, but we sanded them until they were smooth and a solid base for a fresh layer of paint.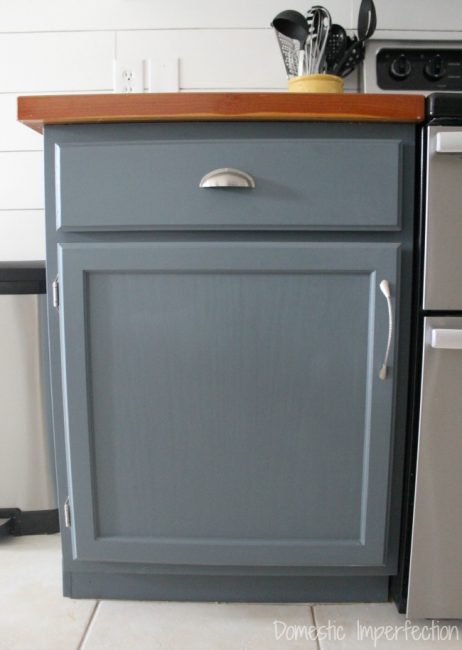 So if you are painting your cabinets a color (anything than white) then this will be easy. Pretty much any water based sealer will do. I prefer my cabinets to be a matte or satin finish, and I use this Varathane sealer for almost everything. It's a great sealer, and not expensive. On our cabinets in this house (and the wood countertop) we used Vermont Natural Coatings in a matte finish, which a really great whey based sealer (yes, like cheese).
The challenge comes when you are painting your cabinets white. On multiple occasions I thought I had the sealer on white cabinets figured out, but as time goes on the sealer always yellows. The Vermont Natural Coatings we used has yellowed less than most, but it still yellowed. Here are our white upper cabinets in our current house, the doors were sealed three years ago, and the boxes never were (because they aren't finished yet…sigh).
The difference is crazy hard to capture in a photo, but it exists. Also, since my husband applied the sealer with a paint sprayer it went on thin and even, and if you apply it with a brush and roller the yellowing will generally be more drastic and obvious.
So what are your options? First of all, don't use oil-based paint or sealer…it will yellow horribly. Water-based sealer is what you want. It holds up well, goes on easily, and won't yellow nearly as bad or as quickly. But like I said, I still haven't found one that doesn't yellow at all on white cabinets, so unfortunately I have nothing to recommend. Professionals use enamel, but I don't personally have any experience with that so I can't say if it's a DIY-friendly option or not.
CLICK HERE TO READ ABOUT OIL BASED VS. WATER-BASED SEALER
I say if you are okay with some shine go with a higher gloss paint and skip the sealer …I haven't tried this personally and I hate to suggest skipping the sealer, but for now it's my best advice. If you have a sealer that has proven to work for a DIY cabinet painting job, please leave your wisdom in the comments and help a girl out.
Step seven – Put everything back in its place
You're so close! All that is left to do is reinstall everything, which should be really simple since it is all labeled.
Also, if you are installing hardware for the first time, Kreg cabinet products are the way to go…they make the job much quicker and more precise.
So there you have it! If you have any questions or tips of your own to share, please leave a comment below!
Recommended Products –
You may also like –