Laundry Room Updates & a $500 Home Depot Giveaway
I do an insane amount of laundry. I have two potty training sons, so I could pretty much wash everything in the house on a daily basis. I wish I was kidding.
The very first project we did in our house (besides painting over all the pink) was to make our laundry room functional and enjoyable to be in. I use the term "enjoyable" loosely…cause, you know, it's still laundry. Adam and I made over the laundry room way before I started a blog, so I've never talked much about it. Here is the before and after, which we did for a whopping $130.
You can read the original, super old post HERE, but here is a run-down of what we did…
painted the cabinets white, removed the middle of the doors, and added chicken wire.
built a countertop over the washer and dryer to create a folding station. It is made out of leftover flooring and trim from our living room.
add a pole (conduit) and hang curtains to hide the washer and dryer. This room is also used a a mudroom/second entry, so I didn't want it to scream "laundry". Although there is usually piles of clothes in it and no one can get through, but I digress.
After three years of not touching this room, we have made a few more updates…here is what it looks like today!
Here is what we did…
added rings to the curtains so they actually function

painted the inside of the cabinets
raised the cabinets to the ceiling, extended them to each wall, and added trim
added a shelf under the cabinets for everyday items
Things we still need to do…(this is a sponsored post with a deadline (today!) and I am terrible at time management)
replace the light fixture and used recessed lighting (so the cabinets can actually open)
remove and replace the trim
paint the door
First, the curtains. I love the curtains, but truth be told they just didn't function. I had picked out the fabric at JoAnn's but it was the end of the spool and they didn't have anymore. It was a yard short of what I needed, but I loved the fabric so I bought it anyway. I made rod pocket curtains, but there wasn't enough room in the fabric or space between the rod and the counter for the curtains to bunch up and slide…so they haven't. EVER.
I just throw them up over the counter, and that is where they stay since they are covered in perpetual laundry…and camera bags…and for whatever reason, a flight helmet.
So I added rings. I had tried this out three years ago, but took them off because I only knew to clip them to the top, which left a three-inch gap where you could see the washer and dryer. But now I'm older and wiser so I clipped them down low like I did on the living room curtains.
Now they slide. I still think they were prettier before, but whatever, they function!
I also painted the inside of the cabinets. I hadn't done this originally because I liked the idea of the inside being wood, but the problem is that is wasn't wood, it was nasty MDF, or particleboard, or whatever it is that cheap cabinets are made out of these days.
So I gave them a coat of Aspiring Blue by Behr (to match the curtains) and now they feel super clean and fresh.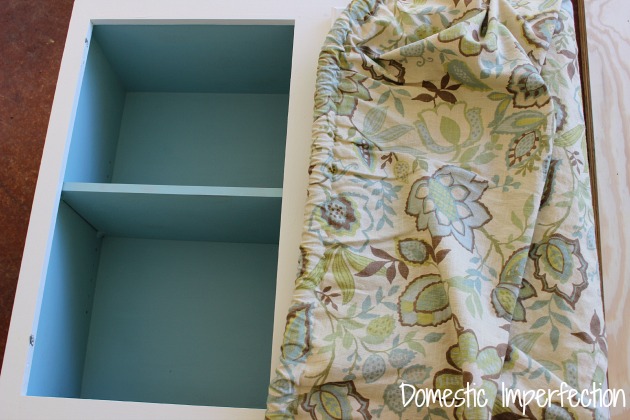 We also raised the cabinets and added a shelf, just like we did in the kitchen.
I love how it looks and functions, I've never been a fan of having space above your cabinets. It just seems like a giant waste…plus our house isn't huge and we need all the storage space we can get.
This "raise the cabinets, add a shelf" idea is one of the most popular on my blog, but I didn't take enough photos the first time around to do a tutorial. So for now I'm just going to show you pictures and next week I'll get up a tutorial for ya. (UPDATE – click here to read the tutorial.)
All the new updates to the laundry room were roughly $60, which makes the total laundry room redesign cost less than $200.
Are you inspired to work on your laundry room? I hope so!
How would you like the chance to win enough money to redo 2 1/2 laundry rooms? I've teamed up with Home Depot, Maytag and Tide in the #BrilliantHEClean campaign for an awesome giveaway. Use the rafflecopter below and enter to win a $500 Home Depot Gift card. $500!!
(The rafflecopter may take a while to load).
If budget room redos aren't really your thing (whaaa?) then you should definitely go enter the Brilliant Clean sweepstakes, where you can win…
Maytag PowerWash® washing machine and coordinating dryer
One year's supply of Tide HE laundry detergent (4, 150oz packages)
E-design laundry room consultation by Jenny Komenda of The Little Green Notebook
$5,000 Mastercard Gift card to redesign the laundry room
With $5,000 you could have a crazy nice laundry room. Heck. for $5,000 you could have an okay laundry room and hire someone to do laundry for you. Wouldn't that be nice?
* I received a Home Depot gift card in exchange for this post and project. All ideas and opinions are 100% mine, always.
SaveSave