"When are you moving in?"
So….I fully intended for this to be a quick post that was like a paragraph and a few pictures long, and that's it. Something that I could easily get out in a day. Instead I've been adding stuff to it for a week, and it's hella long and has five videos in it. Anyway…hope you enjoy my ramblings. Now let me introduce you to the original intro paragraph of this post….
Before we dive into all the kitchen goodness, I wanted to write a quick post (haha, week ago Ashley was so adorable) about the timeline of this house. I've been asked a few times when we are moving in, so I wanted to clarify that I am NOT currently blogging in real-time. I usually do, but this build has morphed my blogging into a reality show timeline, where it's filmed and then not aired until many months later.
The boys and I moved into our house last summer, right before school started. So we've been in it for about seven months now. I would love to get back to blogging in real-time (it's SO much easier), but building the house went pretty quickly and I couldn't handle keeping up with all of that, and the kids, and my own school and personal life all at once. That's not me giving myself a hard time over it, that's just what life is…full.
I can tell you what I did do though, I did film a lot of stuff throughout the process, like a video diary. I just never did anything with the videos. I never organized or edited them or posted them to social media, they are just abandoned on my phone. So…here is one I just put together of me packing up the apartment to move into the house. It's a great example of all the rambly ridiculousness I have in my phone graveyard. (It's the one in the yellow shorts. I know there is the standard embedded "latest videos" and ads and it gets jumbled and confusing.)
Sidenote – My shorts are ridiculous, but they are also the most comfortable thing on the planet. Here is a link, they come in all sorts of colors. And here is a link for my shirt. That shirt is fine, but these are better. I own five different colors and wear them all the dang time.
Below is a video from two days later, taken just before I turned in the keys to my apartment.
And then, here is a house tour video from the next morning, after our first night in the house.
If you want an idea of how things go around here, this video was taken a few hours after the above video.
So that house tour video was seven months ago, and obviously it was pretty empty and unfinished.
So is the house finished now? Yes! And also, no.
It's technically finished, besides a few punch list items. But it's not finished finished. But really…are houses really ever finished?
It's certainly not decorated, and the yard is a mess, and it isn't giving "somebody lives here" vibes yet. It's spring though, and I'm about to embark on a landscaping mission, so hopefully that is short-lived.
Do you want a mini tour of what it looks like right now?
I'm not going to show you the kitchen, but it's like 95% finished and I hope to have it fully blogged about in a month or so. Here is the dining room though.
Livable, but not a final product. It features a free hand-me-down table from my grandfather, chairs from a few houses ago that totally don't match but will do just fine for the time being, the cheapest curtains ever from Amazon, a sisal rug, and a fake fiddle that I'm not sure is staying. Also, an amazing light fixture that I totally splurged on.
Links to dining room things –
And a cat…this is Oliver. He's cute and fluffy and doesn't try to jump on my bed or counters. His favorite activities include attacking hair ties that my boys slide around the house, sitting in front of the cabinet where I keep the canned cat food, and awkwardly staring at me while I'm taking a shower.
Here is the office in its current state.
It's a mess, and has been serving as a cat and storage room. I have big plans for it though. I didn't have it textured because the whole thing is getting wallpaper, floor to ceiling, on all four walls. I purchased $500 worth of yellow peel-and-stick wallpaper six months ago, and still haven't touched it. Wanna see?
So pretty, right?
Also, I have the cabinets sitting in my Home Depot cart online, ready to be purchased as soon as the wallpaper is up. I plan to do upper cabinets above that wood shelf, and two base cabinets that hold up a butcher block countertop as a desk. And then all those cabinets are getting painted blue. Yup…this is going to be my color explosion room and I'm super excited about it. Now I just have to take that excitement and channel it into actually starting the project. Those tall walls and my lack of experience is a little intimidating.
Next up, we have the boy's rooms.
Here is the big boy's room, which is Star Wars themed.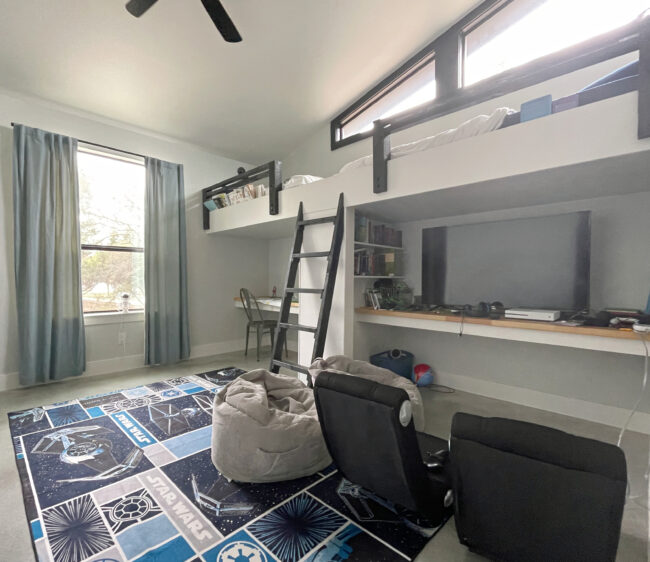 It's cool, and functions great. The loft beds are perfect, and the desks still need some work but still get used all the time. The room does feel bland and colorless though, like a gray and black box. I don't have any amazing ideas for it, so we will just see where it lands.
Links to products in this room –
Then there is my little boy's room, which is Minecraft themed.
Same story here as the other boy's room….needs some love, but not terrible.
Product links –
Then there is the boy's bathroom/guest bathroom.
The bathroom is completely functional, but I want to do something fun in it and have no idea what that is yet.
Bathroom links –
Then there is my room. You saw it in the videos, but here it is on move-in day.
Beautiful, right? The room is still that empty furniture-wise, but I just painted it a really bold color…
I love it, and as soon as I finish blogging about the kitchen we are going to finish this room in real-time.
Lastly, here is the laundry room/unexpected mudroom that is located in the garage, as it looks right this second. Functional, yes. Finished, not even close.
If you want a better tour of the area, here is a video I made to audition for a Samsung washer and dryer campaign (where they pay you and give you a new washer and dryer set. I wanted that real bad.)
Did I get the job? Yes, yes I did. Did it actually happen? No, it did not. Something about supply issues due to covid and pushing back the debut of the new line. Anyway…I bought the newer set from Facebook marketplace instead.
Anyway, that's the tour! Hopefuly this post cleared up any timeline confusion, and hopefully I can get back to blogging in real time very soon, because I way prefer it.