Modern Fireplace Inspiration and Tile Selection
We've talked about the fireplace before, and how I basically designed my entire house around this one photo…
I didn't want this home to have a wide open floor plan like my last house did, I was after something more compartmentalized and cozy. When I stumbled upon the above picture during a late night phone scrolling when I should be sleeping session, I knew instantly that plopping a double sided fireplace right in the middle of the house is how I wanted to accomplish that goal.
While that white brick fireplace was the inspiration for the footprint of the fireplace, it's not the inspiration for the design. I want something more modern and more colorful.
I decided the best way to do that was to cover the whole dang thing in tile, and make it one of those elements that you can't ignore and will forever have to decorate around. Every room needs a focal point, and this fireplace was going to be just that for all three of the main spaces.

Also, the plan was always to make this a modern double sided wood burning fireplace. Then I framed my house at the worst possible time and went way over budget on lumber. So when the fireplace quote back and it was $6,000 just for the guts, I pulled the plug real quick.
Instead, I opted to just put a $550 electric fireplace insert in there and call it a day. I had one in my last house and it was awesome, and let's be honest…I'm a busy single mom, I'm not going to be cutting up logs and building fires. Hitting a button for a quick fake one sounds way better and like something I will actually do.
Mid Century Modern Fireplace Inspiration
First step – scour the internet for inspiration photos of original mid century fireplaces. I know mine isn't one of those and that isn't really the goal, but I wanted to give it a nod to MCM at least.
Source – Suburban Pop
Source – Risa Boyer Architecture
Source – Gre-stuff
What I found is that most of them are made of brick or stone (not doing that) and emphasize horizontal lines (that I can do).
Then I started searching for a modern version of these fireplaces to see what struck my fancy. I knew that I wanted mine to be tile in a horizontal stack pattern, which looks like this…
Modern Tiled Fireplaces
Example number one – Like this one a lot, except for the black. And the tiles are laid horizontally, which I like, but they are staggered (like bricks) rather than stacked.
Source – April Interiors
Example two -I learned here that I don't want a handmade tile with the rough edges, despite how beautiful this fireplace is. I really like the tile color variation on this fireplace though. And this tile is stacked, not staggered, but it's vertical. I really like the vertical stack, but it doesn't give it that traditional MCM nod that I want.
Source – Domino
Example three – this one is great, except for the color and the fact that the firebox is all the way on the floor. Tile color variation and placement are all perfection.
Source – BHG
Example four – This one has blue tile (good) and has a horizontal stack (also good), and also taught me I don't want glossy tile.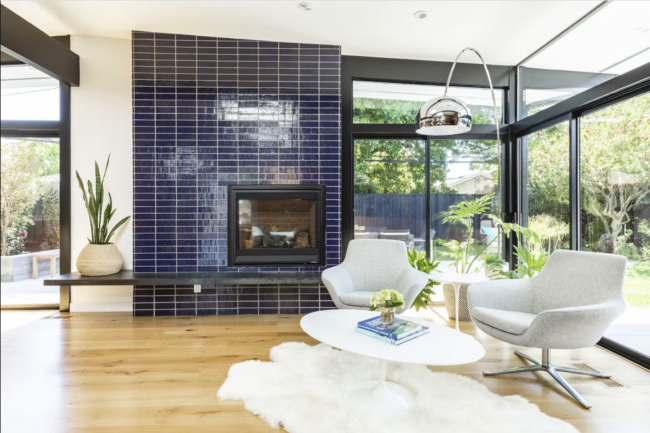 Source – Dwell
Example five – pretty much perfect.
Source – Fireclay Tile
Now that I knew what I wanted, I just had to find the tile.
I had been collecting tile samples for awhile (photo at the bottom of this post), but hadn't found anything I loved for the fireplace. By this point I had it narrowed down to a tile that was –
something in the blue/green color category
a solid (no patterns) but with some color variation
clean edges (not handmade)
matte finish
an elongated rectangle shape
Upon scouring the internet, I came across this picture –
Which led me to this tile…
and all these pictures…
Like I said, I had been slowly collecting tile samples for awhile, and they were all okay. All could work, all would be just…fine.
I heard a quote a few months ago, and it said to only deal in "hell yes" energy. Another said that if it's right, you will know it, and if it isn't, you will be confused. The first quote was referring to not saying yes to things you really don't want to be saying yes too, and the second was dating advice. I think you can relate them both to a variety of things though, including home decor.
This tile was a hell yes. It was the one. I wasn't choosing it because it was safe, or because I "should", or because I was tired of looking, or because I thought other people would like it. I wasn't confused. I didn't feel meh about it.
That's way too deep for a post about tile, but there it it. When it comes to your home, just fill it full of things you love and you can never go wrong.