9 Mid Century Modern Homes that Inspired my Custom Build
If someone would have shown me the elevation to my house before I had dug into research and inspiration photos about mid century modern home design, I would have told them that it was the ugliest thing I'd ever seen. Well maybe not the ugliest (because there are some truly hideous homes out there), but the below elevation would absolutely not have been something I was excited about.

I mean…it looks flat. Boring. I love simple and clean rooflines, but this takes it to a whole new level.
After I designed the floorplan of my home, I also drew out what the front elevation should/could look like, which was this…
That mismatched roofline was something I was pretty set on, because it gave the exterior personality and interest. But also, the broken roofline is a modern home thing, not a feature of mid century modern homes. If I wanted my home to look even slightly authentic, the roofline needed to match up. How did I come to love the idea? By collecting inspiration pictures. I have so many of them in various forms….screenshots, photos, on Pinterest, Houzz, etc. So, so many.
I went through all of them and narrowed it down to the ones that gave me the biggest "AH HA!" moments.
Keep scrolling to see the homes and read about what I pulled from each one, and if you prefer your content in video format, I did that too. I'm trying new things. Also, it's almost eight minutes long, so buckle up. I get chatty sometimes.
Mid Century Modern homes and how they inspired me
1. River Road house by Cuppett Kilpatrick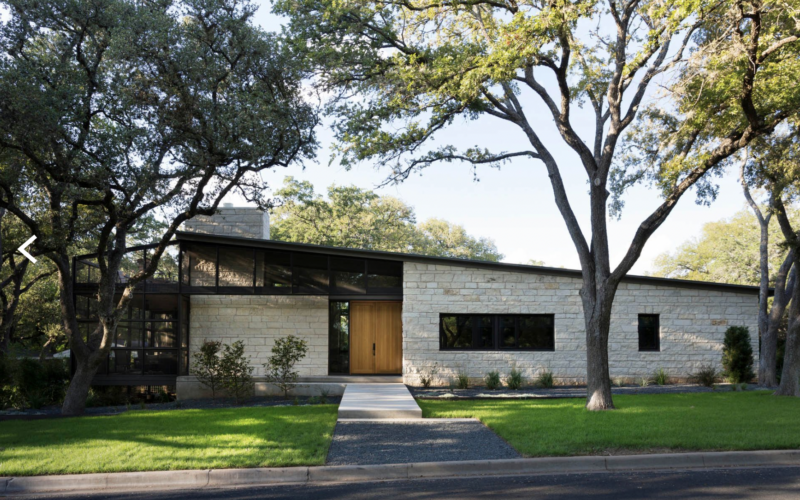 This house showed me that an overly simple roofline can be a beautiful thing. It doesn't have to be complicated to be interesting and unique.
2. Los Altos Residence by Klopf Architecture
This house is one of the first I came across and I didn't think much of it…but I kept going back to it. Why? The simple low roofline, horizontal wood siding, clerestory windows, and that pop of blue give it so much interest.
3. The Pax I House by Pax Domus
This house obviously has a lot of the features I'm after, but the reason it's on the list is the black breeze block. Whenever you see breezeblock used it always seems to be white, but I had it in my head that I wanted black. This photo solidified that decision.
4. Cliff May home in Long Beach, CA
When I found this house I was super excited, because it is all the colors I had rolling around in my head. The wooden gate, the black wall, green/blue vertical siding… it's all there. And I loved it.
5. Rollingwood by Cuppett Kilpartrick
For my house, I knew I wanted a courtyard wall, but I wasn't sure how to incorporate it into the home to make it look like it belonged. This house answered that for me. See on the right side where the stone transitions from full height, to half height, then seamlessly into a stone wall? I copied that for my house, but with black cinderblock/breeze block.
6. Mid Century Re-Modern by HMH Architecture + Interiors
Out of all the homes on this list, this was the one that was the biggest "AH HA" moment. I found this when I was still trying to have a two story modern house (because two stories are cheaper than one) and when I saw this it was the perfect bridge from that modern house to the mid century one I ended up with. If you look closely you can see I pretty much replicated this layout/exterior and then made it my own.
7. Santa Cruz residence by Dennis Diego Architect
See that part of the house that is covered in wood siding, while the rest is concrete? I totally stole that. My house is almost all siding, but the kitchen section on the front elevation adds dimension and interest just by being different.
8. Alexander House by Architect William Krisel, Palm Springs, CA
Look at this house…it's freaking gorgeous and a visual playground for the eyes. On paper though, I bet it looks boring as hell. Also, landscaping matters. That was my takeaway from this house.
9. Midvale Courtyard House by Bruns Architecture
I almost didn't include this house on the list, because it is obviously very different than the others, and not at all like my final design. I kept coming back to it though. Why? Well, While it's not an MCM house, it does have some of the features, like breeze block, low pitched rooflines, and a courtyard. This house gives permission to do what you love and don't worry about fitting into a certain style. I think the main reason I kept coming back to it though was the colors. This house is completely dark….there is no white trim or light stone anywhere. I had the idea stuck in my head that you need white somewhere to brighten it up, but…maybe you don't. It's okay to go all in with the dark colors.
So there you have it, that's the list! Just going to give myself a quick pat on the back for narrowing down my heaping pile of inspiration photos to a very reasonable nine. Do you have a favorite house or feature? Not even necessarily from this list, but just a feature you love every time you see it on a home?
So in summary –
Inspiration is absolutely everywhere.
It's very hard (if not impossible) to come up with a design idea that has never been done before. It doesn't have to be a goal. It's okay to copy elements you have seen and love and put them together in a unique way that makes you smile.