Master Bedroom Tweaks + Leather Headboard Awesomeness
*A big thank you to Article for sponsoring this post! All opinions are 100% my own.
Our master bedroom is one of the first rooms we choose to complete in this house. Even though nearly every other room in our house is far from finished, I keep working on and tweaking the master bedroom. I love our bedroom, I think it's freaking beautiful and it's truly a retreat for my husband and at the end of a long day. Here are a few photos of it in progress over the last few years…
Late 2016, when we moved in –
April 2017 – added nightstand, curtains, and bedding.
November 2018 – We have a ceiling! And furniture!
December 2018 – Added an electric fireplace –
So that is where the bedroom has been for the past year or so. It still needs wood flooring (just like the rest of the house) and I hated the bed I bought, but besides that it's heaven.
So somewhere along the bedroom journey I wrote a whole post about bed shopping. What I really wanted was a camel colored leather headboard, something kinda masculine, sexy, and tall, like this…
The stone wall in our room is my favorite thing and I didn't have any desire to hang art on it. A tall leather headboard would be the perfect middle ground…something substantial and beautiful that still let the stone wall be the star of the show. That above picture was from a magazine and I couldn't find that headboard anywhere, and everything I found that was similar was insanely expensive. So I settled for a cheap wooden slat bed, and tried to fake the leather look with some large pillows.
Those slid around like crazy and didn't work at all, so I returned them and called it good.
The wooden slat bed worked, but it was so short that you could barely see it. It certainly wasn't the substantial leather look that I had wanted.
I probably would have kept that bed for the long haul, but early this year I got an email from Article introducing some of their new furniture pieces. In that email was this beauty….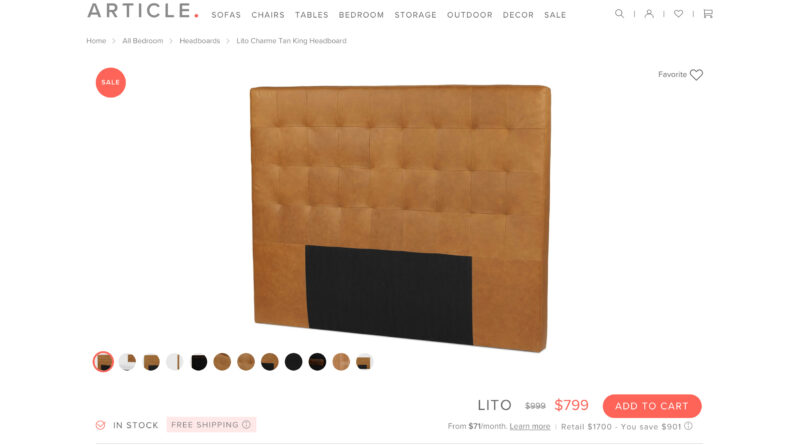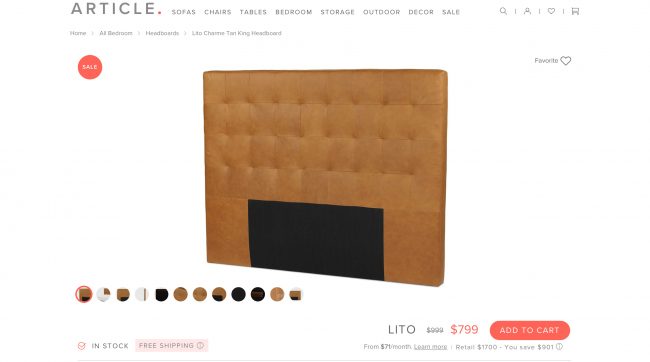 The Lito headboard in Charme Tan leather. I saw it and instantly was in love. It was EXACTLY what I wanted….real leather, camel-colored, tall, and simple. Why couldn't they have had this piece available before I bought my dumb short wooden bed? I own a leather sectional along with many other things from Article (you can read that full review here) and their furniture is great quality…the leather is gorgeous. Article is a frequent sponsor on the blog, so I decided then and there that the next time we collaborated on a post I was going to ask for this headboard.
A few weeks ago that opportunity arose, and I introduced this sexy beast into my bedroom.
I also ordered the Basi bed frame in a Walnut finish. It's a no-nonsense, affordable slatted frame (available in a few other finishes, too) that will quietly support that awesome headboard and let it be the star of the show.
The delivery guys set everything up for me, and as they were leaving they said "Make sure you keep the box, just in case you decide to return it". I said no problem, went inside to admire my new bed for a few minutes, then came back out to find this…
This photo pretty much sums up life these days…good thing I have absolutely no intention of returning the bed. I mean, look how pretty…
The leather is gorgeous and the whole thing is so well made, plus it is huge. The bed feels proportional in the room now, where the other one felt tiny and wrong.
The Basi bed frame is beautiful and sturdy, and I love the walnut finish. I also love the feet are tucked up underneath it, since I nearly rip my toes off catching them on the other bed frame at least once a week.
This frame is a bit on the low side, so I added some wooden furniture risers to bring it up just a bit. I didn't mind it being low at all, but our nightstands are pretty tall and it looked a little off.
Also, I have to tell you about one of my new favorite things. A friend told us that he bought a heated mattress pad and it was the most amazing thing ever invented. When someone gives you a recommendation like that you take it seriously, so Adam and I ordered one as well. And guess what? It's the most amazing thing ever invented.
It has ten heat settings, and a separate controller for each side of the bed. So before Adam and I crawl into bed at night, we turn on the mattress pad to warm it up…Adam turns his on to a low responsible setting, and I crank mine, because cold feet in bed are the worst. Anyway…you should get one. Then you should buy a few more for Christmas presents, because I can't think of a single person that wouldn't love to crawl into a warm cozy bed when it's cold outside.
Also, Article has already started its Black Friday sale, and they have some amazing deals! The Lito headboard that you see here is on sale for $799 for a king ($699 queen), and the velvet version is only $399 ($349 for a queen, multiple colors)! Click here to see all the deals!
Basically, shopping at Article year-round is the easiest way to bring serious style and comfort into your home. From the curated shopping experience (just enough options without being overwhelming), seamless delivery and assembly options, plus knowing your furniture is made from quality materials that are built to last — and at a great price to boot. If you haven't yet taken the plunge, let the Black Friday sale be your opportunity to do so!
Master Bedroom Source List