Mid-Century Modern Cabinet Hardware
62 Pulls & Knobs: Rediscovering the Beauty of MCM Design
It's funny that the deeper you go down a rabbit hole, the deeper you CAN go down that hole. You don't know what you don't know, until you start learning about it, and realize there is so much more to that subject than you ever thought.
You can apply that to pretty much anything, but today we are applying it to cabinet hardware.
Hardware is such a tiny detail of any kitchen design or renovation that it can easily become an afterthought. Like you are so close to the finish line that you just want to be done already, so you head to Home Depot and grab some hardware, to make it easy and not let yourself overthink yet another decision. I get that. I totally did that, but on Amazon instead of at Home Depot.
I absolutely did not go down the hardware rabbit hole at that time. There was no time or energy for enthusiastic hardware exploration. Then I decided to write this round-up and dove down it head first. The categories, the finishes, the history…way more time and energy was put into writing this post than choosing my own hardware.
When I found all my MCM kitchen inspiration pictures, I looked at them as a whole and didn't pay particular attention to the hardware.
But I did for this post.
For example, this stunner of a kitchen features simple black wire pulls. These are super cheap (always a bonus), and don't distract from all the awesomeness going on around them, and still give a retro nod.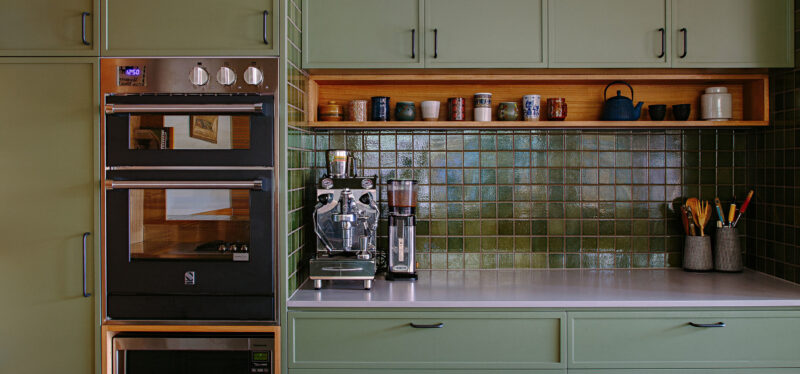 Wooden cape pulls look seamless on these beautiful wooden cabinets. This kitchen would look very different with blinging cabinet jewelry, and I'm not about it. This was the perfect choice.
And this modern retro kitchen has gold half-moon pulls.
This is what came up when I Amazon searched "mid-century cabinet hardware" during my build, and is the style in my mid-century kitchen.
All the examples above have the same hardware throughout the kitchen, but you can also mix and match styles to create a custom look. (images from Rejuvenation)
Also worth mentioning – whether you are updating a kitchen or starting from scratch, don't feel as if you have to match the finish on your hardware to the other metals in the space. I like to keep the finishes matching within a specific category, but mix and match the categories. For example – if you have chrome plumbing fixtures, choose black cabinet hardware and brass lighting fixtures. Or, if you have gold plumbing fixtures, choose nickel hardware and black lighting. You get the idea.
Mid-Century Modern Cabinet Hardware Styles
There are many different styles of MCM cabinet knobs and pulls, and today we are going over seven of the main ones (plus a bonus "other" category).
Boomerang
A Boomerang handle is known for its pointed shape (also called a chevron handle) and is a clearly mid-century choice. For this reason, it is harder to find than other cabinet hardware shapes. Vintage boomerang handles are easy to find on Etsy, and I would 100% recommend scrolling through there if this shape is what you are after. If you are set on new, it doesn't get better looking than the first option!
1.Boomerang Drawer Pull 2.Modern Boomerang Hardware 3.Modern Boomerang Cabinet Pull 4.Vintage listings on Etsy
Hopefully at least one of those options stood out to you as "the one". I'd love to hear your favorite in the comments below! I may have chosen the black half-moon pulls for my kitchen, but I got a flutter in my design-loving heart when I came across #9 in the "other" category, the wood bead retro hardware.
More Mid-Century Modern Kitchen Posts