Flat Panel Custom Cabinets
Moving right along blogging about the kitchen, let's talk about cabinets. I'm going to skip all the intro fluff and jump right into the pictures. Here they are fresh after installation.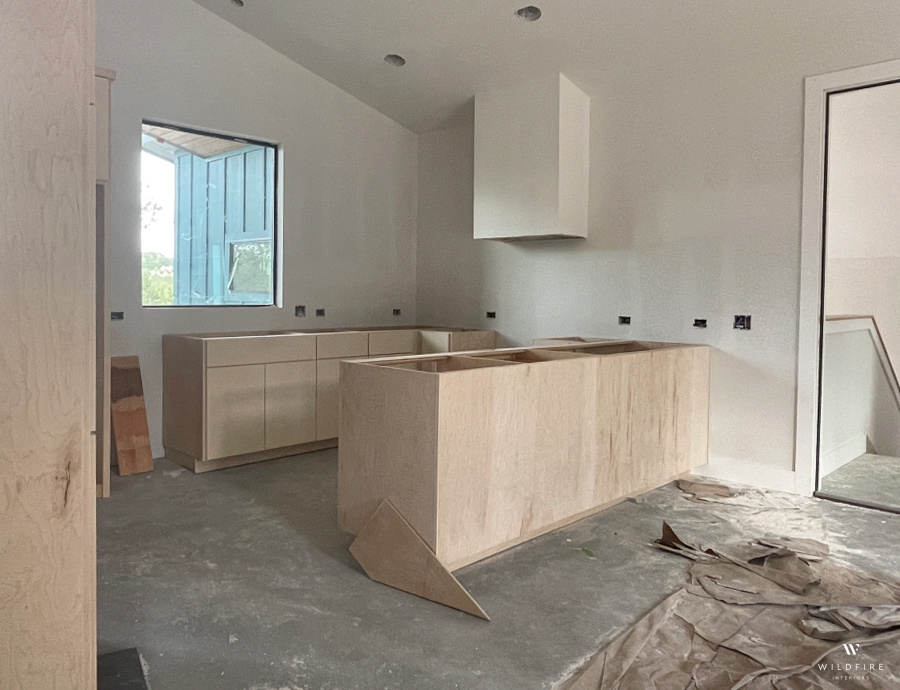 These are flat-panel custom cabinets made out of maple. I chose flat panel (also known as slab cabinet doors) fronts because I wanted a clean modern look (more info here), and I choose maple because that's the only choice I was given. Makes it simple. Sometimes not having options is really nice.
The original plan wasn't to get custom cabinets. I'm trying to keep costs down with this build, and I thought IKEA cabinets would be perfect for that. So I made an appointment, sat down with an IKEA cabinet specialist, and laid out the kitchen as I had previously sketched.
Everything was going swimmingly and the price was reasonable at around $6,500 (I'm guessing here because I can't find the quote to save my life, but I think that right). Then the sales guy said we could go ahead and order them, they had all the cabinet doors but none of the frames in stock. He told me he had no idea when they would be available again, since they were having severe supply issues due to Covid. He said it could be a couple of weeks, or it could be six months or more.
Well, I didn't have six months. So I scrapped that whole idea and just ordered custom cabinets. The price for custom cabinets was 11K, which could be built and installed (Ikea doesn't install) in about six weeks. The cost was way higher, but also solid wood and ready when I needed them.
So custom cabinets it was. Turns out it was a great idea, because I went ahead and ordered my office cabinets from IKEA, and after about 5 months of waiting for them to arrive IKEA canceled my order, refunded my money, and said they had no idea when they would be back in stock.
Anyway, that's the back story.
The next step was to choose a stain color.
Here is my sample board of the three colors I tried. They are (from top down) Early American, Colonial Maple, and Golden Pecan, all by Varathane.
And here is a video I made while choosing a stain color and looking ridiculous on my apartment patio.
I ended up going with Early American. It's darker than I had originally wanted, but it was the right choice for sure.
As I was going through all my pictures to try and find ones for this post, I quickly realized that I took a grand total of zero of the cabinets at stain stage. I did, however shoot a quick video….so all I have is a few semi-fuzzy screenshots to share.
If you are wondering what that huge black shadow is, it's the pantry. I wanted some painted cabinets to break up the wood, and since I didn't end up with any upper cabinets, the pantry was the only logical place.
Trust me when I tell you I struggled with the color. I went through all the options, but since it's right next to the blue tiled fireplace, I choose to keep it simple with black. Do I love it? No, not really…but I don't hate it either. It's just…ehh.
Also, can we please have a moment of silence for the coffee station that could have been? I jacked something up in my sketch, and it turns out there was only enough room for it to be 12 inches wide, when I had thought it would be double that.
Look how tiny 😂🤦‍♀️  Luckily, I just have a Keurig slim, so it fits…but it's tight.
Also worth noting is that there wasn't room for a cabinet between the dishwasher and refrigerator, like in my sketch.
Thank you, thank you…I'll be here all night.