Master Bedroom Progress and the Nicest Draperies I've Ever Owned
Progress has been happening in the master bedroom! We haven't done any big projects (there still isn't a ceiling or a floor) it's mostly just been me shopping and dreaming, and its been fun. Last month I posted the plans for the room and showed you these before pictures –
This is the design mock-up I came up with (it's not great, but you get the picture) –
And here are some of the updates I made –
There is still plenty to do, but it is certainly a huge improvement. The biggest upgrade is the window coverings…nothing makes an empty house feel more like a home than curtains and plants. My husband has been calling our bedroom "the greenhouse" since we moved in, it's covered in windows and bright all the time. Because of his schedule he sometimes sleeps during the day (plus the baby sleeps in here) and window coverings were long overdue.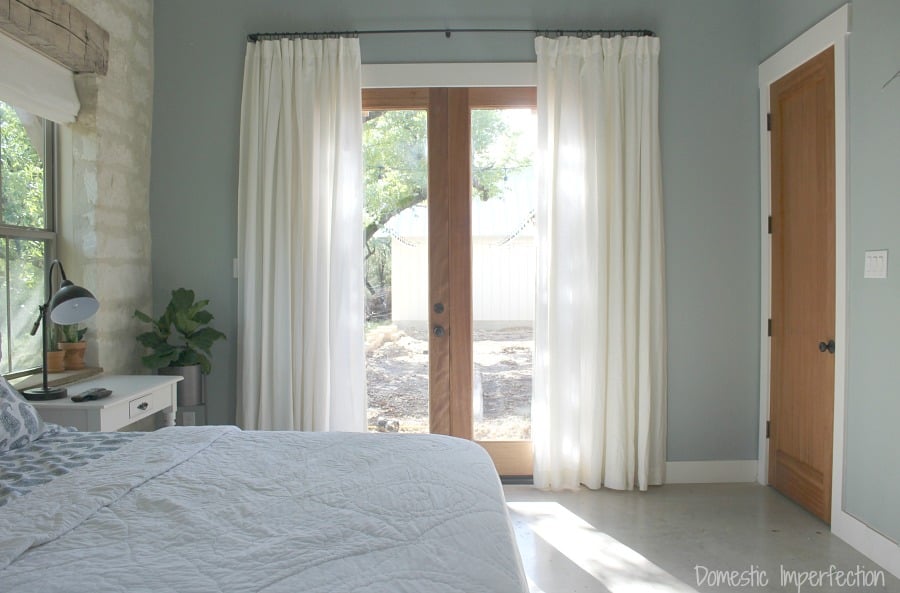 The draperies and roman shades are from Barn & Willow, and they are by leaps and bounds the nicest I have ever owned. They are an off-white linen, which I choose from an array of very neutral and adult colors that they offer.
Mine are the bottom center color, and if you want to see them all you can order free samples through this link.
For the limestone wall that our bed is on, I went with roman shades.  I wanted to be able to block the light without covering the windows features or drilling holes that I'll regret.
The linen is pretty much an exact match for the limestone and looks like it was meant to be there all along.
I went back and forth about the window coverings for the french doors. I originally planned on getting roman shades for those as well, but then decided that room really needed some soft elements and went with full-length draperies instead. It was the right move, they look amazing and are very functional.
I chose to have them privacy lined (you can also do sheers and blackout) and it lets some light in but blocks out a majority of it. Blackout probably would make more sense for most bedrooms, but since ours has four windows nearby that won't/can't get coverings, blackout curtains would have been an exercise in futility.
Everything from Barn & Willow is custom made, and they even have an auto-sizing calculator to help you with measurements. I wanted mine to look full even when they're shut and ordered them in double width, so each panel is twice as wide as the door it's covering. They are hung with drapery hooks and rings (the curtain rod is from Target and the rings are from Amazon), and I also added an acrylic drapery wand to make opening and closer easier and keep our dirty hands off the clean white drapes.
The nightstands are actually console tables that I found at a place called Nadeau. They have locations nationwide but don't sell online, and I got them for $127 each. I really wanted  something with spindle legs that could also function as a writing desk, and I couldn't believe it when I came across these solid wood ones for such a reasonable price. They originally were a bright turquoise but we painted them white (which was hard for my color loving self).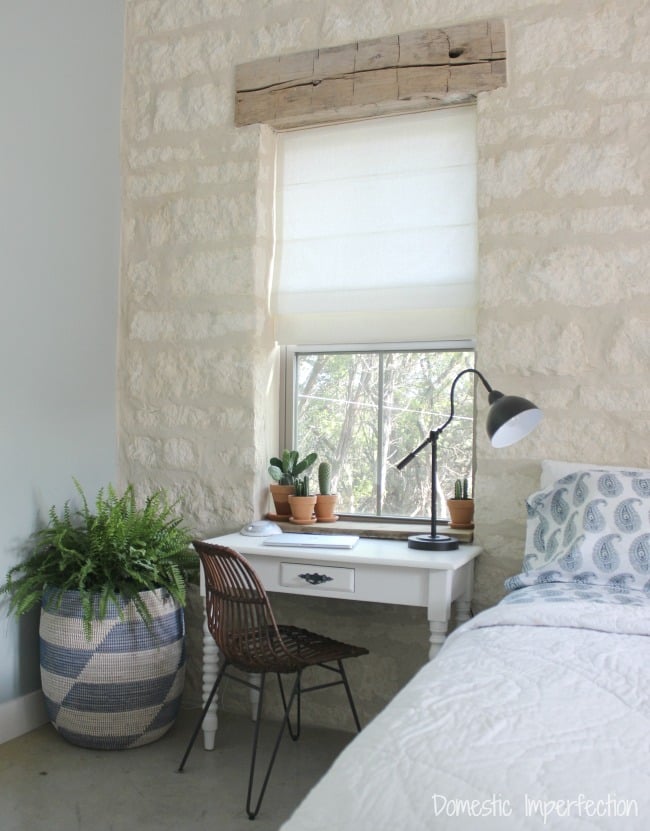 I added a wicker chair from World Market to my side and it is a great place to write. I'm actually writing this post from it right now, and after six years of blogging from the armrest of my couch I'm feeling mighty professional. The lamps are from Walmart and the sheets are from Pottery Barn (though this pattern is discontinued, I bought them on super clearance last year).
The basket is from Serena & Lily, an online store that sells luxury home products. Late last year they sent me this basket to use somewhere in my house, and I plan to use it to hold toys in the boys playroom. The playroom isn't a playroom yet though, so until then it's a bedroom fern holder.
We also added windows sills (they still need to be grouted in place) that are old rustic Elm. We really wanted to use limestone slabs as window sills, but the quote came back at $450 for two of them, not installed. So instead we did wood, for free. $450…good grief. In the picture above the planter is from Crate & Barrel, the wire basket is from Target, and the bison pillow is from Etsy. The fiddle leaf fig I actually bought online from Home Depot online, after I couldn't find one in person anywhere. It arrived in a few days in perfect condition and has already grown a few new leaves. Crossing my fingers that I don't kill it.
So that's the tour.  I love the way it's coming along and can't wait for the next step (hopefully the wood ceiling, having a drop cloth ceiling is getting ridiculous). Also, if you'd like to order from Barn & Willow you can use the code BW&DOMESTICIMPERFECTION for an extra 10% off.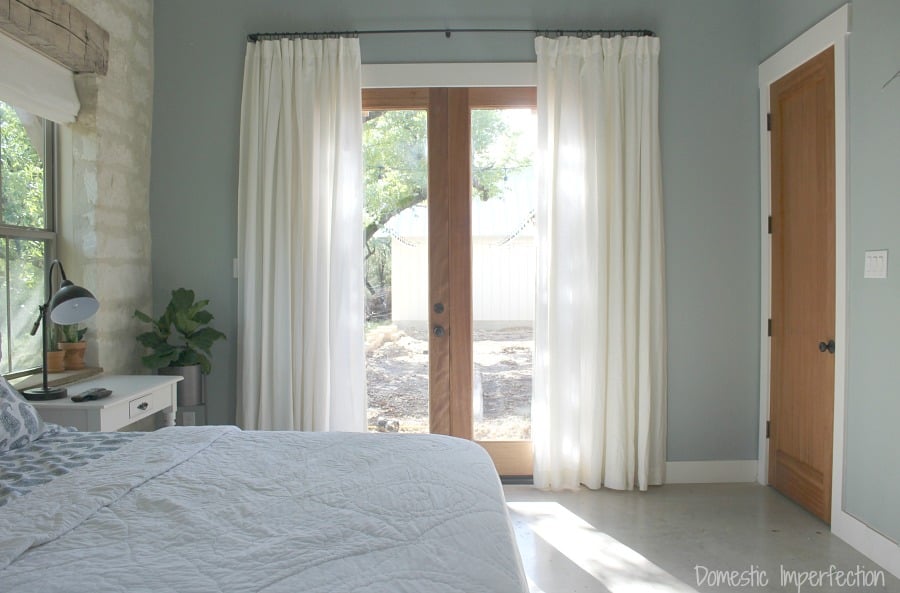 *Barn & Willow gave me a deep discount on their products in exchange for a review and spreading the word about their company. All opinions are 100% my own.