How (not) to make saloon doors
Sometimes DIY projects around here turn out great.
Sometimes they are giant failures.
And sometimes they look great and are a failure at the same time. This is one of those projects.
About five years ago I removed the closet door from my boy's room. Most people love doors on closets because you can hide the mess… I like closets not to have doors for the same reason. I know myself…hiding the mess is not a good thing. When I can hide a mess I HIDE A MESS. Things get crazy. It's not pretty.
Saloon doors on the boy's closet seemed like the perfect solution. You can still see inside (therefore ensuring things don't get out of hand) but the view is still partially obstructed. Plus, how much fun are swinging saloon doors in a cowboy kids room?
Not only are they fun, but they only cost $7 and are simple to make. Not that I made them or anything…this was 100% done by the husband while I made dinner one night. All I did was tell him that we needed saloon doors to finish the boy's room and I wanted then to look old and crappy.
When you want something to look old and crappy and not cost you much, pallets are the answer.
For this project Adam didn't sand them down or stain them, he just left them completely rough and natural. (here is what they look like sanded and stained)
After disassembling Adam clamped a few of the boards together and added two pieces across the underside, putting a screw into each plank to hold everything together.
Here's another view, (after they were finished, since the dinner making got in the way of my picture-taking.)
Then he used a jigsaw to cut a "swoop" design on the top, using our kids bumbo chair to draw a perfect partial circle. (No pictures of this step either, sorry. This is a lame excuse for a tutorial.)
The last step was to hang them. For that we used cafe door pivot hinges from Home Depot, which were $6.97 for a set and are the only cost associated with this project.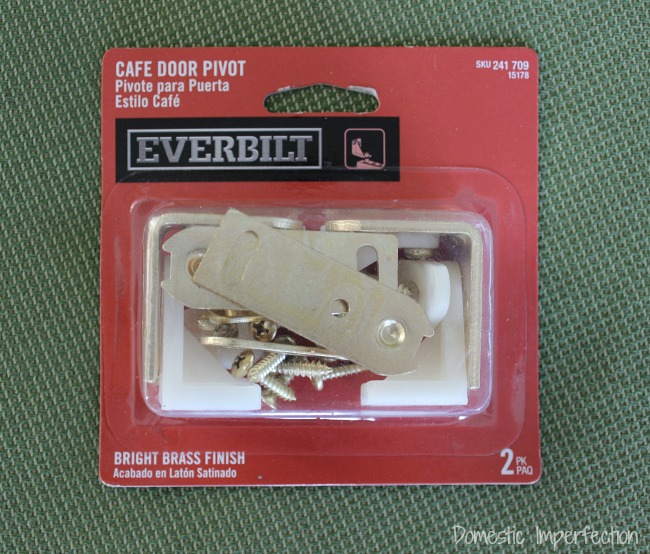 And here they are all hung up! How fun is that? I think they look great…and by great I mean old and crappy, of course.
But wait…I thought this was a DIY fail? Yeah, it is. The problem is that they only swing out about halfway, because the support board hits the door frame (they swing in all the way inward).
There's an easy solution…we would just have to take them apart, cut down the support boards shorter (about where the white lines are) and reassemble.
It hasn't happened yet. It may never happen. They function well enough that they are likely to stay like this forever. You know how it goes.
Cowboy Bedroom Sources + Links
Shop the Look