Vaulted Wood Ceiling (from cedar fence pickets)
In the process of building our house, Adam and I messed up. We knew that we only wanted the builder to build the "shell" of the house and leave the rest for us to DIY, but what we didn't realize (no one along the way did… I'm guessing people don't finance half-built houses very often) is that in order to close on a construction loan, the house has to be 100% finished. This led to a giant, stressful, drawn-out mess when we tried to convert the construction loan to a mortgage. Our solution was to try and check all the boxes for a "finished" house as fast and for as little money as possible.
We added cheap mop sinks where one day there will be nice vanities, painted plywood subflooring (evidently paint counts as flooring), stapled dropcloths to our unfinished bedroom ceiling, and a whole slew of other things I'm not going to list. The inspectors rolled their eyes at our "finish outs" every time they came out to try and close, but they had to check the boxes.
Anyway, the point of this story is that for over two years there has been a dropcloth ceiling in our bedroom.
A few months ago Adam and I decided enough was enough, and we went and bought some cheap cedar fence pickets and started the process of adding a wood ceiling.
This project is not an expensive one (all the wood was only $120), but it is definitely tedious and slow-going. After two days "we" (aka, mostly Adam but a little bit of me) had finished about a quarter of it… and then it sat like that for about four more months.
Right now you are either nodding your head in agreement because your projects also get forgotten and drug out, or you are thinking we are completely ridiculous.
Looking at that torn apart ceiling for months on end WAS ridiculous though, so we decided to hire someone to finish the ceiling in a timely manner.
(Sidenote – during this period of the spray foam being exposed, our 18-month-old son would toddle into our room, point up at the ceiling, and say something we couldn't understand. Finally, we figured out he was saying "cheese". Hilarious.)
It took two men two full days to finish the rest the remaining 3/4 of the ceiling and skin the beams, which Adam and I agreed was $400 well spent.
And now, it's finished! Isn't it pretty?!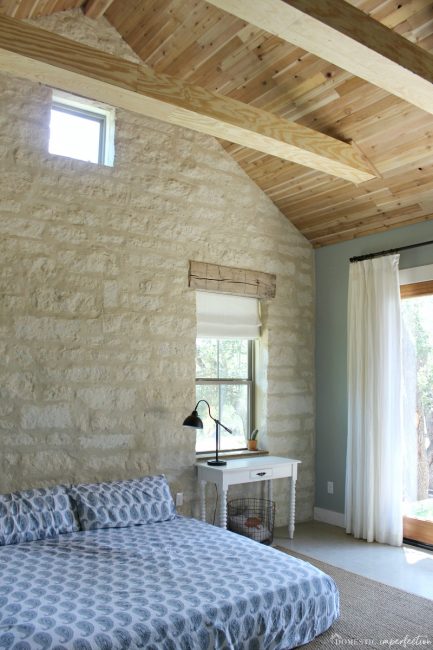 I can't even tell you how nice it is to wake up and see a finished wood ceiling and not a giant project. Every morning I open my eyes, smile at the ceiling, and then start the morning hustle in a good mood. Hopefully, that doesn't wear off anytime soon, because mornings aren't my favorite…but they've been less crappy recently. I can't help but think that the ceiling has something to do with it.
There are still some things left to do before I can check it off the list though, here they are –
add a ceiling fan
paint the beams white
figure out how to trim (caulk? grout?) the edge against the stone wall
Decide if I'm going to stain it or not
Alright, let's talk about that last bullet point a little.
The ceiling is beautiful, but it's not exactly what I had imagined. It's close, but it is much newer and fresher looking than I had planned. I was hoping it would look exactly like the ceiling in the kitchen and dining room, because the color and variation of that ceiling is absolute perfection.
The wood we bought for the bedroom is from the same company, same description (cull cedar fence pickets) as we used for the kitchen and dining room. I guess this batch just hadn't been left out in the elements quite as long and never got that good, time-worn color.
So I'm thinking about staining the ceiling to feel a little more rustic. Nothing too dark or dramatic, just something that will give it a little age. As you can see, the ceiling and the windows headers don't quite look like they belong in the same room. One looks like it belongs in an old farmhouse, the other looks like it should be in a beach house (at least to me).
Although, I've been doing Instastories for the last few months, showing what goes on behind the scenes and between blog posts (if you're not following on Instagram, you are missing out! Click here to follow!) and I took a poll on who thought I should stain it and who thought I should leave it, and 75% of you think I should leave it alone. So that's encouraging, because staining the ceiling doesn't sound like a whole lot of fun…but I'm still undecided. I'll write an update post when the rest of the ceiling to-do list is finished (or purposefully not finished).
Yay for progress!
You may also like –
Reclaimed Wood Kitchen Ceiling
DIY Pantry Reveal (it's so good!)
All About Our Interior Limestone