One of my "loose goals" for 2013 was to buy a real file cabinet and finally take control of paperwork in our house. Why is it that it is sooo easy for paperwork to get out of hand? My command center has helped a bit, though only in my kitchen and only with recent paperwork. The rest of it is still a mess.  My current "file cabinet" is too small and stuff comes busting out of it and then never makes it back in. Exhibit A:
There is also an exhibit B, C, D & E, but I'll spare you.
So the kids and I were perusing the local thrift store when we stumbled across a literal PILE of file cabinets for $5 each. We of course had to touch them all to find the best one, turns out they all had jammed drawers besides this little black one…
When I was checking out the cashier gushed about how pretty the floral handle's were, to which I replied with something like "oh yeah, they're definitely…unique." I didn't have the heart to tell her I was going to chuck them and give the whole thing a makeover.  Perhaps this means I should be suspicious whenever I get a comment telling me my most recent project is "unique".  Hmmmm…
Moving on.
So the first step was- surprise surprise- to prime and paint.
My plan to jazz up the drawer fronts was simple…I was just going to Mod Podge a piece of scrapbook paper to the front and call it a day. But then, it didn't quite fit….which was weird because I had eyeballed it in the store.
I wasn't really bursting with ideas on what to do instead, so I took a few days off from my file cabinet makeover. Then one day my friend Kelly over at View Along the Way posted this herringbone artwork she made…
 ….and I knew just what to do to my drawer fronts.
So I added a dark yellow piece of scrapbook paper to the designed ones I already had and cut them all into rectangles.
To start, I skipped all the math and it's associated horrors and just slapped a piece on there.
And then I mod podged. And modge podged. And then I mod podged some more, until I had this…
I had found some pretty glass handles at Hobby Lobby for 50% off, so I went to attach them…except that they didn't fit. Perhaps I'm just naive, but I assumed that all cabinet/furniture handles would be the same size. I was obviously wrong, but in my head that would  just makes sense.
Not a problem though, I just drilled a hole in the correct location and mod podged new rectangles right over the old holey ones. And here you have it…not bad for $15 total!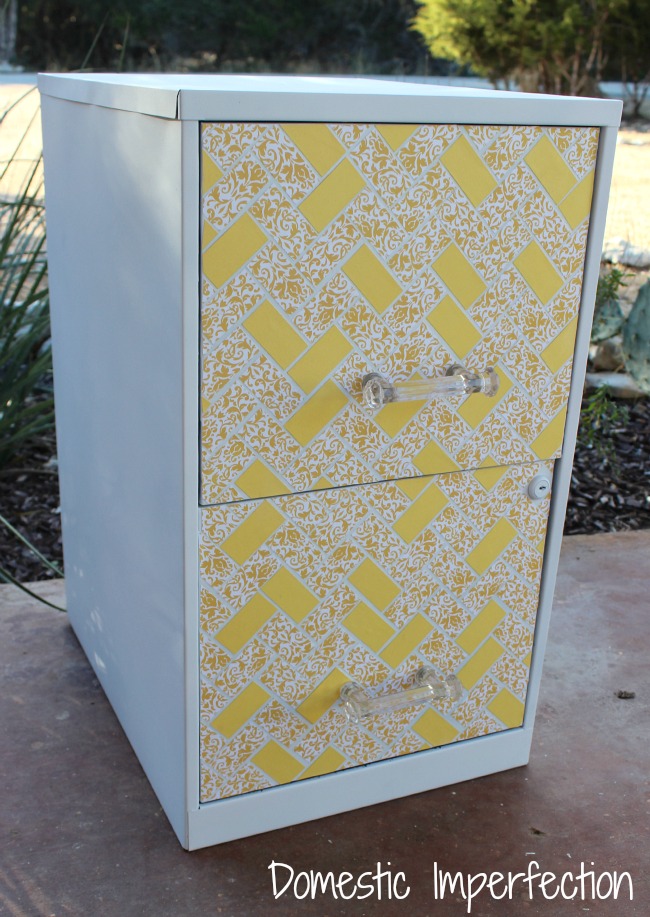 Adam offered to put a wood top on it for me and I think that would make it look way better, but honestly I'm just going to stuff it my craft closet and it's likely that the top will never see the light of day again. (You know, cause it will get covered with stuff…cause I'm messy. You get it.)
That's not the end though, no no…I still had to actually file everything. Try as I may I couldn't procrastinate any longer.
I went through all my piles and in the process I discovered a little something about myself. I discovered that sometimes I'm really organized. I had every single electric bill, water bill, phone bill, and internet bill that we have received since we moved into our house. All of them, neatly filed away and organized. I was impressed with myself. That being said, I have no idea why I would need those (it's all online), so I chucked 'em. I also discovered that sometimes I am really NOT organized. So I found all my bills…woohoo. But Levis birth certificate? THAT is absolutely nowhere to be found. It's gone. I think I may have mailed it off to an insurance company or something instead of a copy…that or it got left in the copier. I know, bad bad bad. So now I have to get a certified copy and make sure his identity hasn't been stolen or something terrible.
I've depressed you….now you can't stop thinking about poor little Levi having his identity stolen. It'll be alright, I promise. How about I cheer you up with a little before and after shot?