How to Decoupage on Wood (or anything!)
Last updated May 9, 2023
Decoupage is a fantastic technique that can transform any surface into a unique and beautiful piece of art. Whether you're a seasoned crafter or a beginner looking for a new creative outlet, decoupage is an excellent way to unleash your creativity and add some personality to your home. In this post, we'll walk you through the step-by-step process of decoupaging on wood, including all the materials and techniques you'll need to create your own beautiful decoupage project. So, let's get started!
For this project I wanted to beef up a copper star for my sons cowboy bedroom, so I added a mix of decoupaged scrap paper on a wooden backer.
How to Decoupage
Prep Your Surface
This will look different depending on what you are decoupaging. If you are decoupaging and item that is ready to go (like a picture frame or canvas) you will just need to make sure your surface is clean and dry.
For my decoupage project I wanted to cut a large star out of plywood. To do this I traced my copper star, making the wooden star slightly bigger. A ruler would be great for this, but I couldn't find one and used a college DVD set instead. If it works, it works.
Then I cut out the star using a jigsaw. If you've never used power tools before, I promise you can do this. A Jigsaw is a great tool to start with.
Step Two – Create Your Masterpiece
Here comes the fun part, adding your scrapbook paper to your surface! For this you will want to grab your decoupage glue, a craft brush, scrapbook paper, and some trashy TV.
Note: Decoupage is very versatile, and you can use whatever material you want. For this post I used scrapbook paper pieces, but I have also used fabric and even buttons!
I choose to cut my paper into random shapes using scissors, but tearing them into pieces would be a great look as well!
How to apply decoupage
Dip your craft brush into the decoupage glue and brush it onto the back of your your scrapbook paper piece.
Press the piece onto your surface, making sure there are no bubbles and the edges are flat.
Repeat until your surface is covered.
When you are finished applying your pieces, apply a think layer of decoupage glue over the entire surface.
Let dry. It doesn't take long to fully dry, 20 minutes or so.
This really is an easy and fun project…the hardest part of my star was folding the points juuuust right so that they didn't look all jacked up.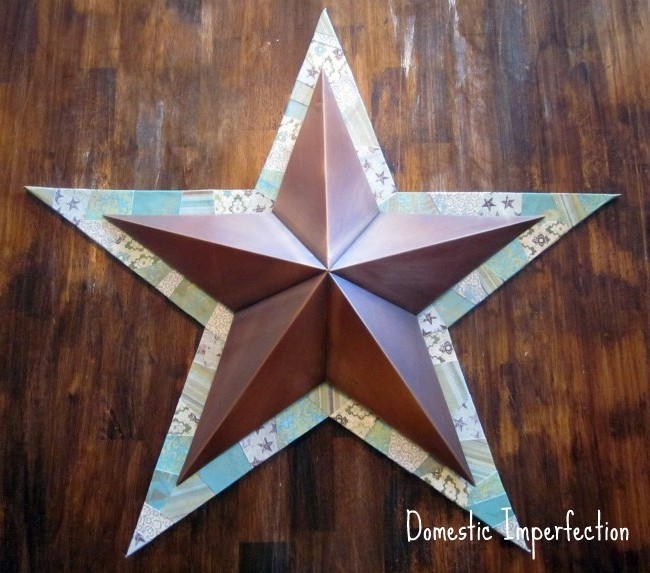 Here is my finished star on my boys bedroom, I think it turned out really well!
Want to see the full bedroom? Click the link below!
As you can see, decoupage is an easy craft that anyone can learn. It requires only a few simple materials and a bit of patience.
More DIY Decor Ideas