Upcycled Giant Chalkboard
A couple of years ago I made a chalkboard for my kitchen/dining room area.
I use it every single day for my household to-do list. It's probably one of the things in my house I use most (that's not an appliance, computer, or sink). Recently the boys have taken an interest in it, and each day they drag their little step stool over to the chalkboard and go to town writing all over my list. I let them too, because seeing their little doodles and chicken scratch letters is way better than something that tells me I need to pay bills, wash three loads of laundry, scrub toilets, and clean out the car.
I thought a giant chalkboard in their room would be a big hit (and I was right).
It started with this old mirror frame (part of an old dresser) that has been sitting in my garage, just waiting for the opportunity to be made into something useful.
It has chalkboard written all over it, doesn't it?
First step, paint it. I primed with Kilz, then put on a few coats of Pure Turquoise by Behr (leftover from stenciling my bathroom).
Then I rubbed it down with some stain, to make it look more like something that belongs in a boys cowboy bedroom and not a girls "Frozen" themed room.
The result?
No. It looked like turquoise for sure (just like the stone), but it wasn't the color I wanted for the boy's room.
Round two…this time I went with "Explorer Blue", a color that screams "boy".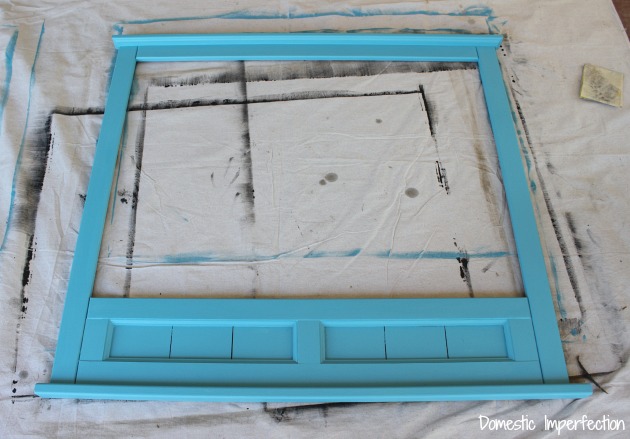 After the paint dried, I used an old brush and a rag and gave it the "Dirty Cowboy Treatment" (tutorial here), and the results were much better.
To make the chalkboard part I used chalkboard paint by Rust-Oleum, painting four coats over a piece of masonite. I had to search high and low to figure out what the heck it's called…it's the stuff that's stapled onto the back of dressers. It's not quite wood and not quite cardboard, it's smooth on one side a rough/fuzzy on the other. For my kitchen chalkboard I used thin plywood, but this is much smoother and works better (plus it's cheaper).
Once the paint was fully cured (24 hours later) I glued it into the frame and covered the entire surface with chalk. I read once that if you don't do this you will always be able to see the first thing you wrote on it. I have no idea if that's true, but I figure better safe than sorry.
The second I finished that part the boys were all over it. I've been trying to teach them letters for years, with zero success. Neither one cared about it one bit and refused to learn. Then one day a few months ago Elijah (4) decided he wanted to learn to read, and he has been unstoppable ever since. He's practically teaching himself.
To hold the chalk I used drawer pulls and turned them upside down, like so…
and then I hung it up!
They love it. It gets a ton of use, and two chalk holders and a line down the center results in very few fights. Admittedly, their room is really small and it is jammed in there pretty tight…I actually had to saw off part of the frame to even get it to fit between the bed and the corner (and put about 14 holes in the wall trying to figure that out.)
Now that the chalkboard is finished I think the next project in here (besides getting bedding) will be the saloon doors for the closet.  I have no idea how we're going to go about that, but it shouldn't be too hard, right?
Cowboy Bedroom Sources + Links
Shop the Look