Today's a big day y'all, a big big day. Why? Because I finished the boy's room!
This room makeover has been dragging on for many, many years. It's kinda embarrassing how long it has taken, but I have to remember that this isn't a TV show where room makeover take 30 minutes, or some awesome professional blog where things get done in a timely manner. This is Domestic Imperfection. This is real life, where things get messy, I get distracted, and room makeovers take for-freakin-ever.
So let's take a little journey, shall we? Let's start in 2008, when my husband and I bought our house. Here are the official "before" pictures of the room.
That is actually the guest room, but the boy's room looked the exact same….beige carpet, pink walls, pink ceiling, pink closet. The actual name of the paint color was "avid apricot", which I know because the previous owners left us a five-gallon bucket in case we wanted to paint MORE things pink. Ummm, no.
So instead I painted it a very similar shade of brown.
That previous photo was taken right after we moved in and had one bouncing baby boy. Then shortly after boy number two came along and we threw him in there with boy number one.
Then in 2013 I decided that the room needed to be completely redone, and I started by ripping up the old carpet and paper bagging the floor (read more about that HERE).
Things started to brighten up when my husband and I planked 3/4 of the wall. Also, the boys got older and things got messier.
Ahhh, progress.
Then boy number two got too big for his mini crib, so both cribs were swapped out for a mattress on the floor.
Not long after Adam and I decided the boys needed their own beds (so they would actually sleep at night and not just fight (and sometimes play) till midnight and drive us crazy), so along came the bunk beds.
And that brings us to now. Bouncing baby boy number one is now five, boy number two is three and a half, and baby boy number three has just arrived…and finally the room is finished.
The colors in the room are red, blue, green, brown and white, which I pulled from the Cath Kidston fabric used in the curtains and throw pillows.
My main challenge in this room is the fact that is isn't very big, about 10ft x 11ft. I needed it, first and foremost, to be functional. It needed to fit the beds, toys, loads of books and everything else in here, while still leaving plenty of room to play.
(Anytime you can work a Step Brothers meme into a blog post, you should)
I also wanted it to maintainable (by them, not me), which meant it needed to be really well-organized. Not to brag or anything, but that part was a complete success. I'm pretty much the best. Isn't it weird how easy it is to clean when everything has a place? Now if only the rest of the house would follow suit.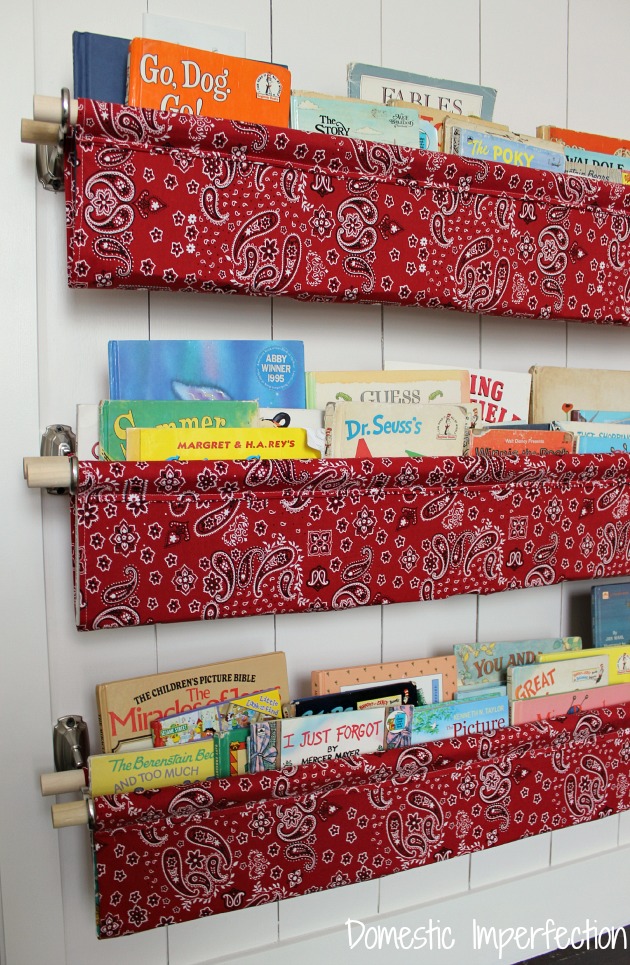 The book slings are a huge help in this area, they take up no space at all and hold a ton of books. Plus the boys can see the front covers, which means they're not flinging all the books off a bookshelf to find the one they want.
The toy shelf is also amazing and so much better than the previous toy box abyss. Every toy has a place, so they are easy for the boys to find and easy to put away.
The chalkboard gets used all the time too, mostly for practicing letters, drawing dinosaurs, and tic-tac-toe tournaments.
Perhaps the most important item is the lamp, which is left on every night as a nightlight. No nightlight = no sleeping, hence its VIP status.
And no reveal post is complete without some side by side before and after pics….
The boys love their new room, which I know because they tell random strangers at HEB/Home Depot/the library/park "excuse me…guess what! My name is Elijah and I have a cowboy room!" You can always tell what they are excited about by what they tell the cashier at HEB. (Levi currently tells them "look at my new baby!" So sweet.)
I have to admit, I love the room too. It's fun and colorful like a kids room should be, but not overbearing. It's usable, it's clean, and it's FINISHED. It feels good. I should finish things more often.
Cowboy Bedroom Sources + Links
Shop the Look