Kids Room Toy Shelf (an organized masterpiece)
Before I dive into all the DIY goodness I just wanted to say  thank you for all the love and support on my last post about Adam's accident. He is doing well, a little better every day. He is up and around the house now, and even getting out a bit. We don't do much…mostly just walk around slowly, taking turns moaning about how much moving hurts and telling the kids we can't pick them up. We're quite the pair these days!
And now for our regularly scheduled post…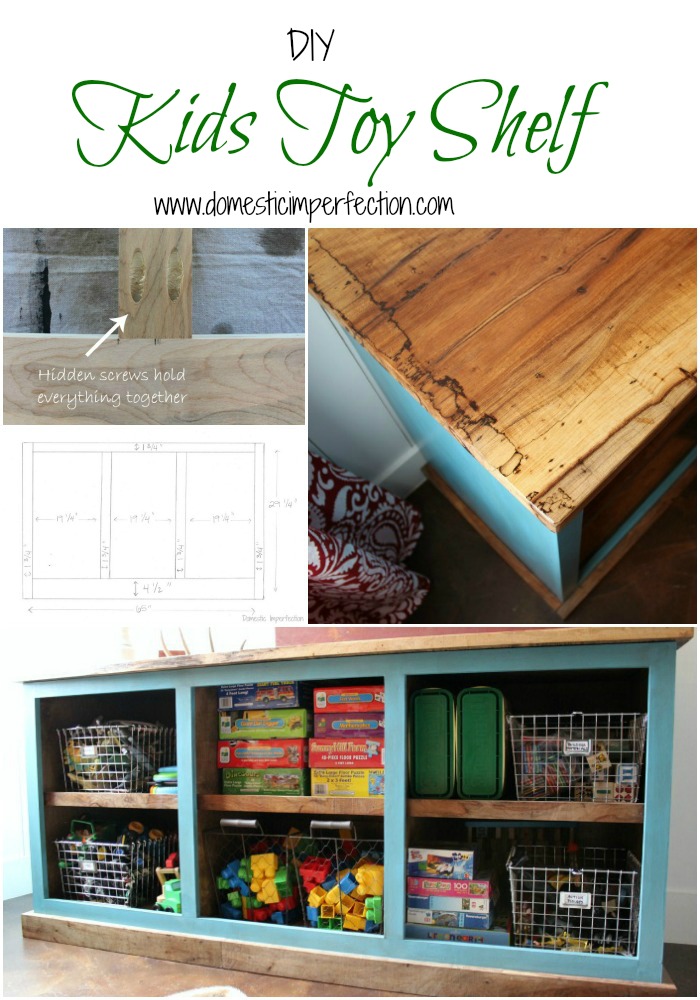 I've mentioned this before, but Adam and I have an agreement that we don't buy gifts for each other. Not on birthdays, Christmas, anniversaries….it just makes life so much easier. I think he sometimes feels guilty about it (because he is basically always off the hook), and when I turned 30 a couple of months ago he kept asking me "are you sure you don't want anything for your birthday?"
That's when I made my move. I bet I could have asked for anything, even those dang Frye boots that taunt me with their beautiful leather and giant price tag. "Actually, I do want something" I said "I want us to finally finish that toy chest for the boy's room."
Y'all, I married a good man, because he jumped right on it and we had it finished THAT DAY. It was amazing.
I'm going to do my best to share the process in a way that would make it easy to replicate, but the truth is I have no pictures before it was at this point…
…and I took very few pictures of the process after that. Way to fail, I know.
I can tell you this though, the whole thing is built out of Purebond plywood. If you're not familiar, it's a high-end hardwood plywood. Not only is it better quality than the regular stuff, but since its real wood (ours is birch) it stains beautifully and looks great. Also, you can get it at Home Depot. It runs right around $50 a sheet and we used two for the entire box…frame, shelves, all of it.
To hold it together Adam used Kreg Jig pocket screws and wood glue, that's it. If you ever plan to build furniture (or even simple things like picture frames) you MUST own one of these. (Here is a link to the one we have.)
The only other tools you need are a brad nailer, orbital sander, and table saw. Actually, even better than a table saw (when you are cutting big pieces of plywood and such) is the Kreg Jig Rip Cut.
It's basically the poor mans table saw, but better in a lot of ways because you can cut big sheets of plywood by yourself, where with a table saw you need two people to run it through. You will need a circular saw to use it though, but those are cheap and kinda a DIY necessity.
Anyway, to make up for my lack of pictures here are some diagrams I drew up …
Toy Box Dimensions
Face Frame
Sides, Top, and Shelves
I painted it to match the giant chalkboard I made for the boy's room, (Explorer Blue by Behr), painting all the pieces individually before it was fully assembled.
You can't tell from the above picture because the inside looks like a dark abyss, but I stained the inside as well (Provincial by Minwax). Then it all went together…some rustic pecan pieces were glued and brad nailed to the front of the shelves, the front frame was then attached the same way, and pecan planks were added as base molding. Once it was all together I gave the whole thing the Dirty Cowboy Treatment (distressing with stain, tutorial here), and sealed it with polycrylic.
The last step was adding the top. Remember when Adam and a friend milled a bunch of pecan wood and built our dining room table? Well we have a bunch of that pecan left over, this is one solid plank…
Adam cleaned it up and sanded the stink out if it, then I gave it a few coats of tung oil and a coat of matte poly.
SO PRETTY. Go ahead and tell me that's not the most gorgeous piece of wood you've ever seen.
You can't do it can you? It's because you're an honest person with great taste. Don't ever change.
Next came the fun part, which was organizing it.
All of our toys were previously stored in a big toy box in the living room (you can see it here) and it's was a mess. Everything is all mixed up in there, and all the small toys (the ones they like) always fall to the bottom…which means they are constantly throwing toys out to find what they want. My living room was a disaster.
With this new toy shelf not only am I getting the mess out of my living room, but the toys are organized by type into baskets (which I bought HERE). I'm hoping this will eliminate the constant digging and mess making…and even if it doesn't at least it won't be in my face all day.
So on the left side here we have a basket of plastic animals (mostly dinosaurs, of course) and one full of things with wheels.
The middle is full of puzzles and big legos (I'm going to fight graduating to tiny legos for as long as possible!)
The right side has building materials (lincoln logs, blocks, magformers
) more puzzles, and action figures. Side note about the magformers – I bought these for the boys for Christmas after hearing a few friends rave about them, and my kids love them. LOVE THEM. Just throwing that out there for all you moms that need to keep little hands occupied (or big hands, I think they are pretty fun myself.)
I'm still trying to figure out exactly how I want to decorate the wall behind the toy shelf, but I did find this painting at Hobby Lobby the other day for $20. Could it BE more perfect for this room? (Said in my best Chandler Bing voice.)