How To Make an Envelope Closure Pillow
I'm not great at sewing. In fact, I pretty much stick to sewing square things like pillows,
curtains
,
book slings
, tablecloths, and handkerchiefs. Okay, not handkerchiefs (do people actually use those anymore?), but you get the picture. Luckily sewing an envelope closure pillow is super simple and a great place to start if you're new to sewing.
So here is the process…
First pick your fabric. This is the best part! Don't be afraid to go with something bold, its just a throw pillow and is so easy to change whenever the mood strikes.
Next measure and cut your fabric. For a 16 x 16 pillow you should cut one square at 17 x 17 and one at 17 x 25. The second piece must be wider to accommodate the overlay of the envelope closure.
Here is what your pieces should look like. Helpful hint – if you have hardwood floors like I do (or tile), use the lines in the wood to cut straight lines. (I know the bottom piece here doesn't look like a square, but it is, I promise.)
Next, cut your wider piece in half.
At this point I broke out the iron, but it's not a must – you could just use pins for this step. Fold over and press (or pin) the long edge of the pieces you just cut. This will make the finished edge on the envelope closure.
Bust out the sewing machine and stitch along the inner edge of the fold. You could hand stitch this if you don't have a machine or use
Unique Stitch
(glue). Buying a machine doesn't have to cost you an arm and a leg, I bought mine six years ago for $60 and it does everything I need. Plus its blue…bonus!
If your stitching isn't exactly straight, don't worry about it. See how the top piece is kinda crooked? I put that one on the inside of the envelope… no one will ever see it.
Place your pieces together with the printed sides on the inside and envelopes toward the center.
Pin the edges to keep everything straight while your sewing. You don't have to go crazy here, 3-4 pins on a side is more than enough.
Sew around the perimeter of the pillow. When you come to a corner just lift the foot on the machine, turn your pillow, and keep going. It's best to keep one continuous stitch.
Cut off the excess material from the edges. If your stitch is very near the edge this may not be necessary.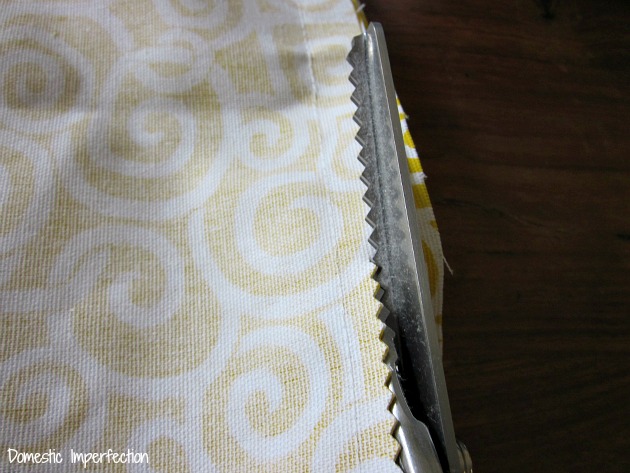 Square off the corners. This will make for pointier corners than ones that have too much fabric in them.
Turn your pillow cover right side out – here is how the envelope closure should look.
That's it, just stuff in your pillow and your done!
Hope that was helpful! Once you get this down it's easy to start adding embellishments and whatnot – the possibilities are endless!
Want to see how to make and
even easier
pillow?
GO HERE