So today is my official due date. This baby is fully cooked, I'm horribly uncomfortable, and the doctor said at my appointment on Tuesday that it doesn't look like this kid is planning to come anytime soon. Darn my comfortable uterus! I was really hoping to have this kid a few days before the due date (like my last pregnancy), but it looks like this pregnancy might be more like my first, when I went until 42 weeks. My oldest's fifth birthday is on Sunday though and I REALLY don't want them to share a birthday, so I'm okay with holding onto this kid till next week…but after that it's going to be lots of walking and spicy food!
Anyway, my last post was about my top ten "must-haves" for the house Adam and I are building. Let me just say, when I ask for opinions, y'all deliver. Thank you for all the insights and suggestions, it's really helpful. I was also surprised by the amount of people who mentioned outlet placement (I'm going to have to be very thoughtful about that, evidently) and having two dishwashers. I would have never guessed people actually have two dishwashers, but evidently it's pretty great.
So today I'm looking back at some of the things we did in this house that I won't be repeating. Some we did because we didn't have much money to spend and needed a solution, some I just wanted to try something new and creative, and some we just didn't know any better. I'm not saying I regret all these decisions (some, not most), they worked for this house but aren't something I would want in our "forever" house.
1. Raw mdf trim
Adam and I have replaced all the trim in our house (except the master bedroom, but we'll get there) and have learned a lot. We started out in the living room and chose 6 inch raw MDF that we routed ourselves (because money was our biggest concern). We ended up doing this in all the main areas of the house so that they would all match, but in all the other rooms (bedrooms, bathrooms, etc) we switched to plain, pre-primed, pine 1X6's for trim and they are SO MUCH BETTER. Here are the problems with the raw MDF baseboards…
We routed the edges, and since it's MDF it came out rough to the touch (this is normal). I started out carefully sanding each and every inch and crevice, but it took for-freaking-ever and I quit and just went ahead and painted them. But they are so rough that when you try to clean them they snag your rag or rip your paper towel and the dust in the roughness just turns into wet mud. It's a nightmare.

They soak up paint like it's their job…they took SO LONG to paint. 

They look really beat up really quickly. They peel and ding and soak up water. I seriously hate them with an intense burning passion. (the pine 1×6's are amazing though).
2. Green (or any intense color) in the main living areas
I love the color green, and I love it on my living room walls. I won't be doing an intense color on the walls of our next main living space though. Why? I feel trapped by it. I don't know how to decorate around it. The only things that look good with it are brown and white. I feel like by putting a lot of color in our living room, I can't put color into our living room. Does that make sense? Our white planked walls in the kitchen though? I can do whatever I want in there and it is great.
3. Painted tile
I painted the tile in our shower and it is holding up amazing. I don't regret it and would do it again, in this house, in an instant. In the next house though, painting tile (and other semi-permanent fixes like that, cough*paperflooring*cough) won't be happening. Not just because were building and won't need to, even if we bought something to remodel I would rip out and replace the tiles instead. This house was all about remodeling on a budget, the next (which we have no intentions of ever selling) will be more about quality finishes. (Quality finishes on a budget…because money doesn't grow on trees).
4. Stainless steel appliances
I hesitated on including this (because we are actually likely to get them again), but Adam and I don't love stainless steel as much as we thought we would. It is always covered in fingerprints, scratches easily, and has water stains. We love the actual appliances, it's just the stainless steel we aren't thrilled about. I would actually really help if we got a fridge WITHOUT the ice and water dispenser, that thing just leaks and clogs and since we have hard water the front of the fridge right below it looks terrible. And trust me, I've scrubbed it…those stains aren't going anywhere.
5. Rock landscaping borders
When we first bought the house the entire yard was gravel. We have spent years working on the landscaping and it looks a million times better. We put a rock border around all the flower beds and lining the driveway because we have an insane amount of rocks lying around our yard (plus, you know, they're free), but we wouldn't do it again. They move around, and the grass grows between the cracks…they're a ton on maintenance (or at least they should be, but we kinda ignore it). Adam also says they are impossible to weed eat around. We have thought about pulling them all up and curbing the driveway, but that probably won't happen. I have to say though, the decomposed granite we used for the driveway is great and we would do that again…but only if we curbed the edges to keep everything in place.
6. Crappy lighting
This house has terrible lighting, and most of that is my fault. When we remodeled the bathrooms we put a galvanized barn light in each (1, 2). I love these lights, they are cheap and attractive…but they make for terrible bathroom lighting. One harsh light pointing directly down isn't exactly ideal. Lesson learned. Also, we have ONE source of light in our living room, which is basically an empty bulb from the ceiling fan and the kitchen still has and ugly fluorescent light. It's fine in the daytime because we have a ton of windows, but at night our house is a dark spotlight-y mess.
7. Butcher block around the sink 
I would use butler block again, just not around the sink. I wrote a whole post on this, so if you want to read more GO HERE.
8. Mismatched floors
One of our first projects in this house was to rip out the carpet in the living room and main hall and put down wood. I love the wood, no issues there. The problem is that we didn't have the money to extend it into the bedrooms. Then the kitchen and foyer still have the ugly tan tiles, and the kids and guest room have paper bag floors, and the master still has disgusting old carpet. Nothing flows. In the next house we are putting wood everywhere, living room, dining room, kitchen, bedrooms, etc. The only places not getting wood will be the bathrooms and mudroom/laundry room area (that will be stone tile).
9. Vessel sinks
I thought I would like these, but I don't at all. I don't know how to explain it other than saying it feels intrusive. It will be drop-in or undermount sinks from here on out.
10. Thick wooden blinds 
Another thing that doesn't match in our house is the blinds. When we bought the house it didn't have any blinds (or screens) and I started out by splurging and getting 2 inch wood ones for the living room. They are nice blinds, they look okay and function. But I won't buy them again. They don't look like real wood, and they are HEAVY. I never move them up and down because I feel like they are going to break whenever I do. I went the opposite direction in the master bedroom and installed lightweight seagrass type ones, which I don't love either. Then I wizened up and tried bamboo ones in the dining room, and those are fantastic. They are the perfect weight, look great, offer privacy…I'll be buying these for the next house.
11. "Useless" wooden decks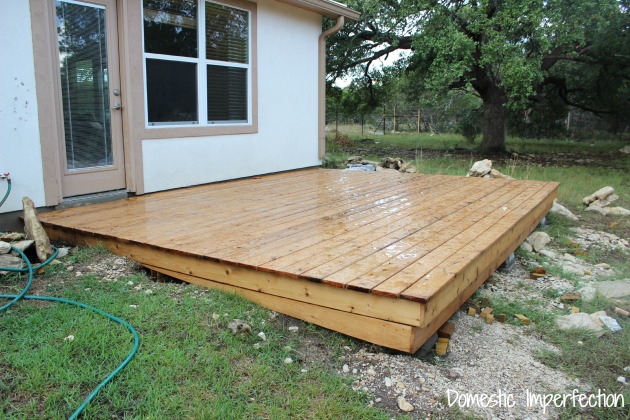 This is actually number 11, but Adam insisted I add it. He never liked the idea of our deck. I always thought we needed something back there besides a giant dirt pit that constant gets tracked inside, and a deck seemed like the best option. I still think it could be great (we haven't finished it, and it doesn't have any furniture) but agree that wood decks will never happen again. It already looks terrible, and we used cedar and sealed it. Cement patios all the way.
So there it is, ten (well, eleven) things we won't repeat in the next house. So now I want to know…what are some home improvement project you've done that didn't turn out as amazing as you'd hoped?
You may also like –
Ten DIY projects I WOULD do again
Double sliding barn doors – the biggest DIY fail ever
Chalk paint fail and the bed that almost killed me
SaveSave