Building the Deck, Part II
I'm finally back with the second part of the deck post. Let's just pick up where we left off last week, which was with a fully assembled deck frame.
We used pine for the frame but decided to spring for cedar for the top, since it looks nice and it's naturally moisture resistant (which means it's less prone to twisting, cracking and swelling. Basically it lays flat.)
Before attaching them to the joists we went ahead and sealed the backside using Flood CWF-UV.
Then it was time to attach the decking. I know that in the previous post I said that neither Adam or I had ever built a deck before, but I lied…I've totally built a deck before. I'm kinda an old pro.
That deck was built using the old "nails through the top technique", but we had a different plan for this one.
This is the deck jig, made by Kreg Jig and stainless steel deck screws. If you read regularly you know how much Adam and I love Kreg Jig, their tools are well made and make projects much quicker and easier. Plus it's just a great company with humble beginnings. (BTW, this isn't a sponsored post (I'm not being paid) but they did send me the jig to for free. They also sent me one to giveaway – enter at the end of the post).
The point of using the deck jig is to attach the decking to the joists without having any visible nail or screw heads. To accomplish this you use the jig to attach the boards from the sides rather than the top. I know it sounds kinda odd…pictures will help…
The advantages of doing the is that not only do you not see any of the screws, but you put a screw on each side on the board (angled toward each other), which keeps the board from lifting in the future. It also prevents nails or screws from popping up and ripping the flesh from the bottom of your unsuspecting bare feet.
First you space out your boards using the included spacers (red for a smaller gap and blue for a larger – we used red), then you drill your holes using the jig, just like in the above photo (make sure you drill the directly above the joists). Here are some pictures of Adam and I working, complements of our four-year old.
It's recommend that you use the jig for both drilling the holes and adding the screws, but in order finish the deck quickly I screwed them in without the jig while Adam drilled all the holes. The whole process was simple and went pretty quickly, I don't think attaching the decking the old-fashioned way could have gone much faster.
Here it is about halfway finished, it looks like we just laid the boards out, but they are fully attached.
and here is what the screws look like up close…
When we got to the end Adam trimmed the joists so that they wouldn't hang out past the last piece of decking.
In order to fully secure the last board he did have to do a row of exposed screws. You can avoid this is you lay the decking running away from your house instead of parallel, but in order to make the most of the wood we went with this configuration instead.
To finish it off Adam added some skirting around the outside to hide the beams and joists underneath (though we still need some landscaping to fully hide it.)
Then I sealed the entire thing with more Flood CWF-UV sealer… though it needs another coat or two, because right as I was finishing (and before it dried) it started pouring rain. It hadn't rained all summer…go figure.
Anyway, here it is!
I know, the backyard is a hot mess and the deck looks like an afterthought. Baby steps. Also, I just noticed that there is a stuffed animal on the roof. Sigh.
We still have a lot of work to do, but it's a good start to a usable back yard. And it HAS been keeping the dirt out of my house, which is a serious perk. Plus the deck is now where my kids eat all their drippy summer snacks like watermelon and popsicles, also saving me cleaning. This things already paying for itself.
Now, for the part where I get to give away a deck jig and screws. I know fall is a weird time to be giving away decking supplies, but spring will be here before you know it. Plus, if your weather is anything like mine winter is the perfect time to build a deck. Here is what is up for grabs…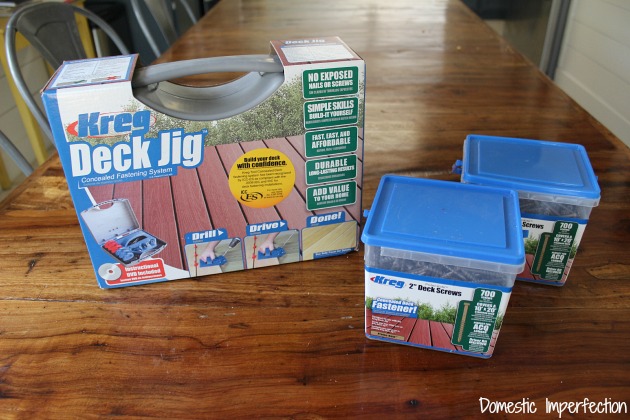 Deck Jig kit (which includes 100 Protec-Kote™ deck screws, 6″ Deck Jig™ drill bit, 6″ KTX square driver bit, (3) 5/16" spacer rings, (3) 1/4" spacer rings, (2) stop collars, (1) Allen wrench and instructional DVD) and two boxes of Protec-Kote deck screws (1400 screws total).
Enter using the rafflecopter below. I'm a little hesitant to say this because I'm paying for shipping out-of-pocket (and 1400 screws isn't light), but this giveaway is open to readers worldwide. Good Luck!