Behind the Scenes at Better Homes and Gardens
A few months ago I received an e-mail from Better Homes and Gardens asking if I wanted to join their new Live Better Network. I of course was like "heck yes!" (because BHG is amazing), and they were like, "great, are you available to fly to Iowa in August to tour the BHG headquarters?" And then I was bummed, because a flight to Iowa was totally not in the budget. Then they were like "oh no…the cost is on us"…and suddenly I felt like a rock star. Like a bonafide, stay at home mom, blogger rock star.
The new network is for the Better Homes and Gardens products at Walmart, and over the next year I'll be posting about using their products in my home. But first, a confession. I can't go on until I get something off my chest. This new partnership between me, BHG, and Walmart will forever be shrouded in dishonesty if I don't come clean. So here we go…..
I haven't stepped foot in a Walmart in nearly five years.
Why? Well, for starters, there isn't one in my town. The closest Walmart to me is about 45 minutes in either direction. I don't mind that things are so far away, after all, I chose to live in a small town because there's nothing around. I like it like that. I never go out of my way to shop at Walmart, because it isn't convenient (which is kinda the purpose of Walmart, right?)
So when I got the invitation to go tour the BHG headquarters and get acquainted with their line at Walmart I honesty didn't know what to expect. I mean does Walmart actually have great home decor stuff? I don't know, I hadn't looked.
Turns out, they do. They had all their products displayed and everything looked really nice. I was impressed. Then they started telling us the prices and I was like "good grief, why am I making things?!?" (don't worry, I'm not actually going to stop making things!)
I mean, look at this furniture. The finish on the pieces below is called Weathered Oak, and it looks amazing. I loved this wooden coffee table (and the top slides apart for easy access to hidden storage) and the media center (or buffet, or whatever you want it to be). Even the super functional cube storage is coming out in the Weathered Oak finish in Spring 2015.
This great looking X leg farmhouse table (sound familiar?) is $179. (please excuse all my terrible iPhone pics).
These cute gray and white bath towels? THREE dollars.
My favorite thing was these galvanized buckets. I think they are $12…but don't quote me on that.
This bedding was beautiful and the whole set was only $39.99 (though it doesn't come out till spring)
Next we did some behind the scenes touring of the BHG headquarters, which was pretty much amazing. The headquarters is two huge buildings in the middle of downtown Des Moines. One is the original warehouse from nearly hundred years ago, and the other  is a newer building connected by a skywalk. Here are some phenomenal iPhone pics I snapped throughout the day..
The photo studio –
The photo studio was very cool to see. It's really just a giant warehouse, and inside there are rooms set up and decorated for photographing. The walls are all on wheels and none of the lighting is natural. They even said that they shoot outdoor shots in here…they will wheel in a wall with siding, bring in sod and landscaping, and shoot it right there in the warehouse.
The workshop –
We were only in here for a quick second, but I snapped a few pics because I knew my husband would be wiping the drool from his face. It wold be SO NICE to have a workshop..right now we set up our tools on card tables in our gravel driveway and take turns plugging them into the extension cord when needed. I can't even imagine how fast and frustration free we could build stuff with a workshop like this.
The prop room –
This was my favorite part. This is the prop room for the food and kitchen, and it was insane. I've lived in apartments that were much smaller than the prop room. I was told this was nothing compared the warehouse level below that was for the home decor props (I didn't get to see that, which was good since they probably wouldn't have been able to get me to leave.)
Test kitchens –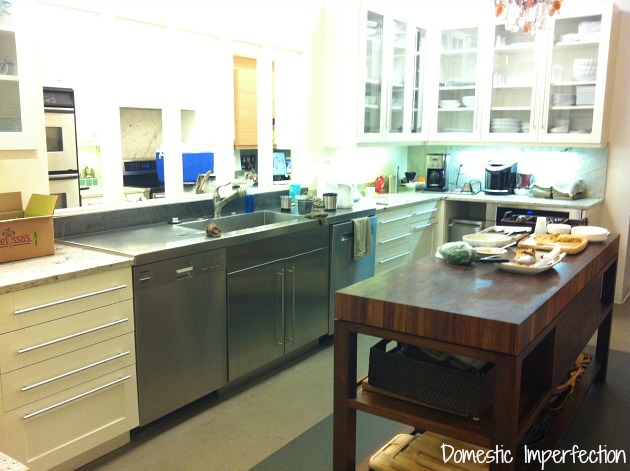 I didn't spend much time in here either, but there are quite a few test kitchens and they all look like something you would have at home. They even have test dining rooms where that look just like a dining room at home for testing the food. In one of the test kitchens in the warehouse someone asked where they photograph the food, and they pointed behind us to a rickety old table in a dark corner.
Not what you pictured, right?
Test gardens –
The test garden is a plot of land – just under two acres I  think – right there in the middle of downtown. It has walls around it and from the street you may never even know it's there, and when you get inside it's a like a little Central Park. Beautiful.
We also did some fun classes, one on food styling from Nancy Hopkins and one on decor from Eddie Ross.
After all the events that day we headed back to the hotel, changed into more comfortable clothes, and were off to the Iowa State Fair.
The Iowa State Fair, in case you were wondering, is huge. There were so many food trailers selling weird fried stuff…candy bars, Twinkies, Oreos, vegetables…even fried butter. Like a fried stick of butter. I shudder just thinking about it. I did partake in a fried Oreo though, and it was pretty. good. I also saw a life-size cow carved from butter, and an 1131 pound pumpkin (not a butter pumpkin, a real pumpkin). I also rode zero rides, because I'm that lame person that will hurl on merry-go-round.
All it in it was an amazing whirlwind of a trip. I had a blast touring BHG, hanging out with all the other bloggers, and seeing the products. And Iowa is beautiful. Lush, green, not sweltering hot, and downtown Des Moines was incredibly nice.
Follow along with the BHG Live Better Network on social media….
Facebook | Instagram | Pinterest | Twitter
Disclosure: I received compensation from  BHG at Walmart for my time and participation in the BHG Live Better Network.