Warning: There are absolutely NO creative ideas in this post. It's chock full of adorable kid pictures and me gushing about how cute they are and how fast they're growing. That's it. Consider yourself officially warned.
Friday Levi turned six months old. It went by so quickly… it seems like just yesterday that I wrote this post all about having him.  It took Elijah way longer to turn six months, but that's probably because I got to spend all day holding and playing with him…poor little Levi doesn't get nearly as much attention. He seems okay with  it though, he is perfectly content to sit around and giggle at his brothers antics all day.
So here he is, from day one to today…
He sits up on his own, has his first tooth and is a terrible sleeper. Despite not sleeping well he is pretty much the happiest baby ever. People think he never cries – but they've never tried to put him in his crib. He hasn't had any solid food yet, mostly because I'm dreading messing with baby food again. It's messy, time consuming and expensive…so much easier just to breastfeed. Soon though, I can't put it off forever. What else? He has a mildly dented chest (pectus excavatum) and is right about in the 50% for height and weight. He needs a haircut terribly bad, but I just can't bring myself to do it just yet. He's pretty much the snuggliest baby I've ever met and I'm totally in love with him.
That brings us to Elijah.
Over my blogging "break" he turned two. I won't post all his pictures, but here is one month, one year and two years.
(Have you ever seen brothers look so different?!)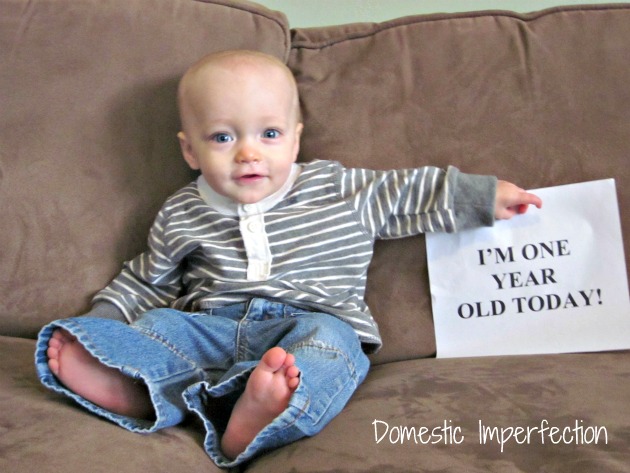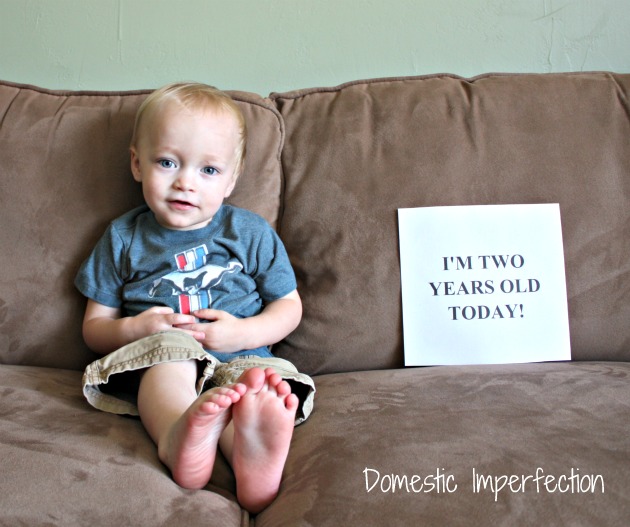 We threw him a little party, mostly just family and a few close friends. I'd love to show you all his fantastic birthday pictures, except that every one of them looks like this…
Yeah, pretty terrible. I'm not even gonna watermark it…internet photo stealers, this ones on the house.
Actually, I did get one good photo. It's of the monkey cupcakes I made and it only turned out because they were sitting completely still.
(for a monkey cupcake tutorial head over to CRAPTASTIC)
Oh Elijah. How do I even begin to describe Elijah? He has boundless energy. He is super curious and wants everyone's attention all the time. He loves outside, "polies", balls, dirt, toast, climbing, and everything boy related (although he and I do share a passion of purses, high heels and chapstick.) He is obsessed with Curious George and hopelessly addicted to pacifiers. Unlike his little brother he is an awesome sleeper and a terrible eater. He is pretty small, not even in the 10% for height and weight. He won't go to bed without a prayer and TWO kisses, one from me and one from his dad. He makes it nearly impossible to get anything done and refuses to grow any hair on the front of his head. He doesn't talk all that much, although it may just seem that way because most my friends have little girls…. and little girls talk A LOT. He's my little buddy and I can't imagine life without him.
While I'm photobombing you I might as well get it all out of my systems, so here are some of my favorite pics of them from the last six months…
 So there you have it…my boys. Thanks for humoring me :)