Our Tiny Home Office Reveal!
So I finally have the office reveal post finished, but I can't just dive in and show you the finished product without addressing the elephant in the room. Ummm….what he heck is life these days? I feel like I'm living in a history book. My kids school is canceled, Adam is working from home, everything is closed, I can't see my friends or family, and I'm on week three (Four? Seventeen?) of being at home with my kids. You would think these circumstances would lead to me cranking out the projects and blog posts, but no goals are being achieved over here, we are just surviving. How are y'all holding up? Tell me things. Talk to me in the comments. I miss people. More specifically, I miss people I didn't give birth to…I'm all good on hanging out with people that once lived in my stomach.
Anyway… let's move on to a more upbeat topic. Check out the finished office! (You can read the first part of this room makeover here).
I'm thrilled with the way this room turned out. I love every aspect of it…the colors, textures, the huge window and natural light, and the size. I was never really worried that this space was too small…but I was never worried that it was too big either. I mean, 42 square feet isn't exactly roomy.
The blueprints showed it having one large wrap around desk, but we decided to go a different direction and make two small desks on either side.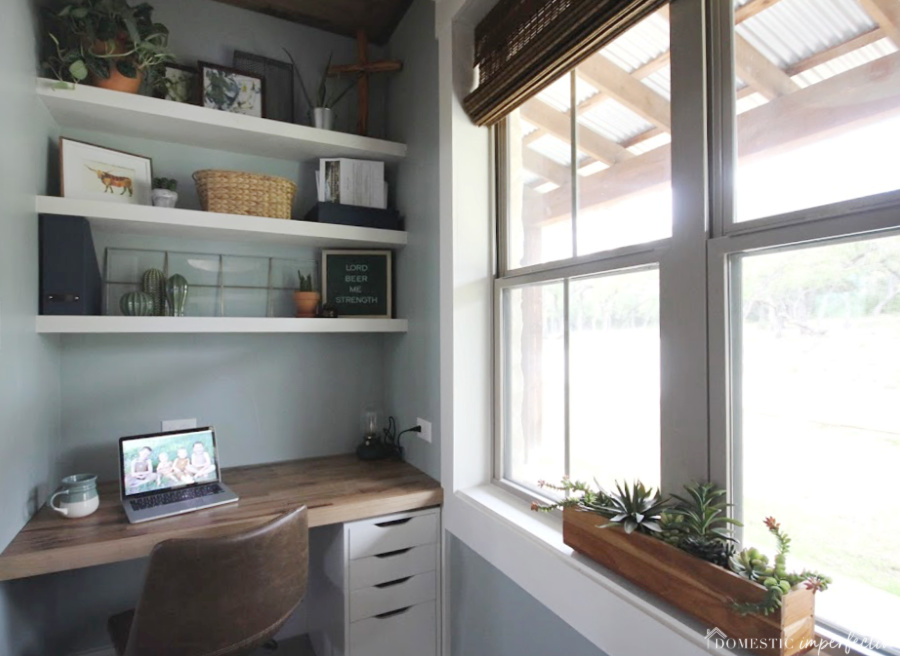 They aren't really desks though, just a floating wooden countertop (tutorial here) and a file cabinet pushed underneath. This way everything is built-in and looks legit…but when it comes time to add flooring we can just slide the file cabinets out of the way.
This side of the office is for family business. It's not picture-perfect, with its huge ugly printer and old school corded phone, but it's super functional. The whiteboard calendar is new for our family, and incredibly useful. I like that all of our schedules are in one place, and the kids like that they can look at it and see what is coming up. Especially my second (type A) son…this has reduced the number of questions he askes me per day for from 400 to like 372. Although, nothing on that calendar actually happened, and next month isn't looking too promising either. #quarintinelife
Also, it hides the fusebox…which is equally important to being functional. Clearly.
Our plan was to eventually put a desktop computer here for the kids to use. They are getting to the age where they will need it for school, but this was they are right in the middle of the house while on the internet and not hidden away in their rooms. This has been moved up from "one day we will get a family computer" to "we need a desktop computer yesterday" thanks to the Coronavirus and doing school from home. Also, I made the mistake of telling my kids this, so they ask me multiple times a day if I have bought a computer yet. I haven't. Y'all…never tell your kids about future plans unless they are already in motion. Rookie mistake. Don't be an idiot.
The file cabinets are great too. I went through all piles of paperwork, threw away a truckload, and organized the rest. The other drawers are full of office supplies…stuff that has had no home for many, many years now.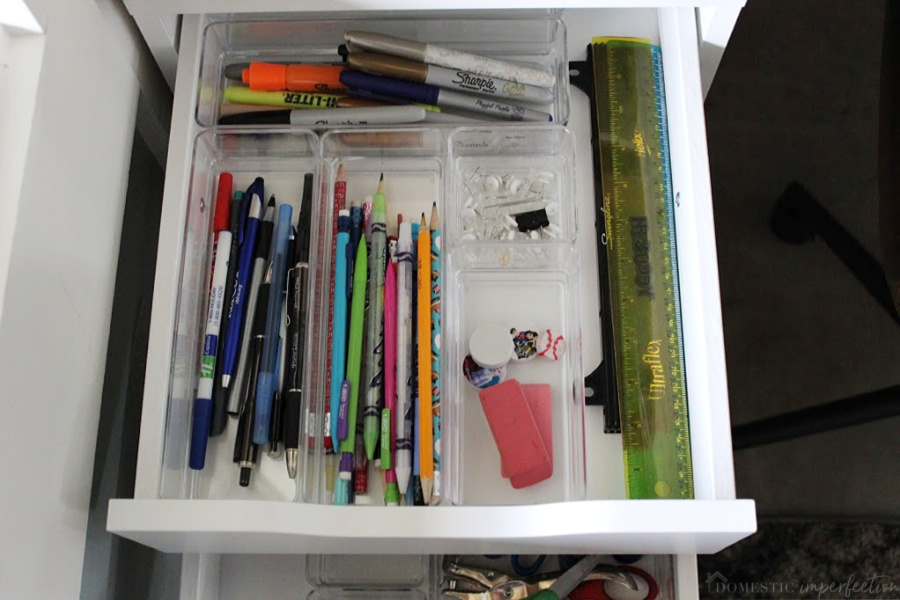 This is how bad our organization was – my kids are constantly looking for/asking me for kids scissors. I knew we owned plenty, but we could never find them when they were needed for a kid craft emergency. When we rounded them all up to put them in the drawer organizer we had nine pairs. Nine. Ridiculous.
So that about rounds out the tour! The timing on completing this space really couldn't have been better if we had planned it. We finished it right as everything was falling apart, and now that our entire family is working/learning from home this tiny office is one of the most used areas in our home. And that's saying something, because the house is being used pretty hard these days.
Office Source List
Now….talk to me. How are y'all surviving?
You may also like –