Breezeway Reveal – Our Quarantine Project
*Thank you to Article for providing the furniture to complete this makeover!
There are a lot of things I love about our house, but one of the biggest design successes is our breezeway. The breezeway is priceless…we hang out on it constantly; it's party central for our monthly potlucks, and it catches the breeze coming off the hill perfectly.
These pictures were taken a few years ago, right before we started our monthly potlucks. This is not what it looks like all the time… not even close. The only thing that has actually been on the breezeway for the last few years is that picnic table and a few plants in varying stages of death. Also: a lot of scooters, tools, kids' shoes, and chicken poop.
So we decided that this spring, while we are stuck at home because of this dang virus was a great time to make the breezeway as pretty as it is functional. We had to cancel our potlucks and can't have people over anyway, so the timing was perfect.
We had quite a few touch-ups to do, but the most obvious was the concrete floor. I had always liked the look of the naked concrete, but it didn't last long before it was stained beyond repair.
These (crappy cell phone) pics were taken after cleaning and pressure washing and it still looked bad, so we decided to go ahead and paint it.
We used a product called Granite Grip by Behr. We used the same thing last year on our hot tub patio and it has held up flawlessly. As much as I didn't want to paint the concrete I have to admit…it looks dang good.
Another thing the breezeway needed was more seating. The picnic table was great, but our parties tend to be about 40-50 people and the picnic table seats maybe ten, if you get friendly. The porch is 20 x 20, which is plenty big for both a dining table and a seating area.
So…we moved our current dining room table outside. My husband built this table when we lived in our last house, and I love the crap out of it. We were building our current house when he built this table, and I knew it was destined for the breezeway. I even found proof when looking back on the post about building the table…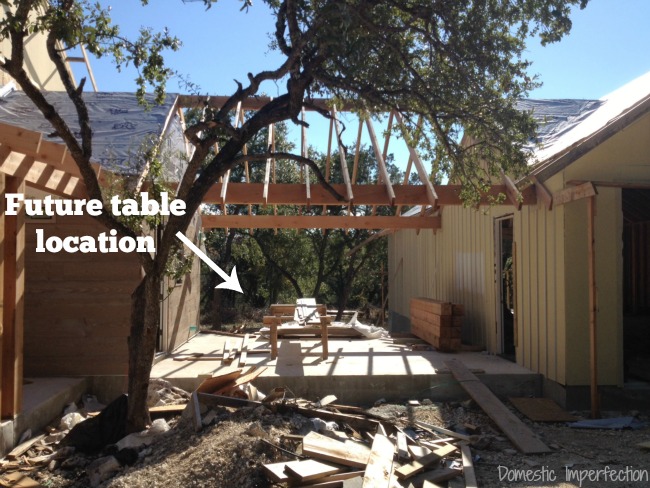 Instead it has been our dining room table for the last four years.
It looked great in here, but it really wasn't the best fit for our banquet. It's a bit too small, and the legs make it really hard to scootch around the bench… but building a replacement table isn't exactly high on the priority list. We moved it outside anyway, are embracing the giant hole in our house ("so much room for activities!"), and are loving eating outside.
With the table up against the wall, we had more than enough room for a seating area on the other side.
When considering our breezeway makeover, I knew that Article's outdoor collection couldn't be beaten for both quality and value. Like all of their pieces, their furniture is built to last but available at a super accessible price point. In the outdoor furniture world, in particular, that's a rarity as most outdoor furniture is usually priced as high end or garage sale chic. Article leads in filling that middle spot very nicely. As I was perusing their new outdoor collection I saw this addition.
This is the Callais, and it was love at first sight. I've never believed in love at first sight until I laid eyes on this beautiful specimen. I've seen a thousand couches, but none like this one. It oozed sophistication and class, but it also didn't take itself too seriously. It was fun and quirky….unique in all the best ways. It was strong and sturdy…a sofa you could really depend on, but also soft, cradling you in its comfort and support after a long hard day. I wanted it.
Look at that detail! It is made from solid Acacia wood, has built-in shelves, and gray rope that supports the weather-resistant cushions. It's so dang handsome.
The Callais, while amazing on its own, needed an entourage. Any lounge chair would look great sitting next to it, but I choose Tula….a curvey girl with loads of personality. I also added the Latta coffee table, Atra round side table, and the Bori lantern set to go along with it.
A handsome family, don't you think? One of my favorite things about Article (besides the fact that their pieces are beautiful and well made) is that they don't make furniture sets, so you can mix and match to get a completely custom look. All their pieces go together beautifully though, so there shouldn't be any fear of messing up and your items looking terrible together.
Anyway, enough talk… let's see the finished product!
Boom. It's good right?! (Everything is linked in the source list at the end of this post).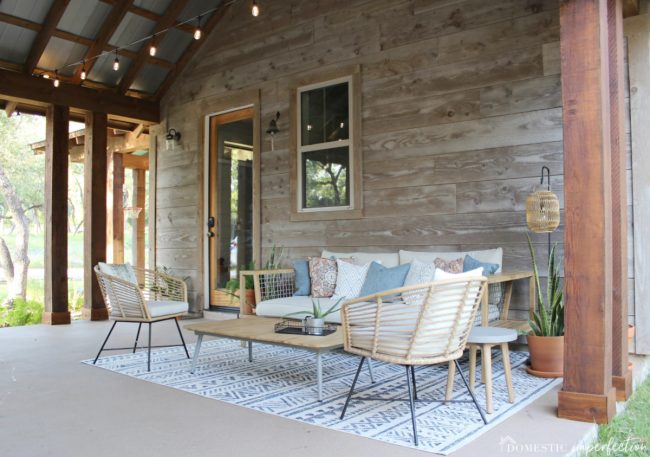 The sofa is even prettier in real life than it is online and is very comfortable. It crazy deep too…it's basically a bed. I would 100% be taking naps out here if I didn't have four small kids that would never let me do that. My three year old has napped on it though, and he says its the bee's knees.
The side chairs are really comfortable as well and are made from synthetic wicker with powder-coated legs… They will last forever. And the Latta coffee table (this is the 'beach sand' color) is made of acacia and has a modern farmhouse vibe that I'm digging.
The Bori lantern and is one of my favorite things. The light is battery operated (no cords!) and the stand is metal and seriously heavy.
I like that it adds height and personality, and it gives off lots of light and fun patterns at night. Also… that cactus, right? Adam and I found it at a flea market and it's the best $15 I've ever spent.
Opposite the seating area is the table.
We've always had a water fountain in the breezeway, it was a gift from my parents a few years ago and saves my sanity when the boys are playing outside. No cups and no one asking me for water every two minutes… it's glorious. It was originally on the other side of the breezeway, but Adam moved it so the table would fit.
At night the breezeway really comes to life.
What is it about string lights that instantly make any space feel magical? You could literally string lights over a garbage dump and you would want to have your wedding there.
We also added a TV and it was a great decision. Watching The Office at night, outside, with the breeze blowing, wrapped in a blanket to keep the mosquitos from feasting on our flesh, is one of our quarantine joys.
The TV is nothing special…it's actually the exact same TV we have in our bedroom… which is the best TV ever (TCL Roku) and super cheap. Adam added a wooden frame, and we are thinking… hoping… it will hold up to being outside.
If you've never experienced an Article delivery before and are concerned about it during these times, the brand has fully transitioned to Contactless Delivery so your furniture can arrive safely for everyone. I know this space is going to be a lifesaver over the coming months and we're so grateful we could make it so beautiful and comfortable thanks to Article!
Breezeway Source List