Remember that time Adam and I DIYed some double sliding barn doors and it was the biggest fail ever? Well I'm happy to report that we have learned from our mistake and these sliding doors are a complete success. I love DIY, but many times it is just not worth it. Considering this hardware was about the same price as the failed DIY hardware (that now sits in our garage taking up space) I'd say DIY barn door hardware is forever on the "just buy it" list.
Alright, so here is the story of the doors…
Right inside the main area of our house is a tiny little room. I plan on putting two small desks in there, one side will be my office and one will be for a family computer. To close it off from the rest of the space I wanted something that I could see through (so I can keep an eye on the kids while I work) but that would close out most of the noise. So I began my search for a set of unique 8 ft tall double doors made mostly of glass.
I finally found this set for the amazing price of $250. They were originally $400, and the lady I bought them from said she had a bunch of sets (from an old building in England), and they all sold instantly beside these…because they had one broken pane of glass. I can replace that glass for like $5 and doing so will have saved me $150…so thank you broken glass, thank you. Anyway, I snatched them up and they have been sitting in the garage for about a year waiting for the shiplap to go up first.
So literally the second the shiplap was up over the office I was hassling Adam to hang the doors. I was all "It will be the easiest project ever, it will take like an hour." And you know what, it DID only take us about an hour.
Problem was, they didn't really look that great. I had planned on just leaving them chippy antique white for a simple layered whites look, but in reality the doors just disappeared. Adam wholeheardly agreed, and so down they came. So much for our hour.
We decided to strip off the paint off and have them be wood. The doors are made out a beautiful quarter sawn oak, and we figured you can't go wrong with wood. And so out came the paint stripper.
And so we stripped.
And stripped…
and so many layers of paint came up, only to reveal another layer of paint.
Adam and I took turns scraping, wirebrushing, and trying different paint strippers…and many days later we had two doors where the flat parts were clean but the grooves just weren't giving it up.
And so we both said "Forget this, let's just paint them".
And so I painted them green, and I LOVE them.
Alright, let's talk details, starting with the barn door hardware. Barn door hardware used to be super expensive, but since it's really popular right now its become easier to find and way cheaper. I bought my set from Amazon for, get this…$47.  Yes, $47, and it functions beautifully.
I was debating between two sets, the one I bought and this one. The one I chose was cheaper, but it was a random brand and instead of being actual oil rubbed bronze it was painted brown. I gambled though because I liked how this one attached on the top of the door rather than by straps in the front, and I have to say I'm pretty darn pleased. We bought two sets and connected them (here is the connector that works for both sets) and it glides like butter.
As for painting a door with a ton of window panes, instead of taking the time to tape everything off I just painted right over the glass. After it was dry I used an old chisel to scrape off the excess paint and came off really easily. For me this was much more satisfying than carefully taping 192 corners.
Funny story – it took me a few days of randomly scraping paint to finish the doors, and my two-year-old (who I am quickly realizing is the family neat freak) would walk by them and yell "Mom! Mommy! Moooom!", and when he had my full attention he would point to the doors and say "Doors yucky!" He probably said this 200 times over a three day period. I didn't find it hilarious at the time, but looking back it was pretty darn adorable…of course pretty much everything is adorable when said in a two-year-old voice.
Anyway…
Then there was the hardware, which was also covered in paint.
I was pretty much over paint stripper at this point, so instead I placed the hardware in a crockpot and covered it with water and about a tablespoon of Dawn dishwashing liquid.
I let them cook overnight, and in the morning the paint slid right off. I had to use a toothpick to get it out of some of the crevices, but as long as you do it while it is still warm than it comes off easily. Then I covered it in a wax coating and look how pretty…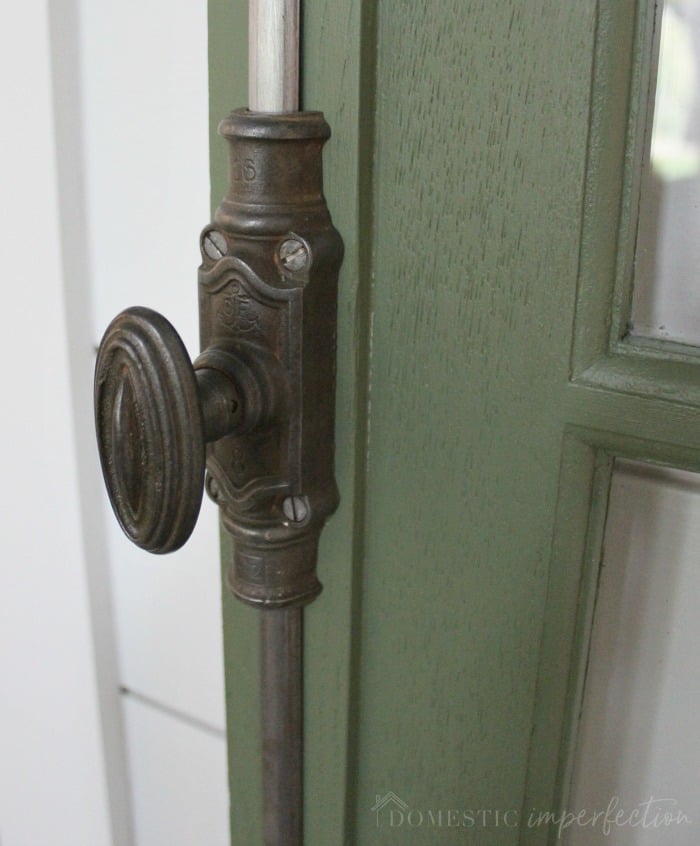 (This is the wax I use, it is awesome. I use it for projects all the time, plus it the best stainless steel appliance cleaner out there. It sounds weird, but trust me.)
I still haven't replaced the broken pane…but really, you can't even tell that it's missing. I love how the green stands out and add a bit of fun and color, plus they look great with the fabric I'm going to use to make a roman shade for the window in the office.

For now I just jammed the entire roll of fabric into the window frame to see how it will look, but eventually I will have to break out the sewing machine and figure out how the heck to make a roman shade. Or perhaps I'll just cheat and make a fake roman shade, since I never actually plan to close it.
You may also like –
Double Bypass Sliding Barn Door System – A DIY FAIL
DIY Screen Door for the Pantry
My Butcher Block Countertop – Two Years Later
How to Raise Your Cabinets & Add a Shelf
SaveSave