How to Make a Jingle Bell Wreath
Well, nine days till Christmas! Are y'all ready? I'm just now decorating…we got our tree up this weekend and I completed a few Christmas crafts to share throughout the week. Then this weekend I'll have my Christmas house tour – Domestic Imperfection style.
Let's kick this week off with Christmas craft number one, a classic jingle bell wreath.
Materials –
Instructions –
Alright, so here is how I made the wreath. First, start with your form –
What the heck kind of wreath form is that, you ask? Well….it's an old soaker hose and some Gorilla tape.
Allow me to explain.
I started out by trying to make the wreath by stringing the bells onto an old wire hanger….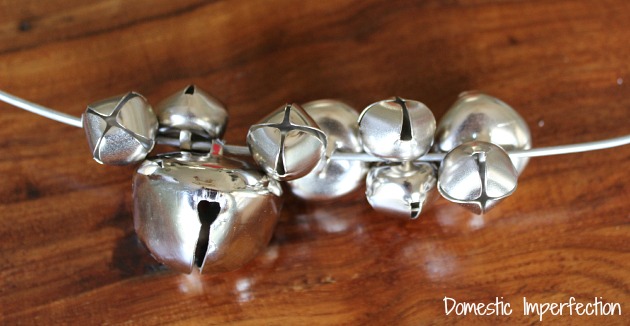 But that way left a lot of gaps and wasn't nearly as beefy as I wanted. So, attempt two was an actual wreath form…
…but I quickly realized that I didn't have nearly enough bells to cover a big form like that. Plus the bells are on the pricey side, so there was no way I was buying more.
After those didn't work I was kind of at a loss, so I searched the house and garage and found a box of soaker hoses that Adam got from a neighbor. We're never going to use them…at least not as hoses. They make for a great small wreath forms though!
To glue the bells to the hose I added hot glue just above the loop part of the bell and glued then on at an angle, like so…
This way your wreath lays flat against the wall and it saves you from using a million bells.
Then you just glue, and glue, and glue some more.
Lastly, I added a ridiculously large red velvet bow. You can skip the bow completely or do a small one or whatever, but when it comes to Christmas decor and bows it's go big or go home, in my opinion.
And there you have it, a festive jingle bell wreath!
More Christmas Blog Posts
SaveSaveSaveSave
SaveSave