Last November I stenciled the little hallway the connects the master bedroom to the living room. Calling it a hallway is actually quite generous, "nook" would describe it better. I stenciled it using the Birch Forest Stencil from Cutting Edge Stencils, which was time-consuming but turned out great. I fully intended to decorate the area after I stenciled, but then life (and other projects) happened and I abandon the whole area.
But now it's decorated…and I love it.
The hallway has been through a few stages, here is a "before" picture…kinda. It's the best I have.
Wasn't my house a beauty? I can't for the life of me figure out why it sat on the market for nearly a year before we bought it. Oh wait, maybe it's because the whole house looked like the inside of a stomach. Yeah, that probably had something to do with it.
Eventually I came along and painted the hallway green and added a DIY tree painting. Then a few years later I made it into a birch forest. I don't know why, but trees and this hallway (ahem, nook) have always seemed right to me.
And now, a year later, it is finally finished!
It probably would have stayed empty forever if it wasn't for that little bench. Remember when Adam and I got our hands on some beautiful pecan and built a farmhouse table? We are currently working on building benches for it (honestly, it's going terribly and we are on our third try), This bench is an extra one Adam built so we can put it at the end of the table for large gatherings. I didn't want to keep it in the dining room though, so I threw the hallway because I didn't know where else to put it.
Then I decided that it looked pretty darn great in there…so I decorated around it.
Here's the kicker – I didn't even make anything (besides that no-sew yellow pillow). One day I dropped the kids off at preschool for a few hours and went shopping. Sometimes it's really nice to just buy stuff and have it be done.
That flower pillow I got at World Market
, it was in a clearance bin for $14. It's actually navy, but it looks black in all these pictures.
The pendant light is also from World Market, it's the Odelia Iron Hanging Pendant. It was $23 (on sale), and I bought their Silver Electrical Ceiling Hardwire Kit
 as well. They only had a few pendant options in the store, but I just went to hunt down a link for y'all and they have a ton of awesome pendants online (like the Galvanized Metal and Rope Pendant Lamp
 and the Punched Metal Pendant
… and well, all the others.)
Originally the hallway had a cheap ugly boob light (it used to be gold but I painted it). I hated that thing and fully enjoyed ripping it out.
I had really wanted something more than a ceiling-hugging fixture in there, and swagging the pendant over to the corner is the perfect solution. (Embarrassingly enough it took me a few days to figure that one out.) Here is the view from my bedroom.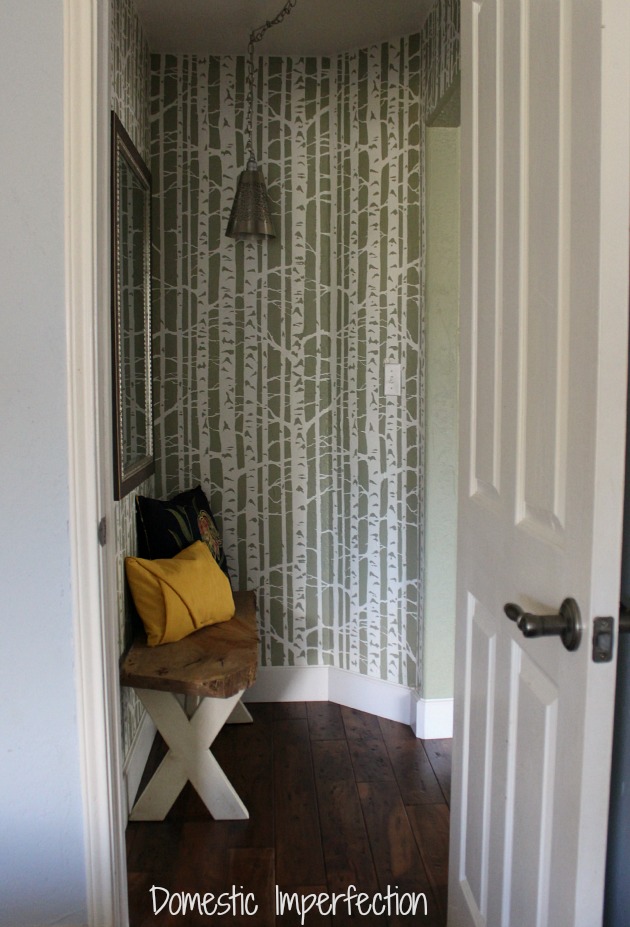 The mirror is from Kirklands… it was originally $60, marked down to $30, and I just so happened to have a $25 gift card. Score.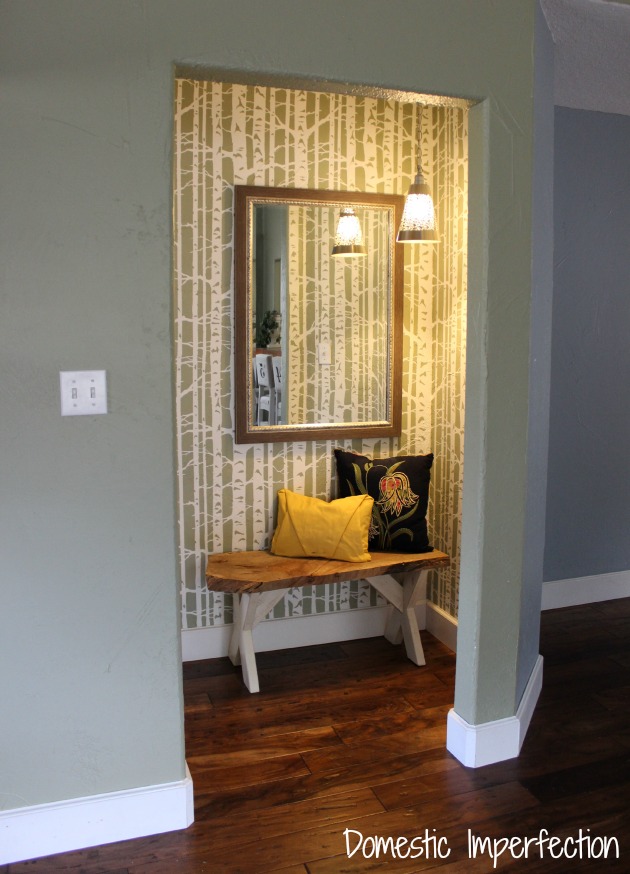 And that's the tour! If that pink house picture sparked your interest you can head on over to my house tour and see lots of before and afters.