Empty Frame Christmas Ornament Art….or something like that
Alright, today we have Christmas craft number two! I really enjoyed spending time with my glue gun for craft number one, so we (that would be me and the glue gun) decided to keep a good thing going and we made these things (I honestly have no idea what to call them)…
Materials –
Empty frames
Spray paint (I used Colonial Red by Rustoleum)
Hot glue gun and glue sticks
Twine, string, cord or something similar
I started out by collecting some old frames that didn't have any glass in them (saved those for tomorrows project!).
Then they got a coat of red spray paint, because red = Christmas.
Next, I gathered my supplies, which consisted of ribbon, hot glue, and a bunch of miniature ornaments.
Then I let the glue gun do its thing.
I wanted to hang these from the pass-through between the kitchen and the living room, which meant that you would clearly be able to see both sides. And one side was ugly. So I glued some rope along the inside lip to cover the less appealing parts and add a little Texas flair.
And up they went!
This is what the area looks like from the living room…
and here it is from the kitchen…
I have to say, it was nearly impossible to get a decent pictures of these things. Something about them being see through made them a pain to photograph. I must have taken 100 pictures of them. The things I do…
You could also display these on a wall, window, or shelf. Oh, or on a Christmas mantel…I don't have a mantle (booo), but these would look great on one.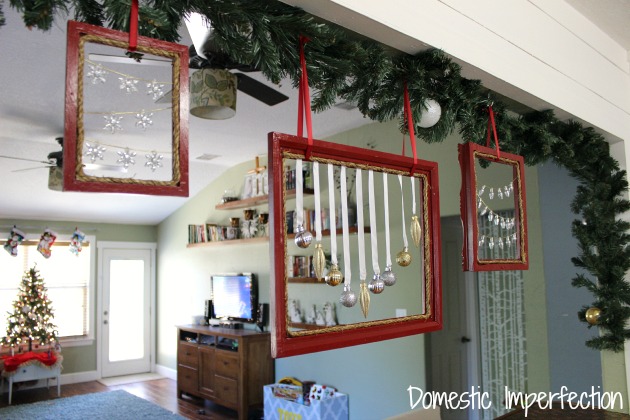 So there you have it, empty frame Christmas ornament decor thingamajig's. So simple and pretty…especially that Christmas light one in the ornate frame. Yeah, I'm playing favorites.