Christmas Wreath Chandelier
Hard to believe there are only a few days left until Christmas! Are y'all ready? I'm almost ready… I have a few more gifts to buy and that's about it. Our Christmas is very simple this year, because things are crazy, Adam and I are tired, and simple is good.
Speaking of simple (you like that seamless transition?), I have a Christmas craft to share today. It's very pretty and a big statement, but super simple to make.
So a couple months ago I got and e-mail from Martha Stewart ('s PR agent) asking if I wanted to do a sponsored post, and craft something from the Martha Stewart Living collection sold at the Home Depot. I did, in fact, want to do just that, and decided to make a chandelier out of wreaths to hang above the dining room table.
So here is a quick tutorial.
Materials Needed –
two wreaths, one bigger than the other
ornaments (or anything else you would like to add to your wreath)
ribbon
wire
carabiner (not pictured)
First I added the ornaments to the wreath using wire.
You can hot glue these if you want, but I've found that hot glued seasonal decor doesn't last from year to year, and wire is forever. I also chose the plastic shatterproof ornaments over glass, because…you know…
Then I started to assemble the chandelier, first tying the large wreath up, then the smaller one. At first I tried to attach the smaller wreath to the larger, but it works much better if you attach everything to the carabiner individually.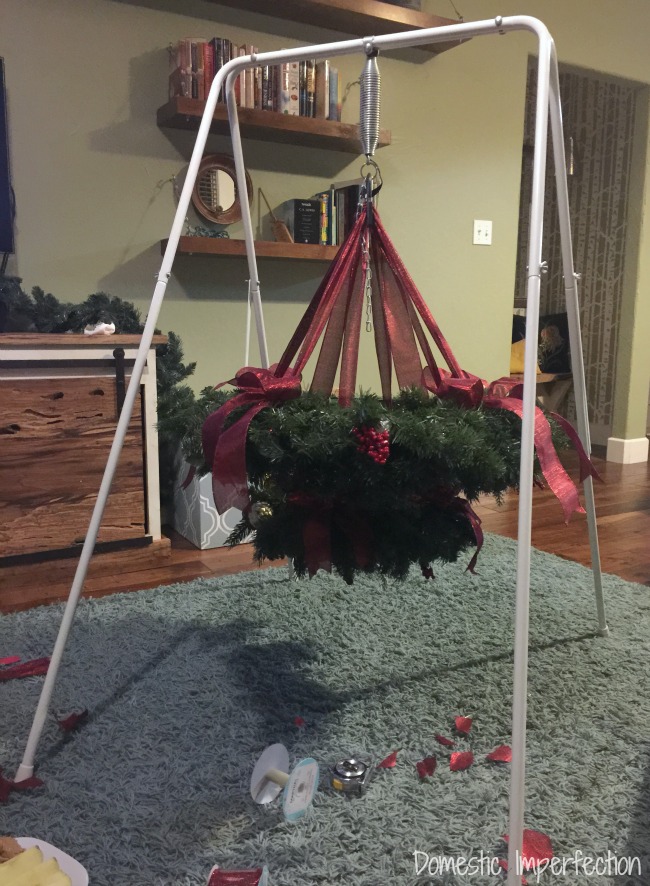 Also, having a Jolly Jumper around (baby equipment) made assembling the whole thing much easier. So each wreath got four supports, which I tied to the main wire on the wreath base. Then I added a bow over top, because Christmas and big bows are basically synonymous. Look it up.
The last step was to add a jumbo sized ornament as the third "tier", tying that directly to the carabiner as well.
And that's it!
The entire time I was making this I had a plan in mind, I wanted to hang it above our dining room table. We are hosting Christmas on Sunday (breakfast for dinner style) and I thought it would be festive and pretty, and kind of make up for the fact that we will be eating pancakes on paper plates. But for the life of me I couldn't get it up there… it's just too big, too heavy, and there wasn't a good way to attach it to the ceiling fan. So I will have to find another place for it, but for the sake of getting this post out before Christmas I just took it outside and threw it up on a plant hook.
So in case you want to make one, I would suggest NOT buying the absolute biggest wreath you can find (unless you have something better than a ceiling fan to hang it from).
I may or may not get another post out before Christmas (our house is painted and I cannot wait to show you!), but in case I don't, I hope each and every one of you has very Merry Christmas, whatever that may look like for you.
(and ditto to everything I wrote in this post a few years back…except that this year we got a real tree and 3/5 of our family is allergic to it.)
SaveSave