Almost exactly a year ago we installed the brick flooring in the mudroom, laundry room, and half bathroom. When we installed it I knew I loved the look, but had no idea how it would actually function and hold up in real life. Would it be easy to clean? Catch all the dirt? Can you mop it? Will it hurt to walk on with bare feet? Will it stain easily? Adam and I didn't know the answers to any of these questions, but we decided to install it anyway and see how it went.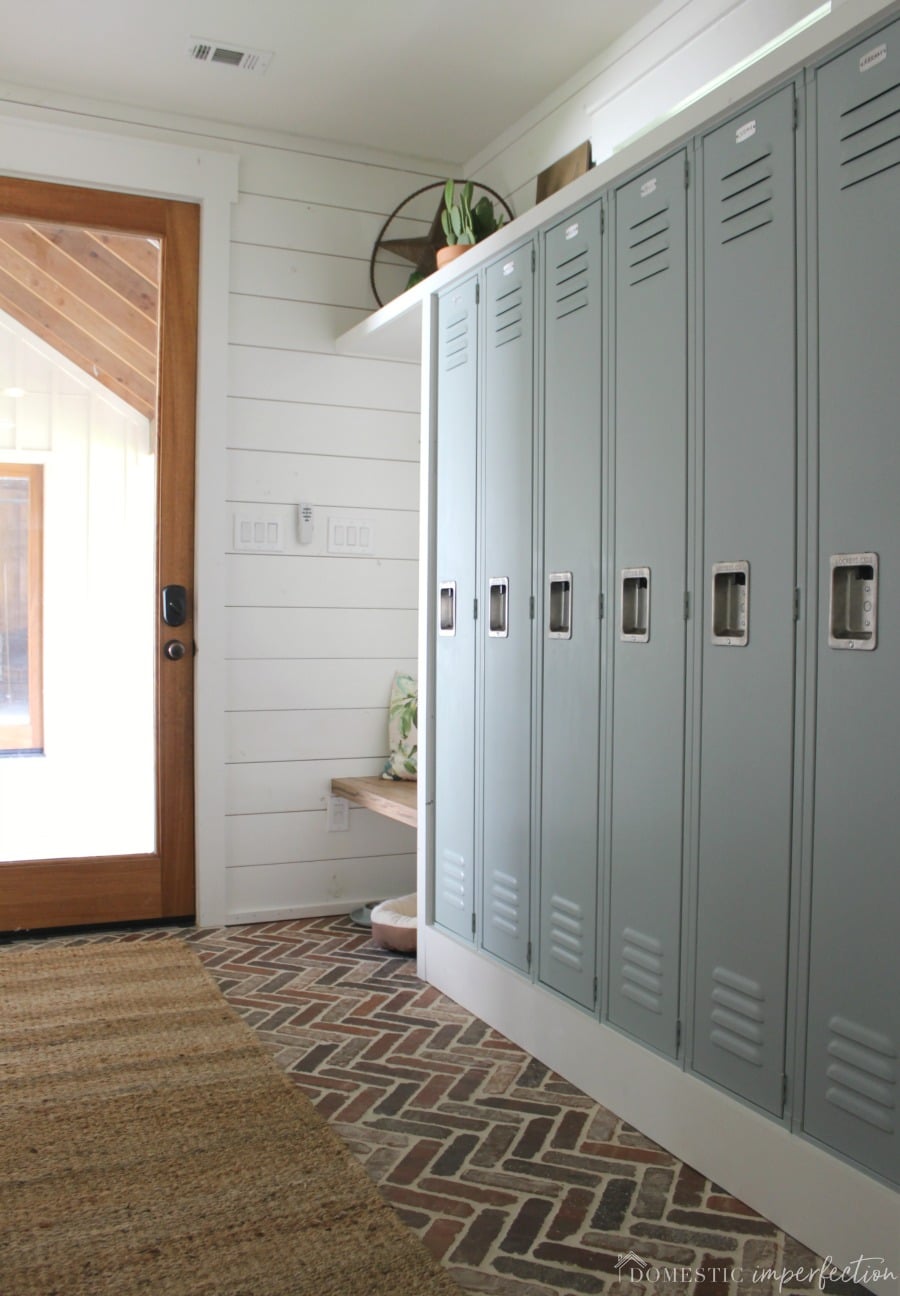 Evidentally a lot of you have the same questions, because a few times a week I get messages and emails asking how we like the brick floor. Now that we have lived with it for a while I can answer those questions, so let's dive in and see if this is something you want to do in your home.
If you had to do it again, would you choose a brick floor?
So, would we do it again?! The answer is easy…HECK YES. Not only does the floor look amazing, but the maintenance is a breeze. No regrets.
How hard is it to clean? Can you mop a brick floor?
Our brick floor gets really dirty. The mudroom is the entrance our family uses the most, and with a few acres of land and four boys dirt is constantly getting tracked in. The floor, since it is uneven, catches everything. This means that there is consistently loose dirt and debris in the grout lines, but it also means that the floors in the rest of the house stay cleaner than they did before we installed the floor. (I also really recommend our rug, it works great and has held up well.)
The good news is that it sweeps up easily. I remove the rug and sweep it maybe once a week (and our Roomba runs over it daily) and the floor looks brand new. So far none of the mud, grime, or spills have stained the floor, and I give the sealer we used all the credit.
This sealer works incredibly well….without the sealer I'm not sure I would be writing the same review. Liquids and grime stay on the surface, and mopping it is no problem at all. Even the bathroom and around the toilet is unscathed…and things happen in there (if you've ever potty trained boys you know what I mean). I plan to reseal the entire brick floor soon, because I don't want to take my chances with it wearing off. This sealer goes on really well (like water) and reapplying every so often should be a quick chore. Also, the sealer is truly matte, it has no shine whatsoever. I wanted my brick to look naked but be well protected, and that is exactly what we got.
What products do you use to mop/deep clean brick flooring?
Mostly, I just use a broom. But when it feels like it needs something deeper, I mop it with a warm water and vinegar mix. I don't really measure, I just add some water to the laundry room sink and add a splash of vinegar (maybe a cup of vinegar to a gallon of water?) Vinegar is a great cleaning solution, plus it is crazy cheap. For tougher grime you may need to use a toothbrush, which I only had to do once…when one of my boys broke an entire jar of applesauce on the floor, and I didn't discover how far the splatter traveled until it had dried all up in the grout. Fun.
Does the brick floor stain? Chip?
Like I said above, there has been so staining whatsoever. As far as chipping, I can't be confident in saying that it hasn't. The brick pavers had plenty of chips before installation, so I wouldn't even notice if it did chip. I can tell you that if you drop something delicate in it (like, say, a jar of applesauce) the item is way more likely to break than the floor.

How does it feel on your feet?
As far as how it feels on your feet, we have no complaints. Obviously walking on a plush carpet is much nicer, but the bricks certainly don't hurt. I also get asked if the unevenness ever causes us to trip, but it doesn't. If you are putting a similar brick floor in a highly used space (like the kitchen) I would definitely recommend a rug or something soft in your main work area.
So that about does it! If I missed anything or you have additional questions, please put them in the comments!
And here is a source list for the materials we used –
Materials Used