Bed Swapping, Hopping, and General Chaos and Destruction
It all started when we went on a cruise last October.
Adam and I have always slept on a queen mattress, I've never felt like we needed anything else. I've always thought a bigger mattresses was a waste of space, or for couples that don't like each other as much as Adam and I do. We often fall asleep cuddled up, and more room would just be out there, empty. But lets face the facts here… Adam snores. He snores like a freight train in a tornado during a thunderstorm. He also does this thing that drives me even more nuts than the snoring…he falls asleep in about three seconds flat. It is totally amazing….and completely infuriating. It takes me the better part of an hour to fall asleep each night, no matter how many sheep I count. So here I am, all snuggled up to my man, chatting away, and he's like "mmmhmmm, yup, I think so too" …then BAM…he's asleep. Instantly the snoring starts. Now not only did we not finish our conversation, but he's snoring right in my ear and breathing all over my face.  His arm that was holding me all romantic-like is now the heaviest thing on earth. Suddenly it starts to get insanely hot. Was it this hot before he fell asleep? Now I'm starting to sweat. The snoring is hurting my brain and his arm refuses to let me go. I can't escape. The two and a half seconds of snuggle bliss that preceded this snuggle hell were not worth it.
Then the cruise happened. And in our tiny little room, on the lowest deck of the ship, on the cheapest cruise we could find…there was a king sized bed. And you know what? It was awesome. Each night I traded in the usual snuggle entrapment for starfishing out on my side of the bed and sleeping like a baby. I slept like I've never slept before. We took naps every single day. His snoring didn't bother me as much since it was a few feet away rather than right in my ear. As soon as we got off the ship I told him "We MUST to get a king mattress."
Almost six months passed and finally we decided it was time to pull the trigger. Elijah kept sneaking into our bed in the middle of the night and our queen was feeling crowded. So we got to shopping and were stunned at how crazy expensive mattresses are. We laid on one that was $12,000! We've never had a car that cost that much. Finally we settled on a gel foam mattress from Overstock and paid about $520.
And so began the great bed swap of 2014.
Here was our bedroom before any mattress buying happened.
Underwhelming, yes…but at least it's clean now (thanks 40 bags!). Those of you that have been following for a while know that I've been planning to re-do our master bedroom for ages. I've haven't started yet though, other projects just keep popping up and our bedroom continues to be ignored. Anyway, a couple of years ago I found a comforter I really liked and decided to design the room around that. Then I found a rug at on clearance at Homegoods, and though they would look great together. I even posted about it on my facebook page. The date on that post is June 12, 2012. Why am I telling y'all all this? Because I have never put out either one of these things. The comforter is in my closet, and the rug has been right here…
What am I waiting for? In my mind I have to wait until the foundation of the room is complete (the floors, walls, furniture, etc) before I could put the fun stuff out. I didn't want them to get stained and ruined before I even got around to redoing the room. But seriously though…who knows when I will get to this room? I decided enough was enough and finally put out my purchases.
And after I did Adam and I stood  there in the bedroom, looking at it. Then he did that nice guy thing he does when he hates something I've put together, he said "So what do YOU think?" If he likes something he never asks this question. This is him hoping I'll hate it too and he won't have to tell me that I have terrible taste. Truth is, I was totally bummed…they looked awful together. It was way too busy. I told him so and he says " Thank goodness…we have got to get rid of that comforter". "The comforter? No way, that's like my favorite thing ever! The rug has to go". And guess what happened…we got rid of the rug.
Does this happen to anyone else? I can't be the only one that buys things, holds onto them for forever, then sells them before ever using them? Because right now Adam thinks I'm completely ridiculous.
Anyway, back to the mattresses. The gel foam one came in, all rolled up.
It fluffed up in less than a minute and instantly became the most entertaining thing EVER for the kids. They act like I don't let them jump on our current beds… and our couch…and off the coffee table into piles of clean laundry. But I totally do.
While the kids were busy we went ahead moved all the rest of the beds in the house. The full mattress that was in the guest room moved into the boy's room.
Then, while that room was empty, we decided to go ahead and remove all the carpet and trim. (And also discovered a little bit of mold. Fun!)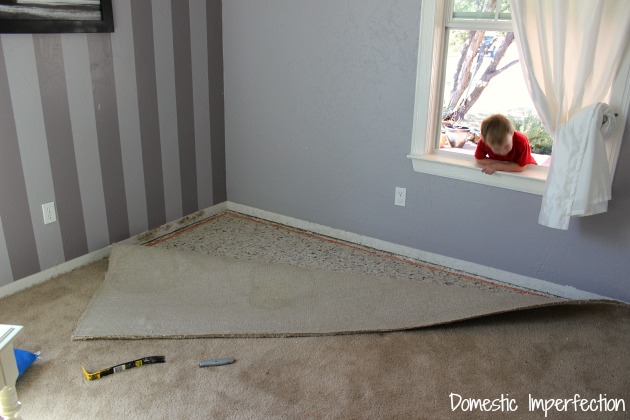 Then in went the bed that was originally in our room.
The boy's room went from having two cribs to having one big boy bed.
Which means that BOTH my kids are now free to roam around the house at night. Which also means that I wake up sandwiched between two sneaky little boys each morning. Thank goodness for king sized mattresses, right? And waterproof mattress protectors.
The plan is to eventually build the kids bunk beds, kinda like this…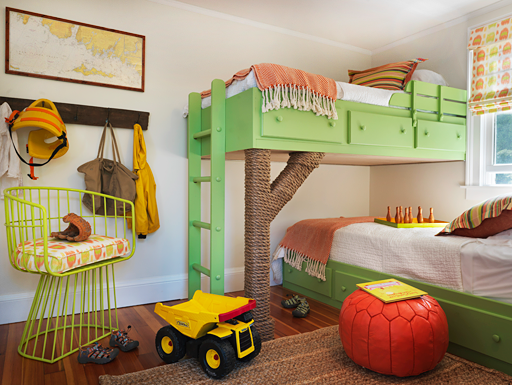 Except not green, without drawers, and with more safety railing. So really nothing like that. I like the set up though, with them being perpendicular and not actually attached.
My boys are super excited about bunk beds, but I'm currently enjoying how sweet and small they look sharing a single bed.
Levi is my night owl (just like me), here he is up past midnight playing travel Guess Who…and then asleep and exhausted after destroying it.
So that's some of what we've been up too around here. Actually, since doing this we've pulled the bed out of the guest room again and I've started redoing the floors and the walls.
And our bedroom is back to being a dumping ground with a mattress on the floor. Just like old times.
(We still need to deliver the rug to the new owner, but it is leaving!)
We hope to build a new bed, something rustic and chunky, like this…
Or this…
or maybe even this…
I'm still deciding.
Oh, and the by the way, the gel memory foam mattress? It's not amazing. It's hard to describe because it's completely different from a regular spring mattress, but it's not soft at all (despite being completely made of foam). It has NO bounce to it…if you were to trust fall onto the bed after a long day it would knock the wind right out of you. It's not terrible either though…I've never woken up sore or achy. We've had it for about a month and aren't quite sure what to think about it…I wouldn't buy it again though. But hey, at least I can spread out and sleep like a starfish, right?