If you love stencils, then I have some great news. Every Friday for the next month I'll have a have a new stencil project and tutorial for y'all…and three of them include giveaways. Who doesn't love free stuff? So today is the first tutorial – how to stencil curtains.
Supplies needed –
Paint (fabric paint would be best, I just used latex)
Curtains (I made my own, tutorial here)
Paint tray
dropcloth
How to Stencil Fabric –
Step one – Lay out your fabric over the dropcloth, making sure everything is nice and smooth. Spray the stencil with spray adhesive (give it a good spray, but don't go overboard) and then wait about a minute for it to set before placing it on your fabric.
Step two – place your stencil where you want it and start stenciling. Use your foam roller and start with a very small amount of paint (you can always add more layers if needed).
I quickly learned two things about stenciling fabric
1) fabric soaks up paint really, really well.
2) red fabric + white paint = pink design. I decided to keep layering on more paint…it had to turn white at some point, right? I ended up going after it with a thick layer of paint, which is TOTALLY and completely against all stenciling rules. Thank goodness to spray adhesive though…that stuff works really, really well.
Step three – Keep stenciling until you're happy with the design. I didn't want the curtain to be too busy, so I just did a bit along the bottom and hung them up (using the faux back tab method).
I liked the design, but I couldn't help thinking it might look better if the design faded out rather than stopped abruptly. So I pulled them back down (which was actually about two weeks later) and started stenciling again. This time I just picked random parts of the stencil to paint.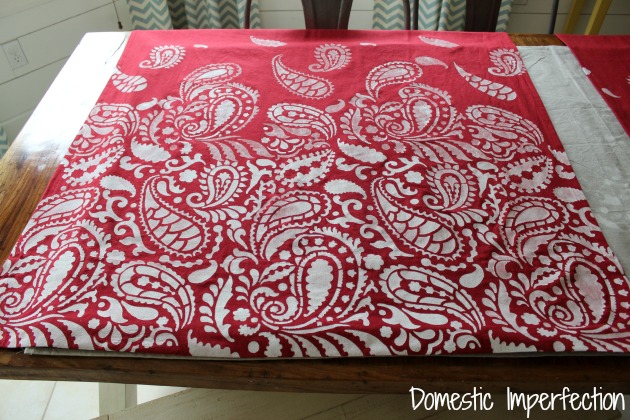 Here is the final product all hung up. I'm not sure the fading was the best idea, but oh well…I like them both ways.
Although, I think I need to buy some bamboo blinds for the window as well, because when I close the curtains it straight up looks like Hades in my boy's room.
Want more stenciling ideas? Check out these posts!
Cowboy Bedroom Sources + Links
Shop the Look