Entry Refresh and a Wooden Doormat Update
Today I have the most well-tested follow-up post for you ever. Not a year, or two years like most of my follow-up posts, but SEVEN years. So what project are we talking about today? These babies…
I made these wooden doormats back in 2012, when my blog was just a year old and I only had two kids. It feels like yesterday, but it wasn't. It's crazy how quickly time goes.
In the original post I said that I had no idea how these mats were going to work out…if they would catch dirt and serve their purpose, or if they would instantly warp and get thrown in the trash.
Well, seven years later….I love them. They came with us to the new house, and I have one at the front door and one at the mudroom door.
Not only do I think they look good, but they catch dirt really well. They have not warped even a little and are nice and worn looking now, which I actually prefer to them looking fresh and new. However, the current mat situation was taking that a little too far.
The rope that holds everything together has stretched out quite a bit, and the mats have become really loose and a trip hazard. If you step on them just right the loose slats will roll and your life will flash before your eyes.
A couple of weeks ago I finally got annoyed/embarrassed about the state of our entry, and decided it was time for a refresh. The first step was to tighten up the wooden mat before it broke an unsuspecting ankle. When I originally did this project I bought pine 2×2's, drilled a hole at the top and bottom, stained them, then ran a rope through to hold it all together. To keep the spaces even I tied a knot between each piece, like this…
This time I decided to do something different, and instead of tying a knot between each slat, I'd use a nut as a spacer. Then when it loosed up I could just retire the ends instead of taking the whole mat apart. Plus, metal accents on anything is a win in my book.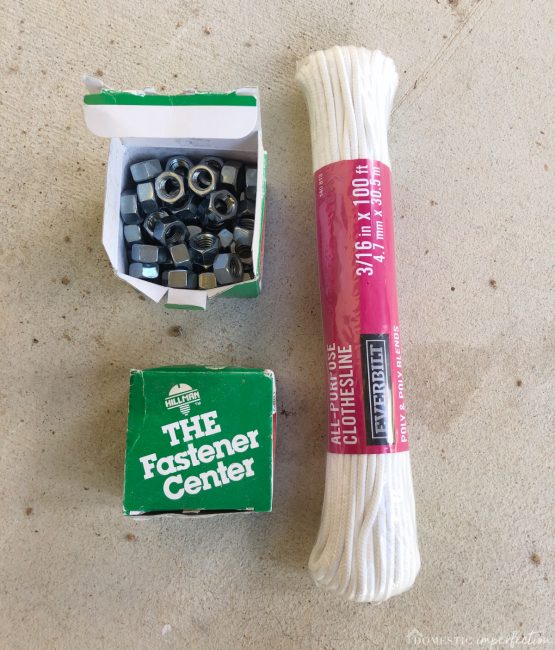 This made redoing the project super easy, and I really like the end result. If you decide to do this project, nuts instead of knots is 100% the way to go. It goes WAY faster and I will probably never have to unassemble the doormats again.
I thought it needed another layer and some color to break up all the mismatched woods we have going on, so I bought a 5×7 outdoor rug to go underneath. Then I added some non-dead plants in terracotta pots, and boom…safe, simple, and non-ugly entryway.
Entryway Source List –
You may also like –
Choosing a rock (is making me crazy)
Six months and 7K in landscaping…
Floor Plan and Elevations for the New House