The Easiest Way to Tile a Backsplash
I have a sneaking suspicion that many of you have a tiling project you want to take on but don't, because you're unsure of yourself. I don't blame you, there are a lot of steps…planning it out, mixing the thinset (mortar), applying the thinset, applying the tile, waiting for it to dry, grouting, sealing….
I have good news for you. You can tile a small area, like a backsplash, in a few hours WITHOUT wanting to rip your hair out or feeling completely lost.
Here is the secret….
(If this feel like Deja vu it's because I wrote an almost identical post when I tiled our other bathroom last year.)
This is a tile setting mat, you use it instead of thinset mortar to adhere your tiles to the wall. This saves you at least 24 hours and is super easy. Here is what it looks like close up…
To adhere it to your wall, you first cut it down to size, peel off the backing, and press it into place.
Be careful when applying and trying to get it into place, this stuff is crazy sticky. You don't really get to mess up. After the mat is in place use your fist to rub it into the wall and make sure it will be there forever.
Then peel off the clear plastic on the mat, exposing the "honey strips" (as I like to call them). Then add your tile.
Press the tiles in firmly and keep going…
On a side note: Adam informed me that professional tilers always start in the center and work their way out. This ensures that the tiles not only match, but it also makes cutting the corners easier (less measuring). I just started on one side an worked my way across. It looks fine, but I thought I'd pass along that little morsel of tile knowledge just in case.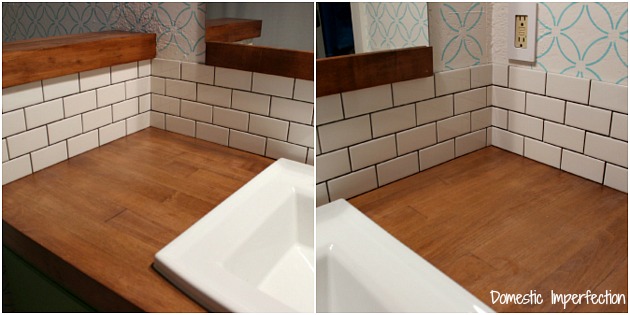 Okay, now don't freak out on me, but we used an electric tile saw to cut the tiles in the corner.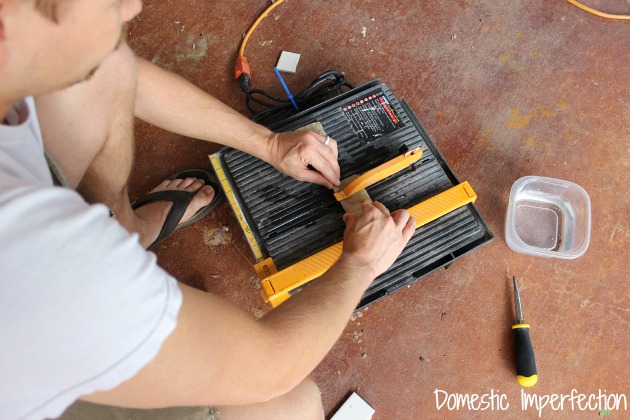 There are a plenty of cheap non-electric options, like this super cheap tile scorer, or this better one, or this larger non-handheld version. With all of these you basically just make a cut, (score the tile), then break it…wearing gloves and safety glasses if course. Don't worry, it sounds scarier than it is.
After all your tile is in place it's time to grout. I'm all about keeping it simple, so I buy pre-mixed grout.
Spread and press the grout into the cracks using a grout float…but I don't have a grout float so I mostly used my hands. Push it in the cracks really well so you don't get air bubbles, then let set for a few minutes and wipe it away with a wet rag or sponge.
Pre-mixed grout comes in all different colors, I used tan because I already had it and thought it might look nice. But I didn't like it…there are already more than enough lines in the bathroom and I wanted the grout lines to blend in. How do you do that? Let me introduce you to one of the best products EVER…
Grout paint and sealer, together in one cheap bottle. If you have dirty old grout this stuff is magic. I own a couple of bottles and plan on Grout Renew-ing pretty much my entire house.
You just put a little paint on an old toothbrush, rub it into your grout, let it sit for a few seconds, then wipe it away with a dry towel.
Next I added a bead of caulk around the bottom. I had tried grouting but it looked…not good, so I switched to caulk when I painted the grout.
If you feel like your tile is a little lifeless and dull after installing you might want to use a grout haze remover to shine it up a bit, then give it a good coat of sealer. (A reader said that plain vinegar works just as well as grout haze remover. Vinegar is awesome.)
And there you have it…cheater tiling!