My Favorite Black Friday Finds
I hope you all had a wonderful Thanksgiving! I'm stuffed full of a few plates of food (mostly pie, admittedly) and unable to do anything productive…so instead I'm online shopping. I love home decor and I love deals, so naturally I've been perusing some of my favorite retailers to see what kind of deals they had going on for Black Friday/Cyber Monday. Here are the sales I found and some of my favorite items from each brand!
Serena & Lily is known for its well-made, comfortable designs for every space. Their style tends towards coastal, and I'm a fan of all the warm organic woods, soft colors, and simple pieces that are full of texture and interest. During the Serena & Lily Thank You Event, everything is 25% off! This is their best sale of the year, and it will last from 11/26 – 12/3 with code THANKFUL. Here are a few of my favorite items –
1 Teak Step Stool 2 Knolls Wood Trimmed Pendant 3 Feather Wallpaper 4 Dip-Dyed Stools 5 Hanging Rattan Chair 6 Solid La Jolla Baskets 7 Felted Wool Wall Animals 8 Dip-Dyed Cake Stands 9 Positano Linen Duvet Cover
Y'all know I love Article. I own quite a few of their pieces, and they are beautiful, stylish, and incredibly well made. Article has marked down a variety of furniture and home decor for Black Friday, you can see all the deals HERE. The sale is live now and ends on 12/1!
1 Lito Velvet Headboard 2 Malou Dining Chair 3 Cado Sconce Lamp 4 Occuro Walnut Storage Coffee Table 5 Emil Quartz White Sofa 6 Lito Leather Headboard 7 Teaka Lounge Chair 8 Vee Fog Gray Rug 9 Bisa Yuma Chair
I'm not sure I've ever met someone who doesn't like West Elm, myself included. For Black Friday this year they are doing the Buy More, Save More event…the more you spend, the more you save, up to 30%. They also have bonus deals of up to 50% off! Here are a few things that caught my eye –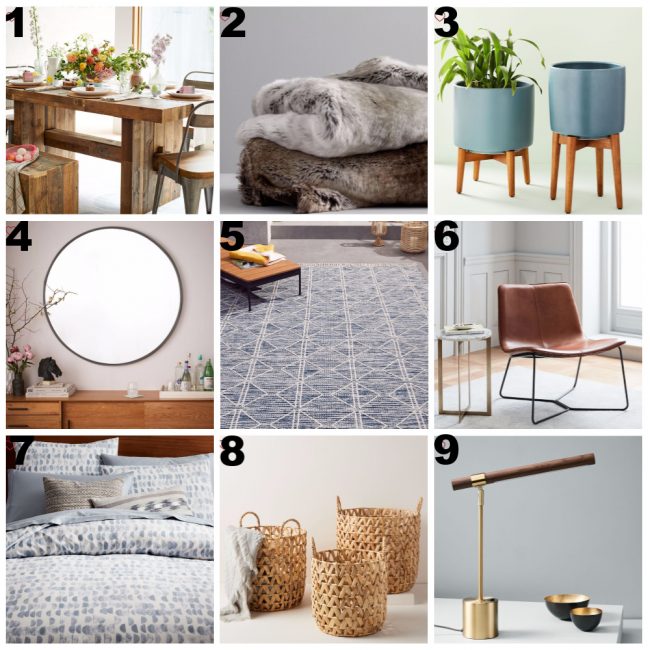 1 Emmerson Reclaimed Wood Dining Table 2 Faux Fur Throws 3 Turned Wood Planters 4 Metal Frame 48″ Round Mirror 5 Reflected Diamonds Indoor/Outdoor Rug 6 Slope Leather Lounge Chair 7 Organic Half Moon Duvet 8 Open Weave Zigzag Baskets 9 Linear Wood LED + USB Table Lamp
I freaking love Etsy. I've bought a ton of stuff from there over the years, and everything has been unique and incredibly well made. Etsy isn't usually the easiest site to find items on sale, but for Black Friday many sellers discount their items. Here is the main sale page, items are up to 60% off! I could have made this entire post about my Etsy favorites, but I narrowed it down to nine, all on sale.
1 Boho Kilim Pillows 2 Herkimer Diamond Necklace 3 Wooden Wall Map 4 Funny Song Lyric Tea Towels 5 Aztec Border Pillow Cover 6 Agate Bookends 7 Tourmaline Stick Pendant Necklace 8 Funny Doormat 9 Wood Wall Art
Admittedly I usually forget about Pier 1 when I am shopping for home accessories, but I spent some time perusing their website for this post and wondered why they aren't one of my go-to retailers. I found some great stuff, and for Black Friday this year they are offering 25% off the entire store using code BLACKFRIDAY and free shipping with code FREESHIP. However, if you want the best deal wait until Cyber Monday (12/2) when they are offering 30% off storewide (online only) plus free shipping!
1 Alexis Live Edge Coffee Table 2 36″ Simple Galvanized Round Mirror 3 Palette Sliding Door Cabinet 4 Tufted Diamond Pillow 5 Davis Chair 6 Brushed Animal Skull 7 Striped Seagrass Wall Decor 8 Isra Natural Stools 9 Belt Brown & Black Console Table
I have always loved World Market, they have beautiful, pretty well-made furniture for a great price. For Black Friday this year they are offering 40% off all furniture and home accessories, and BOGO throw pillows, mugs, candles. There are some really great deals to be had, here are a few of my favorites!
1 Cognac Huxley Chair 2 Leona Farmhouse Extension Dining Table 3 Rattan & Metal Flynn Counter Stools 4 Organic Glazed Belly Mugs 5 Wood &Metal Langley Storage Table 6 Davis Upholstered Armchair 7 Leona Farmhouse Dining Bench 8 Hammered Metal Cala Coffee Table 9 Wood Slice Coffee Table
A few other things I love that are on sale –
Goat Milk Stuff (the only soap I use!)
Lucy's Lockets (my go-to jewelry)
Planetbox (I own five and use them daily, for years now)
Emily Ley Planner (tried a few, this is what works best for me)