Back in October I wrote a post about how we have been land hunting. Our current house was never intended to be our forever home, it was always a place we planned to live in for five or six years, fix up (and make all our DIY mistakes on, if that's possible), sell, and move on. We've owned this house for almost seven years now, and we are ready for the next adventure. So we've been searching for a piece of land for about a year, scouring realtor.com, walking properties on the weekends, and generally becoming very well acquainted with south central Texas. We've gone from looking for an already existing house to fix up, to what Adam and I have dreamed of since we were teenagers…to design and build our own home.
We've always wanted a minimum of five acres, either in a nice neighborhood with loose restrictions, or something that isn't in a neighborhood at all (Adam wants to be able to hunt on our land). We put in an offer on a six acre lot that didn't pan out, dreamed of putting in an offer on a beautiful unrestricted 11 acre lot that we couldn't afford, and for a few weeks Adam had me convinced we were buying a 23 acre gentleman's ranch and renovating it's 1920's farmhouse.
Then one day Adam and my brother Eric went out to look at properties on their own. Eric has been property hunting as well, and he wanted to show Adam a few of the lots he was considering. When Adam came back that day he told me that one of the lots Eric was looking at was seriously beautiful, and the next time we were out and about Adam drove by the lot and told me to jump out and look at it. I did just that, and when I came back to the car I told him "that IS really pretty….someone we know should buy it." It didn't even cross my mind that we would end up buying it, for a few reasons…
1) It's only 2.5 acres, and we wanted a minimum of five.
2) It's was expensive, nearly as much as a five ace tract.
3) And the last reason, the one everyone makes fun of me for…you can hear the highway. It's about 1/3 mile away, so the noise isn't in-your-face…it's more background noise. It's not the end of the word and I will get used to it, but for now it drives me absolutely crazy.
But buy it we did (after Eric decided on a different lot – we're not jerks) and I'm really excited about it.
Anyway, enough with the words…lets get to the tour! We'll just start at the front of the property and work our way back.
The property has some great features, and one is that it already has a driveway in place.
This might not look like much to most of you, but here in the boonies it's a big deal. It's takes a lot of man (and woman) hours to get the land cleared enough to drive a car thorough.
I love that the trees surround the driveway and it looks like a tunnel. Most of that will have to leave when we start the serious clearing, but for now I'm enjoying it.
And here, right in the middle of the property, is where the house will go.
If you look through the trees and into the distance you can see the ridge line, and once we get all the cedars cleared out we will have a pretty great view. All the neighbors across the valley have already built as well, so  there won't be any future view-diminishing houses popping up.
Here it is again, this time standing on the future back porch.
I know… we have our work cut out for us.
Also, my dad made this picnic table as a "land warming" gift…
He designed it, welded it, the whole shebang. It's a beast of a picnic table and will probably outlive all of us.
Here is the view to the left of the home site…
And here it is to the right.
My boys find this stack of cedar logs fascinating, Elijah says it's a "soldier fort" and that a long time ago real soldiers lived there. I love it…kid imaginations are the best.
In the very back of the future backyard there are some concrete steps that a previous owner put into place.
I'm really glad he did this, because it would be a TON of work to do ourselves. It's a lot of steps too, and embarrassing how out of breath I get walking up and down them.
That's just the pregnancy though…it's gotta just be the pregnancy.
Where the steps end there is a little flat area….this is the future party area. I see a patio, BBQ pit, boom box (do people still use those? Am I showing my age here?), dads picnic table, a fire pit…the works. Lots of cedar to clear before we get to that point though!
And now, finally, the real reason we bought this lot….
On this lot is a spring fed creek that runs year round, even in the worst Texas drought. It literally comes bubbling out of the ground about 1,000 feet to the north of us and is crystal clear. It's surrounded by giant cypress trees and ferns, not something you see a lot of around here. The boys love it, and they physically cannot stop themselves from hurling every rock, stick, and leaf they can find directly into the water.
Right now it is the middle of winter and everything is dead and brown…this is as ugly as it gets. I have a few phone pics that I took when we first started looking at it in December, right before everything died completely.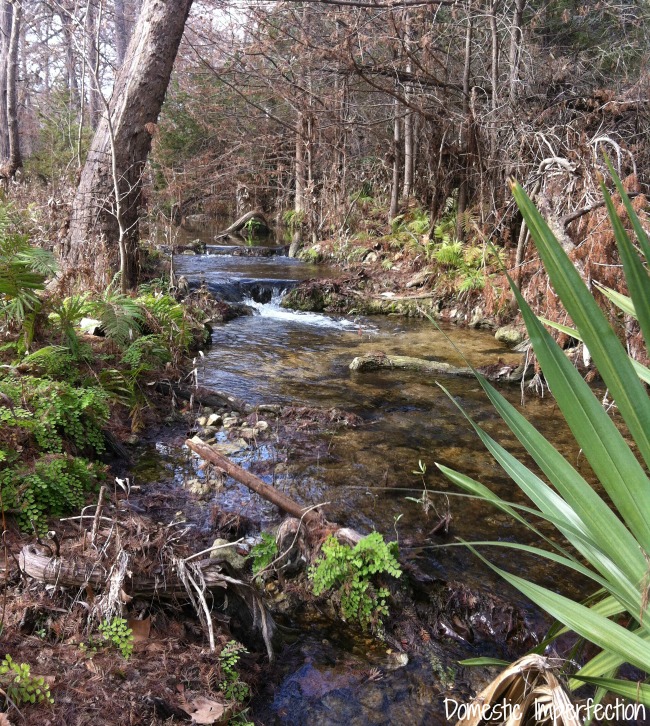 Some of the ferns are starting to pop up and in a month or two this area will look completely different. I can't wait to see what it looks like in spring!
The whole family is excited to get to work, Adam has been chomping at the bit to cut down some trees. As soon as he is all healed up (we closed on the land two days before his accident) and I have this baby, it's go time. These two little guys are about to learn exactly what a hard days work looks like…
As far as the house plans, I drew up our first set of plans on grid paper (you can see a sneak peek here), and Adam transferred them to a program on the computer. Currently an architect is looking them over and fixing all the stuff we messed up (because we honestly have no idea what we're doing). We're in the process of meeting with builders and trying to decide exactly what we want and can afford, and Adam and I have been collecting inspiration pics like it's our job. I can't wait to show you the direction we are headed!
I honestly have no idea when we will break ground…it is likely to be about year from now, but may be sooner if everything falls into place. The plan is to have the builder complete the outside of the house and for us to do the inside (like flooring, trim, cabinets, plumbing and lighting fixtures), hopefully resulting in a really nice house that is actually affordable.
Anyway, expect lots of inspiration pics in the future. Yay for new adventures!