Rustic Picnic Style Dining Table
Well….my husband built another dining room table. It's been over two years since he built the last one and I think he was starting to get a twitch. A table building twitch (or a lack of table building twitch, more like it).
If you remember, our first dining table was a simple farmhouse table made out of pine.
We sold that table to friends in order to build the second table, a beautiful pecan table with X legs.
Recently we sold that table to different friends, since they needed a big rustic table and the dimensions weren't right for our new house anyway.
Enter table number three.
This one is a rustic picnic style table, and will be going in the breezeway of the new house. (So yes, there will be a table number four. You know there will be.)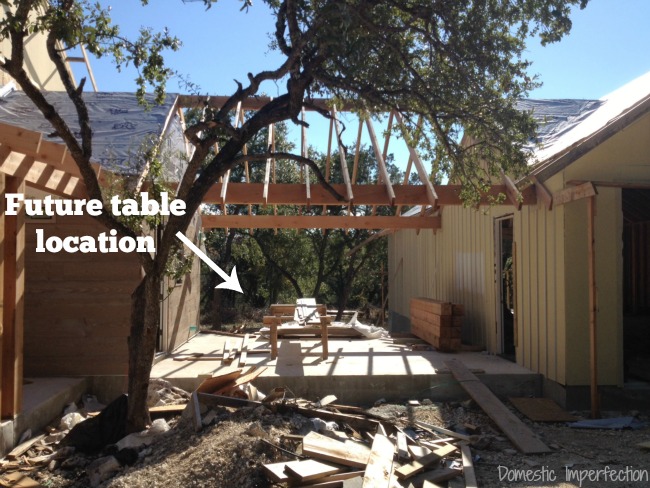 Shortly before Thanksgiving last year, another friend asked Adam to help him build a table. Adam said of course (he can't help himself when he comes to tables), and if they were going to build one table they might as will build two. And so they did.
Adam only built the base planning to finish it later, and it sat in our garage for about a year. So when we sold table number two, he was already halfway done with table number three.
Since it's going outside we decided to make it very rustic and farmhouse-y, because we love the look… but mostly because it's easy to make. Since Adam has been busy collecting barnwood for the new house he already had something on hand.
These four boards are really old poplar. They are beautiful….they are also very rough and not exactly flat. We sanded down a small section to see what it would look like, but once you sand down old barn wood it pretty much just looks like new wood….which, of course, is terrible.
So we left it rough. It's a little furry and a little warped, but whatever… farmhouse, baby.
My absolute favorite part is the antique square nails used on the top.
Are they not completely amazing? I'm not really one of those bloggers that claims that every new thing is my favorite thing ever, or that I just LUUUURVE every project….but antique square nails in a rustic table? Those have potential to turn me into a woo girl.
The metal pipe on the base has woo girl potential as well. It's just so awesome. It was also the most expensive part of this project by far, so it's a good thing it makes me woo.
As much as I loved the raw wood look on the tabletop, it just wasn't practical and needed to be sealed. Wax would have been my first choice (because it practically disappears), but it's not a rugged enough finish to hold up to the destruction offered up daily by my three young sons. So I chose the next best thing, a water based matte poly.
I applied four thick coats so that it would be smooth enough to wipe down with a paper towel. Halfway through Levi comes wandering in, climbs on a chair and watches me for a while. Then he looks at me with a scrunched up face and says "You're doing a bad job mommy." "Why do you say that?" I ask. "Because it looks the same after you put the paint on."
Mission accomplished.
I love how it turned out, it will be perfect for the breezeway. Admittedly it doesn't make a great indoor table though…the cracks between the boards are pretty large (just like a picnic table) and all the crumbs fall directly onto the floor. I hardly ever have to clean the tabletop…but I sweep constantly.