2019 Review and 2020 Goals
Hey everyone, happy 2020! So each new year I write a post about our house goals for the year and look back on how we did on the previous year's goals. I like having goals, lists, and always having something to work on…but I'm not that type A about it. For example, it's January 14th and I am just now thinking about this, haha. So let's jump in and see how we fared last year.
2019 House Goals – The Verdict
So How did we do on our 2019 house goals? Not great, honestly…..even worse if you consider that many of our 2019 goals were recycled 2018 goals. Such is life, haha. I know y'all can relate. Looking back at our list of goals for last year is actually a little laughable…Why were there so dang many?! What was I thinking? I'm nothing if not optimistic and hopeful I guess, which isn't necessarily a bad thing. Anyway, let's break it down further. Here are all the things that were on the 2019 list –
Finish the RV – Yes. Nailed it, actually. The RV turned out really great…..then we sold it. It turns out we jumped the gun by a few years and camping with four little boys is actually the worst. Friends of ours bought it and they are getting plenty of use out of it, which makes me really happy. One day we will probably buy another, but it wouldn't be for a while. Click here to read the full reveal post.
Finish the laundry room – Also nailed it. Go us! See the reveal post and read the details HERE
Guest bathroom – This is the little bathroom right off of the laundry room, and we didn't even touch it. It still has all the kitchen cabinet doors in it that we put in it three years ago and everything.
Kids bedrooms – Shamefully, I didn't get these done or even give it a good effort. I painted the younger boys room green and got matching curtains, that's about the extent of it. I feel legit bad about this one.
Finish the kitchen – Once again, didn't touch it. The kitchen is actually crazy close to being finished, we just can't seem to pull off that last 10%.
DIY backyard hot tub – This was on the "maybe" list for 2019, and it became our first project of 2019. No regrets. See more photos here!
Attic game room – We did clean this room up quite a bit…but then it fell apart again. Fail. I'm not even going to post a picture because it's embarrassing. You know what, screw it…it's not like I'm above writing about embarrassing stuff on here. Enjoy my mess.
Living room entertainment center – I was hoping to complete this one because I feel like it would really help balance out our living room…the off-center fireplace feels very off-center without it. It just wasn't in the cards last year though.
2020 House Goals
Alright, now for the 2020 goals. My instinct is to just relist all the 2019 things that we didn't finish, but I'm going to be realistic and show some restraint and self-awareness.
Flooring – We originally didn't put flooring in the house because it wasn't in the budget. Instead, we sealed the concrete floors (here is a post about it) and decided to just live in them for a while, until we saved up some money (a lot….wood flooring is stupid expensive) and found what we wanted.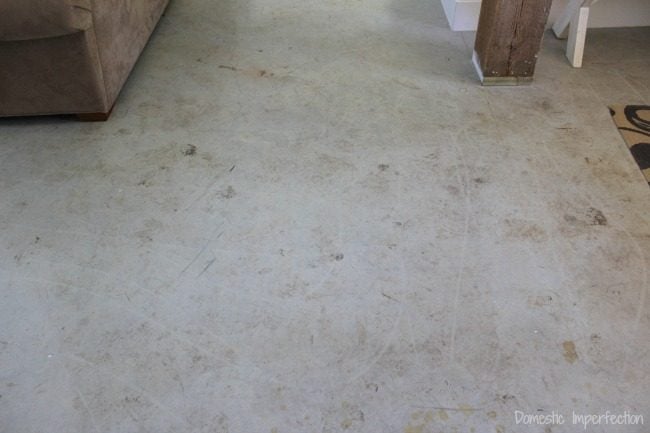 That was almost four years ago now though, and it's time. At this point not having flooring is holding up all the other projects. We have always planned on doing a rustic engineered wood and still might, but we are seriously considering installing a vinyl plank. They look crazy realistic these days, are affordable, easy to install, and are nearly indestructible. If you have gone this route and installed a luxury vinyl plank in your house I'd love to hear about it in the comments!
Kids bedrooms – The kids rooms are just sad, and finishing them has been on the list from day one. I mean, kids are only little for so long and I want them to have fun bedrooms. I think not having flooring is the culprit here…if we do any more than we have, it will have to be at least partially undone and redone to add flooring. So we do nothing.
Finish the kitchen – I almost didn't add this to the list, but we are SO CLOSE. All we need is flooring (sensing a theme here?) and to finish installing some doors and drawers. Oh, and we need to build in the fridge somehow, because right now it looks like an afterthought. But that's it. Oh, and add feet to the cabinets…and touch up paint. Eesh.
Office – I was going to end the list there, but this weekend Adam and I randomly started working on the office. It's a teeny tiny room (see below) and should go a long way in helping our house get/stay organized.
Also, unofficially I want to finish the boy's bathroom, still do the entertainment center built-in, complete upstairs guest bedroom, finally get a vanity in the master bathroom, pave the driveway….
Somebody stop me *facepalm*
Anyway, that's what you will be seeing on the 'ol blog this year. What are your house goals for the year? And even more importantly…how many years have you recycled the same goals?!